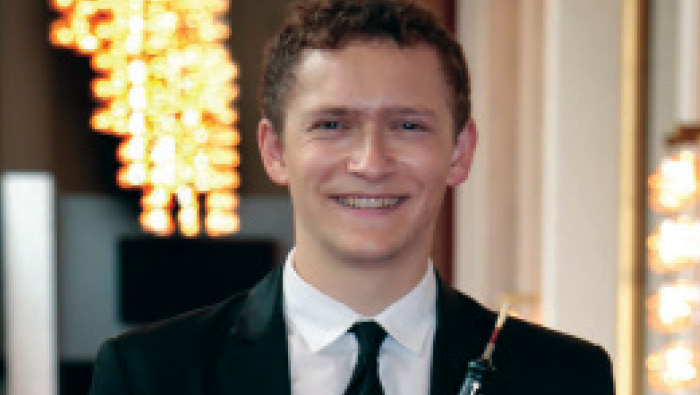 Oregonian oboist Gabe Young performed the "Marcello Oboe Concerto" with the National Symphony Orchestra Summer Music Institute Orchestra on July 25 on the Kennedy Center's Millennium Stage. Gabe, who was born and raised in Ashland, was featured in the April 2014 issue of Oregon Jewish Life (orjewishlife.com/gabe-young-named-national-youth-orchestra).
He now attends the Jacobs School of Music at Indiana University where he is a student of Linda Strommen. Gabe was invited to perform with the orchestra after winning the NSO SMI's concerto competition. He also played the principal oboe part on "Mahler's Symphony No. 1" during the second half of the program.
In the Washington Post July 26 review of the concert, Patrick Rucker wrote: "Gabriel Young, a 19-year-old oboist from Oregon, played a Venetian baroque concerto by Alessandro Marcello, accompanied by a chamber-size ensemble of strings. Young is not only a master of his instrument but an artist of taste and discernment. The sound of his oboe is, for lack of a better word, angelic. There were moments, particularly in the Adagio, when the music seemed to transcend even that exquisite oboe sound, emerging instead as pure, disembodied human expression. Young created a breathtaking spell that lasted well into the Mahler symphony."
An archived video of the concert is available at http://www.kennedy-center.org/programs/millennium/archive.html.
The NSO Summer Music Institute, now in its 22nd year, is a four-week intensive music program located at the Kennedy Center in Washington, D.C. Approximately 60 students between the ages of 15 and 20 from across the United States and Canada are accepted each year to attend the program, free of cost.
The Jacobs Music School blog notes: "Gabe has been performing professionally for more than half of his life. From busking on the street corners of Southern Oregon as a small child to performing sold-out concerts in world-class venues across the United States, Russia and England, he has continued to develop his musical prowess in a variety of styles, including classical, jazz, Klezmer, and Celtic. …
"Gabe's classical solo career includes guest solo performances with the Rogue Valley Symphony, Second Street Baroque Orchestra and Youth Symphony of Southern Oregon. He has been interviewed and has performed on National Public Radio, Sirius/XM Satellite Radio and BBC Radio and Television."