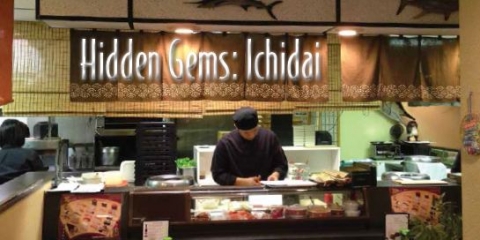 Portland has become the darling of the national food media. The city's chefs and restaurateurs routinely collect accolades and awards. Local haunts are featured in Bon Appétit Magazine and The New York Times. But for every restaurant that attracts an onslaught of frenzied foodies, another quietly goes about the business of satisfying customers without receiving much recognition. This month's restaurant review is the first in a series of articles that shine a light on one of Portland's hidden culinary gems.
It is not always easy to find great sushi in Portland. In her acclaimed Food Lover's Guide to Portland, writer Liz Crain maintains that "Portland's saltwater and freshwater bounty doesn't always translate to good, fresh catch at restaurants and markets." However, if you're willing to stray from the beaten path, far from the restaurant rows of Northwest 23rd and Southeast Division, you will be amply rewarded by a visit to Ichidai.
Located in a nondescript white building on a rather desolate strip of Southeast Powell, Ichidai is easy to miss. The restaurant is not even visible from its entrance; the door opens up into a small hallway. But if you dare to step inside, you will enjoy one of the more authentic sushi dinners in town – at a surprisingly reasonable price.
Ichidai, which has been at its current location since 1998, is owned by Sapporo-born sushi chef Akihiro Harakiuchi. The chef sources a variety of seasonal fish from Japan, Washington and Oregon. Many of Harakiuchi's customers are regulars; you can find them happily chatting at the sushi bar. Other seating options include tables and family-friendly wooden booths. High chairs are available.
The restaurant offers a variety of ways to enjoy sushi and sashimi (sliced raw fish served without rice). You can start your meal with a small, seven-piece plate of yellowtail, salmon or tuna sashimi, or opt for an assortment of your choice. For your main course, you can play the sushi purist and order the Toku Jo-sushi combination: a six-piece tuna roll and eleven pieces of premium fish like salmon belly and salmon roe. Those who are watching their wallets can enjoy the 13-piece sushi combination at only $14.95. Another option is the chirashi-zushi, which is a variety of fresh sashimi scattered atop rice. You can also pick and choose from the à la carte menu, which includes lots of fusion favorites as well as traditional maki-zushi and nigiri-zushi.
If you're especially hungry, pair your sushi with lightly fried vegetable tempura or teriyaki rib eye, or order the Deluxe Ichidai Dinner: teriyaki beef, tempura, fried chicken, broiled fish, sashimi, two pieces of sushi, seaweed salad and salted soybeans ($16.50). (You can request that your server substitute an avocado or cucumber roll for the California roll.) In addition to sushi and sashimi, Ichidai offers a variety of cooked appetizers, combination dinners (all served with miso soup, rice and cucumber salad), and rice bowls and noodles. Kids are sure to love slurping down the slippery udon, and you can't go wrong with a plate of kara-age (well-salted, fried chicken thigh nuggets served with a lemon slice). Treat them to a bowl of mochi ice cream at the end of the meal.
Ichidai is open for dinner Tuesday through Sunday. Reservations are recommended on the weekends.
Kerry Politzer is a lifelong foodie who moved to Portland two years ago. She has written for Dessert Professional, IN New York, and WHERE Traveler.