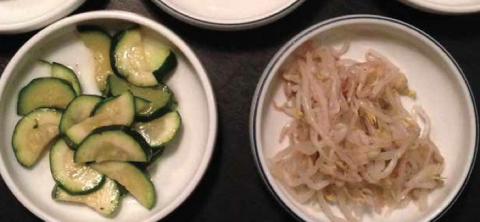 While it might be a few months until barbecue season, a trip to Toji Korean Grill House satisfies the urge for grilled meat. The restaurant features tabletop
gas grills where you may cook short ribs, brisket, rib-eye, skirt steak and chicken to your satisfaction. If you're unsure of how to achieve the best grilling results, Toji's servers are happy to guide you through the delicious process. All barbecue dishes come with rice, lettuce wraps and three flavorful sauces: ginger, sweet soy and sesame salt. You can request that your meat be pre-marinated in one of these sauces.
If you're not in the mood to cook your own food, there are plenty of other options on the menu. Dolsot bibimbop, or rice with various toppings cooked in a sizzling stone bowl, is a popular dish. The rice at the bottom of the bowl becomes toasted – you'll want to scrape up every crunchy bit. Galbi tang, a hearty short rib soup, arrives with a large pair of scissors so that you can get all the tasty meat off the bone. If you're vegetarian, try the japchae: sweet potato noodles with vegetables. Kimchi fried rice is another tasty choice.
In the mood for something spicy? Start your meal with ddokbokgi, a heap of stir- fried rice cakes in hot red pepper paste, and then enjoy a bowl of soondoobu jige, or spicy soft tofu soup. You'll want to have a glass of ice water handy.
A bento box is a good choice for the kids. Sweet soy-marinated beef, grilled chicken, pan-fried mackerel or tofu squares are served with green salad, rice and pot stickers (make sure to ask for the vegetable dumplings, as the meat ones contain pork). All dishes come with complimentary banchan: plates upon plates of marinated cold vegetable salads. Bean sprouts in sesame oil, black soybeans, sweet soy-marinated potatoes and spicy cucumber slices are a tasty accompaniment to any meal.
No meal at Toji is complete without a steaming cup of tea. In addition to serving the more common green and black varieties, the restaurant offers traditional Korean corn and barley teas, which are caffeine free. If you're craving something sweet, try the jujube tea, which is made with dried Korean dates. At the end of your meal, cleanse your palate with syrupy iced cinnamon-ginger dessert tea.