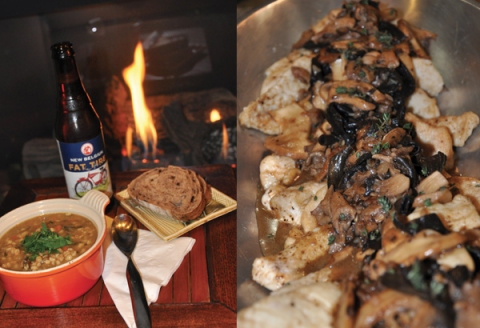 Their wedding day is behind them, and the big white dress has been carefully cleaned and stored. The thank you notes have been written, and the groom has carried the bride safely across the threshold to their new life as husband and wife. The honeymoon, as they say, is over, but the next chapter of their life is just beginning. They are building a home together, and for me the heart of any home is in the kitchen.
I was almost 30 years old when I married, and my husband had been married briefly before. When we began our lives together, I had already discovered my love for cookery and felt perfectly happy alone in the kitchen. At that time my new husband happily allowed me to be commander in chief of our kitchen. Now, apart from the occasional humble breakfast or heating something up in the microwave, when it comes to meals he is generally limited to official take-out picker-upper and restaurant reservation maker. It all works in the end because he does wash some dishes … this puts him ahead of the curve for many.
Since newlyweds will eventually come to the conclusion that eating out is expensive, take-out is less than nutritious and cup o'noodles is not a main course, someone will have to unwrap those shiny new pots and pans they received as wedding gifts and get the hang of actually using them. They could take a cooking class together or recreate an intriguing dish from a recipe in a magazine (wink, wink). My suggestion is that they choose a theme or seasonal ingredient and begin to build an inventory of recipes for "go to" meals for any occasion.
A recipe for soup to administer to a sick family member, a freezer-stable dish for the arrival of a new baby and the perfect party hors d'oeuvre should be in your back pocket to pull out at a moment's notice. The dinner party dish that will impress everyone, recreating your mother-in-law's brisket and latkes, or roasting your first Thanksgiving turkey should be a labor of love instead of a stress-filled challenge that triggers fits of anxiety.
Here are two of my favorite recipes for a heartwarming soup and a dinner party-worthy main dish, both of which use mushrooms. Typical white button mushrooms can be found year-round in most any supermarket. Mushrooms such as heather grey oysters, lacy maitakes or nutty shitakes are also cultivated year-round. Wild mushrooms such as the elusive morel are foraged in the spring, and deliciously creamy yellow chanterelles are available only in late summer through fall. While I don't recommend most dried mushrooms, porcinis are the exception for adding rich depth of flavor and umami to soups and sauces. Reconstitute them in hot water and add to any recipe that calls for deep mushroom flavor.
This recipe for mushroom barley soup is an adaptation from Zingerman's Deli in Ann Arbor, MI. The flavor and consistency of this soup is a spot-on rendition of the mushroom barley soup that is served in America's best delis. The dried porcini mushrooms are what takes this soup over the top in flavor. This soup freezes well, so make the whole recipe and store remaining soup in the freezer for a quick and hearty weeknight meal.
Mushroom Barley Soup
¼     cup chopped porcini mushrooms,
reconstituted in 2 cups hot water (save liquid)
4     tablespoons margarine, divided
1     large onion, finely chopped
2     ribs celery, finely chopped
¼     cup chopped fresh Italian parsley, divided
2     carrots, peeled and grated on a box grater
3     cloves garlic, minced
1     pound fresh button mushrooms, coarsely chopped
1     tablespoon flour
2     quarts unsalted beef stock
¹/³     cup sherry
1     bay leaf
1     cup whole barley
2     teaspoons kosher salt
½     teaspoon freshly ground black pepper
In a small saucepan bring 2 cups water to a boil. Add dried porcini mushrooms and remove from heat. Allow mushrooms to soak for ½ hour. Strain, saving the liquid, chop and set aside. Coarsely chop button mushrooms, onion, celery and garlic. Shred carrots. Melt margarine in a heavy stockpot. Sauté onion, celery, garlic, grated carrot and half of the parsley until soft. In a separate sauté pan, melt remaining 2 tablespoons margarine and sauté button and porcini mushrooms until lightly browned and no liquid remains. Add 1 tablespoon flour to vegetable mixture and stir for 2-3 minutes. Add salt and pepper. Add beef stock, sherry, bay leaf and sautéed mushrooms to the pot along with reserved mushroom water and barley. Turn heat to high and allow to come to a boil. Reduce to a simmer and cook for about an hour until soup has thickened and barley is tender. Add the rest of the parsley and season to taste with additional salt and pepper if necessary.
Chicken Marsala is an easy and impressive dish that showcases tender mushrooms and sweet Marsala wine. It is perfectly delicious with regular button mushrooms, but when morels or chanterelles are in season, this is the time to spring for them. Serve over pasta tossed with a little fruity olive oil and sautéed broccolini.
Chicken Marsala
Serves 4-6
4    boneless chicken breasts
½    cup all-purpose flour
Kosher salt and freshly ground pepper
4    tablespoons margarine, divided
2    tablespoon extra virgin olive oil
1    shallot, finely chopped
1    pound mushrooms, sliced
¹/³    cup Marsala wine
2    cups chicken stock, preferably homemade
¼    cup chopped fresh Italian parsley
Place chicken breast on cutting board. Using the palm of your hand, firmly hold the chicken breast and slice lengthwise into thin cutlets. You should have three to four ½-inch cutlets. Repeat with remaining chicken breasts. Season cutlets with salt and pepper and dredge in flour, shaking off excess. Preheat oven to 300 degrees and line a baking sheet with parchment paper or foil. Melt 2 tablespoons margarine and olive oil in a large sauté pan and heat to medium high. Working in batches, quickly sauté cutlets until lightly browned and place on baking sheet. They won't be thoroughly cooked. Place chicken cutlets in oven while making sauce. If pan is dry, add a bit more olive oil and sauté shallot until softened. Add sliced mushrooms to the pan and sauté, stirring only occasionally until nicely browned and moisture has evaporated. Add Marsala wine and reduce by half. Add chicken stock and continue to reduce for 3-5 minutes until sauce begins to thicken. Whisk in remaining 2 tablespoons margarine to enrich sauce. Add fresh parsley, taste and adjust seasoning if necessary. Remove chicken from oven and place on a large serving platter. Pour sauce over all and serve immediately.