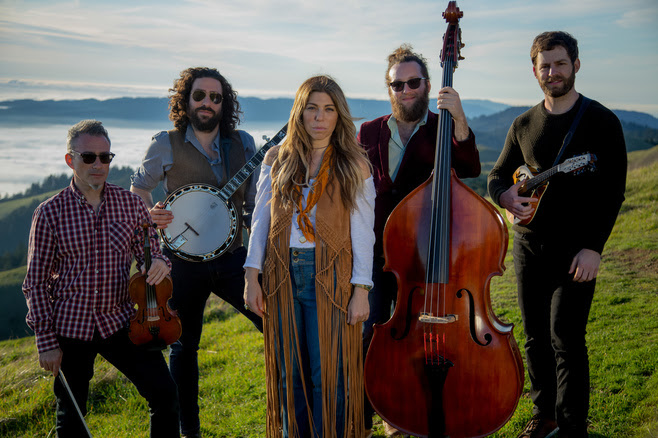 Critically acclaimed, pioneering bluegrass band Nefesh Mountain will perform at The Old Church Concert Hall on July 31.  Doors open at 7 pm, show starts at 8:00.

The group last performed in Portland in 2017 for the MJCC's outdoor summer concert series.
Nefesh Mountain 
are on a 26-city tour from April to August of 2019. The group is the first of its kind to blend old time musical traditions with a rich, Jewish cultural heritage. The American leg of the tour will include appearances in Nashville, Portland, Denver, Miami and Washington, D.C., among many other cities across the country. The band looks forward to weaving its unique blend of bluegrass, old-time, and American roots with its own backgrounds as Jewish Americans as they crisscross the globe on their upcoming tour.
Creators, band leaders, and husband and wife team Doni Zasloff and Eric Lindberg are the heart of this eclectic offering, and alongside longtime bandmate and fiddle player Alan Grubner, they are now joined by David Goldenberg (Bradford Lee, Rachel Baiman) on mandolin and Max Johnson (Molly Tuttle, Jeff Austin) on bass. This newly formed quintet is adept with a string virtuosity that is reflected in their arrangements of modern folk/bluegrass combined with songs of the heart and a sense of oneness and purpose that inspires all of their work. 
Band leaders, genre-pioneers, and husband and wife Doni Zasloff and Eric Lindberg are the heart of this eclectic offering, and share their love for American music, their own cultural heritage, and each other with audiences throughout the world.
The multi award-winning singer, songwriter and author Doni Zasloff is a beloved presence on stage throughout the country and is regarded as an influential Jewish performer. In just the past decade Doni has been awarded three Parents Choice Awards, received the Simcha Award from the International Jewish Music Festival in Amsterdam, Holland, has produced more than 10 albums and written two books, all while touring extensively throughout the United States, Canada, England, Australia and Israel. Her unique backgrounds in singing, musical theater and Judaism make her an in demand artist, and she brings these multi-faceted talents directly to the world of Nefesh Mountain where she continues to enchant audiences all over the world with her voice and unlimited spirit, her words, melodies and music. 
Award winning multi-instrumentalist, composer and cultural innovator Eric Lindberg brings his musical background in jazz and classical forms to the acoustic world of American Roots music. Eric graduated with honors from Mason Gross School Of The Arts with a jazz performance degree under guitarist and mentor Vic Juris and since has toured extensively throughout the United States, Canada, Europe, Australia, Israel and the Middle East, all the while cultivating his skillset and deep love for the banjo, mandolin and dobro as well as guitar.
Nefesh Mountain is planting new seeds for the 21st century—an age ripe for more cultural diversity and harmony. Their most recent album, Beneath the Open Sky, has been featured in Rolling Stone, Billboard, No Depression, and Bluegrass Today.
The Old Church is located at 1422 SW 11th Ave., Porland. Tickets can be purchased at http://bit.ly/2LL4qu3 for $12.