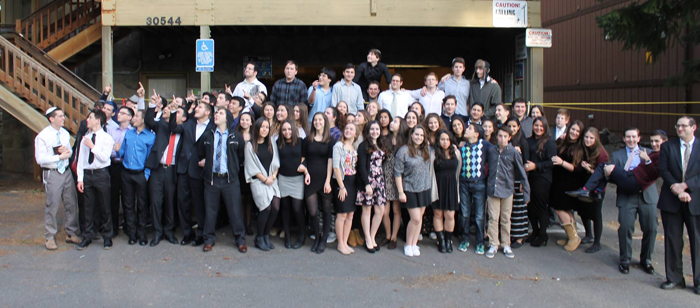 Meira Spivak serves as NCSY's Oregon Director and shares her farewell message to the Jacobys:
It is with mixed emotions that I share with you that the Jacobys are moving from Portland and heading on to the next chapter in their lives in Cleveland, Ohio.

Over the past eight years, Doovie and Aviva have worked tirelessly and dedicated their lives to connecting, inspiring and empowering the Jewish teens of Portland. They have opened up their home and hosted hundreds of Shabbat and Holiday meals, traveled across the world to bring teens to Israel and always made themselves accessible to whoever needed them most.
On a personal note, it has been my utmost pleasure working with the Jacobys on a day to day basis. They are mentches of the highest caliber and are true team players. Doovie and Aviva went above and beyond what was expected of them – they always put up with my shenanigans and never complained. I have been proud to call them my colleagues and even prouder to call them my friends.
Doovie has taken a job with another Jewish organization in Cleveland but will still be staying on with Oregon NCSY virtually to help smooth the transition. We are in the middle of interviewing applicants to fill their roles and are looking forward to sharing our progress with you.
Please join us next Wednesday, July 15, at 8 pm for a zoom call, during which we will thank the Jacobys for their years of service and have the opportunity to share thoughts of gratitude. Please come prepared with a story to share.
Zoom Meeting Info:
Meeting ID: 948 8583 3559