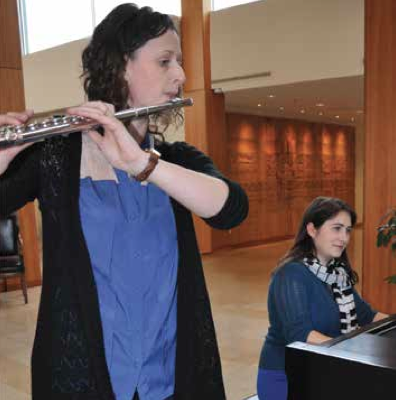 On Thursday, Feb. 13, as you head home from work in the chilly dark of a late Portland winter, you can end your day in musical contemplation. Congregation Beth Israel presents the first in a new series of three free mini-concerts called Music Under the Dome.
"I want to bring people in to our sacred space and think of it as a place to hear beautiful music, whether it's Jewish or not," says Cantor Ida Rae Cahana, who hosted a similar concert series when she was the cantor at Central Synagogue in New York City. "This series is open to the entire community. The idea is people will drop in, listen to this short 45-minute concert and go on their way."
Cahana envisions Music Under the Dome as a respite from the day's stresses, similar to the long-running Brown Bag Lunch Series at The Old Church in downtown Portland. "It's a chance to relax in a beautiful sacred space, hear beautiful music and enjoy an opportunity for mediation and relaxation."
The first concert features flutist Amalia Blumberg and pianist Beth Karp, of 106 Keys (see the profile of 106 Keys in the December 2013 edition of OJL). "Amalia teaches in our religious school," says Cahana of the choice.
Blumberg and Karp, who focus on music of Jewish composers, plan an evening of meditative works, including a selection from 20th century Israeli composer Paul Ben-Haim. They'll also present some Jewish folk songs that Karp ar- ranged, including "New Moon" and "Tumbalalaika," as well as Robert Schumann's "Three Romances," originally composed for oboe and piano. "We're thinking of music that's calm and resonates nicely in the space," says Blumberg. "Cantor said
we should think out of the box when we plan the program." Cahana may join the duo for Charles Davidson's setting of the Purim Megillah, in anticipation of the Purim holiday.
The series continues with mini-concerts April 10 and June 12. Performers have not yet been chosen for those concerts. For more information, contact 503-222-1069 or visit bethisrael-pdx.org.