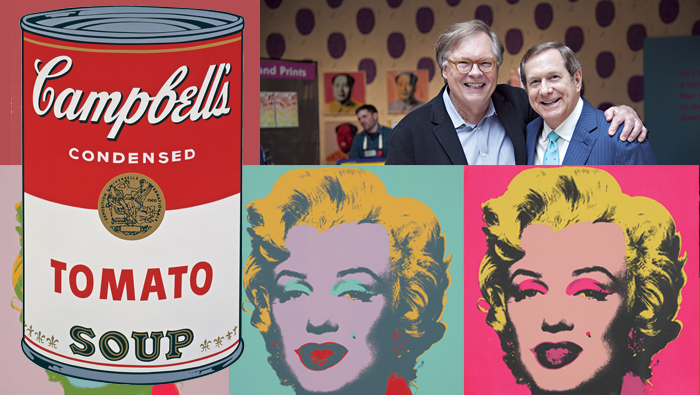 "Andy Warhol: Prints from the Collections of Jordan D. Schnitzer and His Family Foundation" is on display at the Portland Art Museum through Jan. 1, 2017.
This major retrospective exhibition of about 250 Andy Warhol prints and ephemera from the collection of Jordan D. Schnitzer is the largest of its kind ever to be presented. It spans two floors of the museum and includes instantly recognizable images such as Warhol's iconic Campbell's Soup Can (Tomato) and Marilyn Monroe (Marilyn).
Printmaking was a vital artistic practice for Andy Warhol. Prints figure prominently throughout his career from his earliest work as a commercial illustrator in the 1950s, to the collaborative silkscreens made in the Factory during the 1960s and the commissioned portfolios of his final years. The artist's well-known fascination with popular culture also instills the exhibition with a chronicle of American life in the second half of the twentieth century. The two threads come together to reveal how Warhol's print publishing enterprise underscores the evolution of today's hyper-sophisticated, saturated and savvy visual culture. The exhibition is organized chronologically and by series.
Jordan Schnitzer is president of Harsch Investment Properties as well as a Portland collector and philanthropist. His comprehensive collection establishes the range of Warhol's innovative graphic production as it evolved over the course of four decades.
"I think this Warhol exhibition will knock people's socks off," said Schnitzer in an interview with the museum's member magazine. "Remember, too many eyes won't wear out the Warhol work. So bring your kids, your grandkids, bring the neighbor kids; go get your aunt and uncle, your grandparents – flood the museum with people. Let Andy Warhol reach out and speak to every single one of them who comes to visit this incredible exhibition."
At age 14, Schnitzer bought his first work of art from his mother's Portland contemporary art gallery, an experience that evolved into his lifelong avocation as collector. He began collecting contemporary prints and multiples in earnest in 1988. Today, the collection exceeds 9,500 works and is one of the country's largest private print collections overall. He generously lends work from his collection to qualified institutions and has organized more than 100 exhibitions at more than 75 museums.
"Andy Warhol harnessed the allure of media images of celebrity, consumer goods, sex, death, and disaster to create his iconic pop art," said exhibition curator Sara Krajewski, the Robert and Mercedes Eichholz Curator of Modern and Contemporary Art. "This retrospective provides an in-depth look at how the artist manipulated the seductive power of the photographic and the televisual in his printmaking. Thirty-five years of prints offer a compelling view of Warhol's critical use of new imaging formats and technologies, from newsprint distribution to instant cameras, television and video. Our comprehensive survey of Warhol's vast print production demonstrates Warhol's impact on the evolution of contemporary visual culture."
Warhol's prints present a journey through the reproduced image in American popular culture, from icons Jacqueline Kennedy and Marilyn Monroe to the socially charged Birmingham civil rights protests and political posters of the 1970s. In its entirety, the exhibition offers a bellwether of contemporary life and society's ongoing obsession with celebrities, fashion, political figures, athletes, sensationalism and scandal.
"The Portland Art Museum's ambitious overview of Andy Warhol's prints offers an opportunity to see the artist anew," observed Richard H. Axsom, contributing essayist to the exhibition catalogue. "Playing upon and manipulating the imagery of popular culture, Warhol fashioned in his major print series a body of work of immeasurable power. Underappreciated is its profound humanity, often obscured by the glamor and glitz of Warhol's public persona. For an artist known for his superficiality, Warhol was among the least superficial artists of his time."
503-226-2811 | portlandartmuseum.org | jordanschnitzer.org