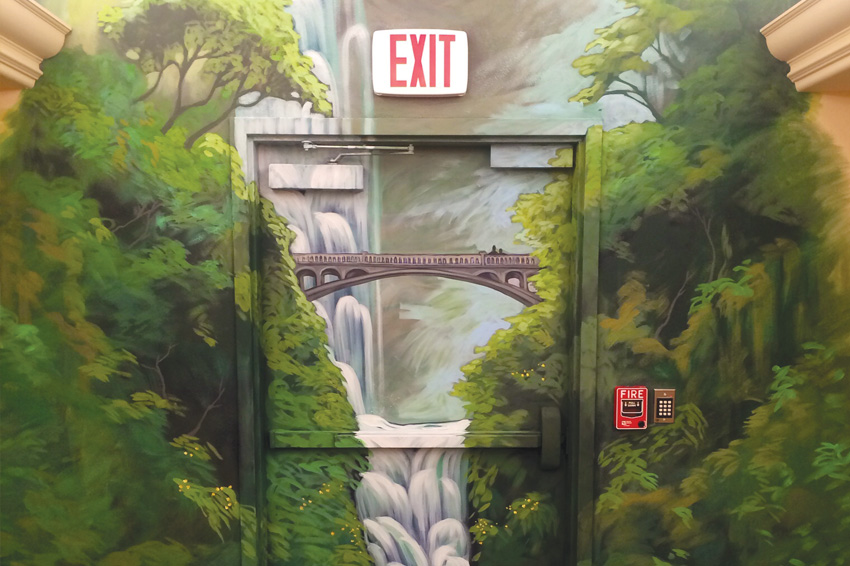 Oregon-grown Corie Hinton is a muralist who specializes in interior and exterior walls. If you can think it, Corie can create it. Talking Walls, the name Corie has given her business, was a process that took her a few years to figure out. Her time in the Peace Corps was pivotal to making that happen.
Corie's projects include murals for Parkview at Cherrywood Village, a memory care facility in NE Portland. The goal is to stimulate residents' minds.
When Corie's parents remodeled their kitchen, she created a tropical garden that now covers their walls.
A certain 5-year-old's fear of smoke alarms prompted her parents to commission Corie to meet with their daughter to create ceiling art to comfort her frightening thoughts of the alarm on her ceiling. Yes, walls talk.
Corie comes from an artistic family – her parents grew up in Chicago and moved to Eugene, where they raised their two daughters. Corie follows in the footsteps of her mother, Cindy, who has a background in art education; her father, Jim, a graphic designer; and her grandmother, who at age 60 earned a bachelor of fine arts. Corie's parents encouraged her to follow a path that would allow her to use her creative talent. They saw that as equally important to traditional monetary measures of success.
I talked with 29- year-old Corie about graduating from South Eugene High School, college in California, the Peace Corps and her passion for speaking through her Talking Walls. Her replies have been edited for brevity and clarity.
After graduating from high school, how did you land at Laguna College of Art and Design?
I applied to a bunch of schools thinking I would be a double major in art and environmental studies. It was not turning out that way. I got a half-ride scholarship to just art school at The Laguna College of Art and Design. I studied illustration and animation. After a four-year program I was still struggling with what I wanted to do. I even thought it was really selfish to just do art. I was torn between environmental studies and art. I was going through this crisis of how is art meaningful and how does it give back to the world.
What happened?
I thought about the Peace Corps. I had a high school teacher who was in the Peace Corps in Kenya and another teacher at Laguna who was also in the Peace Corps.  Both kept talking about it. I decided to just do it. I was out of school and I did not know what I wanted to do. I applied in August 2007, and I was in Madagascar in February 2008.
Why Madagascar?
I got sent to Madagascar. They don't ask you where you want to go, except for continents or regions of the world. I knew I wanted to go to Africa, and they ended up sending me to Madagascar. My job was environmental education.
From Eugene to Laguna Beach to Madagascar… describe the lifestyle change.
It was very different. I lived by myself in a village of about 2,000 people in a little grass, thatched hut. I had a hole in the ground for a toilet.
You went primitive?
Yep. I was there for about a year doing the typical Peace Corps stuff. We were making fuel-efficient cook stoves and doing a lot of work with the rice farmers. We had an environment club. I brought all my acrylic paints and brushes. I knew before I left I would not be able to buy them there. I knew I was going to paint murals, but I did not know where.
Did you sense a need to paint?
Yes. There were not a lot of walls in my village that were sturdy enough, but the one wall that was available was the hospital wall. It was concrete. My first mural was on that little hospital wall.
What did you paint?
My first mural was about nutrition. As Peace Corps volunteers we are dealing with, for the most part, an illiterate population. So telling the story of nutrition with pictures instead of words is educational.
Did someone advise you that this would be a tool to teach?
We had three months of training when we got to the country, and a lot of Peace Corps staff talked about the value of art. We actually had a book called Art for Development, and it had different pictures for non-artists to copy. This involved using a grid system to put a picture on a wall if they were not artsy.
The mural I did showed the flag of Madagascar, which is red, white and green. Each section of the flag was a food group. Red represented meat and protein, white was starches, and green was fruit and vegetables. I used the flag to show new moms nutrition.
Were you still torn between environment and art after your time in
Madagascar?
Well, this was the epiphany. They were teaching people in Peace Corps who were not artists at all the value of doing murals, because it is important for non-artists to do this kind of visual expression. This is how valuable it is as a teaching tool.
Now I am aware and I am wrapping up this crisis thing of the value of art. It must be important enough if it is curriculum in the Peace Corps. I am experiencing the value to the world of my work. Besides missing running water, I missed painting murals. I had been doing it since high school. Art is useful not just pretty. This is what I missed the most – this is what I should be doing.
After you went home to Eugene. What evolved?
Loving running water and hot showers, I landed jobs teaching art in several schools. I was going from one school to another doing murals with different classrooms from elementary through high school, but I wanted something more stable. I wanted to increase my financial stability. I started filling out applications and got a job as marketing specialist and graphic designer at the Mittleman Jewish Community Center. I like the comradery and family-oriented setting.
Your mom is Jewish. Did you follow traditions?
We didn't go to temple regularly, but we did go on the High Holy Days. I knew the Hanukkah prayers and celebrating Hanukkah was a family tradition. In 2012 I was part of a Birthright trip to Israel with my sister. I love working at the MJCC, and I am learning a lot about my Jewishness.  My mom likes to tease me that I am such a good Jew now.
How did Talking Walls, your mural business, evolve?
It started my senior year when my mom was redoing her kitchen. I said let me paint something. I painted a tropical garden. People came over to see it, and they would hire me to paint their murals. Looking back I realize how lucky I am that my parents showed support till I figured it out. My sister, Jamie, on the other hand always knew she wanted to be a physical therapist. My journey has taken a little longer. My murals are a love business.