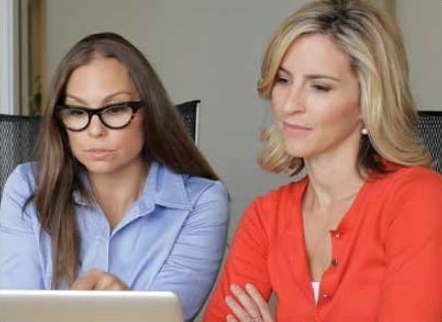 For the past 12 years two Portland sisters have been training companies to use today's presentation technology to communicate better. Of course in this rapidly evolving era in technology, today's technology changes constantly, but the sisters and their team stay ahead of the curve.
Janine Kurnoff and Lee Lazarus co-manage The Presentation Company, which now counts 15 Fortune 500 companies as clients, including long-term clients Symantec and Microsoft, and Facebook, which came on board in September. "We help our customers visually communicate key messages," says Janine. The sisters grew up in California's Silicon Valley, the daughters of Michael and Shirley Kurnoff, who emigrated from England to live "the American Dream." Their grandfather was a modern Orthodox rabbi in Manchester, and the sisters grew up in a home rich in Jewish values. They also watched their entrepreneurial parents establish a successful business in Monterrey and witnessed the dot-com bubble burst in 2000. Lee worked with two high-tech startups and Janine worked in sales training for Yahoo, where her expertise with PowerPoint turned into a series of "lunch and learns" for coworkers. "There was a disconnect with how people were presenting information," says Janine.
Just before 9/11 in 2001, Janine launched The Presentation Company to consult for small companies that wanted to use technology to communicate their message. The next year Lee and her husband, Dr. Howard Lazarus, moved to Portland for his new job as a critical care pulmonologist. Within weeks Lee persuaded Janine to join her in the Pacific Northwest, and Janine persuaded Lee to join The Presentation Company. Though both came from high-tech companies, they brought two different skill sets to TPC; Lee's strengths are marketing and marketing and sales, while Janine focuses on product innovation and training. Lee focuses on customers and Janine on the product, which is why they are able to compliment and work well together. The parable on the benefits of teaching a man to fish rather than giving him a fish informs their business plan. "We don't consult and do it for them, we empower them to do great work," explains Lee. "We realized there was a huge void in the presentation space," she adds. Existing training included presentation skills training – what you say and how you say it – and skill-set classes in PowerPoint and Excel at community colleges and business schools. But nobody was offering training in how to take the technology and have the right commentary to share your story. "We jumped at it, and clearly, so did our clients." TPC teaches their customers how "tools can empower them, not distract them," explains Lee.
While the tragedy of 9/11 hampered many businesses, the sisters stepped into a rapidly expanding market. As companies reduced travel, "people started to use virtual environments to market, sell and train," says Janine. "We were asked to present at Microsoft, using their new web conferencing technology called Microsoft LiveMeeting (now called Microsoft Lync), a virtual meeting room. They were looking for content and experts who showcase (the technology). We had access to thousands of potential clients from within Microsoft's audience. … (Then) HP asked us to present HP Virtual Rooms. We were prepared, but we got lucky." "We were early adopters at this time," says Lee. "People were rushing to get into that space. You have to take face-to-face presentation skills and redesign for a virtual environment. When I can't see faces and reactions, how can I connect with these people? We came up with skills and tools so they could be engaged." Janine adds, "We take the tools (such as PowerPoint) and turn them upside down and use them to communicate, be memorable and get the audiences to do what you want." Their shared explanation of their process is typical of how the sisters work together. With shared values, and almost telepathic empathy, they say they often finish each other's sentences. "We grew up on the same team." They say they never experienced the "drama of sibling rivalry" growing up because "our parents never allowed us to get away with that."
From their parents, they also learned not to over expand and not to spend money they didn't have. So they grew the company slowly and added core employees and contract trainers only as necessary. Now TPC has five employees in the Portland headquarters, including Janine's husband Simon Gottheiner, who joined TPC in 2008 after 12 years at Intel. They have about 10 trainers who conduct webinars to teach clients TPC's presentation skills, including one contract trainer in Beijing who conducts trainings in Mandarin Chinese. The employees and contractors all reap the rewards of the company culture of work/life balance the sisters have created. When they started the business in their mid 20s, the sisters spent a lot of time networking and learning new technologies. Now in their late 30s, they each have two young children and are enjoying the benefits of that sweat equity. They still work hard, but say they also remember to play hard. One day they took a 6 am flight to make a presentation at Microsoft and didn't get home till 10 pm. They didn't see their children that day, but the next day they set aside plenty of time with their kids – Lee's Jacob,7, and Zoe, 5, and Janine's Ava, 3, and Hadley, 18 months. "We're Mompreneurs," says Janine. They also block out times on their daily calendars to exercise – and they encourage their employees to do the same. Recently they surveyed their employees and contractors and were told "how much we enable them to be successful in what they do and have a work/life balance."
They also endeavor to instill their own beliefs in their children. "My kids see I host Jewish events and help federation," says Lee, who recently took her son to deliver birthday gifts to the Sunshine Pantry. For the past three years, TPC has been a sponsor of the annual fundraiser at Cedar Sinai Park, where both sisters have been active – Lee on the CSP board and Janine at the Yad b' Yad intergenerational music program for tots and seniors. For the past two years, they have also donated TPC's expertise at the Jewish Federation of Greater Portland's Opening Night to ensuring the messages and stories of the federation agency are shared compellingly. This year Simon will chair the federation's allocations committee to determine how much each agency receives from the annual campaign that began with Opening Night Oct. 3. Howard chaired the federation's Maimonides Society for health care professionals for four years. Lee and Janine are adept at delivering a compelling message in a memorable fashion. They've put those skills to good use to benefit both their clients and their community.