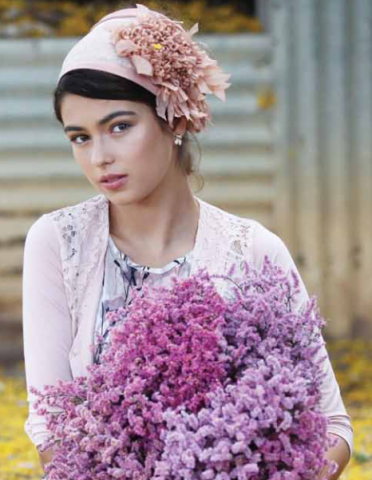 Nava Brief-Fried of Leelach.com is dedicated to connecting women from Israel to women around the world through the fashion and design found on her website. Currently living in Nachlaot, Nava is a college student studying communications and Jewish art at Bar Ilan University. Her husband, Yehoshua, recently finished his army service and now studies computer science and business at Hebrew University. Together the pair operate Leelach.com.
Recently, I was able to ask Nava a few questions about her site and the beautiful Israeli designs and designers found on it. Her answers have been edited for clarity and brevity.
When did the site start?
Leelach started with a trial website in July of 2012, and then after receiving such positive feedback, we launched again on March 28, 2013.
Any inspiration, personal or business, that prompted the site launch?
During my national service (every girl or boy in Israel has the right to decide whether they want to go into the army after high school or do national service for two years), I decided that I would like to do my second year of national service abroad, in St. Louis. I taught in the schools there about Israel and tried in many creative ways to bring a little bit of Israel to their community. I felt like people were interested in me (as one of) the people who live in Israel as opposed to just the sentimental touristy places. Throughout the year, I noticed that when people returned from their trips to Israel and got complimented for the clothing they returned with, they enjoyed talking about the women and the place they purchased it from – rather than talking about the actual garment. They felt that this was their way of connecting to the people, and a way of bringing a piece of that home. After I completed my year there, I realized that I could still bring a bit of Israel to people around the world, except I can do it from here. I wanted to bring that personal connection from one home in Israel to many homes around the world – a personal connection from one designer to many women around the world. Those connections are so important to me, to the Leelach designers, and of course to our amazing customers around the world. So that's how Leelach began!It started with a few designers and unique Israeli stories and, of course, gorgeous products. Now we have grown to around 25 designers today, and we are still growing daily with new designs and styles that are exclusive to Leelach and cannot be found anywhere else.
How many designers do you feature?
Right now we have around 25, but we are adding new designers all the time, so that our customers get a much bigger variety.
What are the criteria for designers to be featured on your site?
We specialize in modest apparel and modest solutions. We have over 300 different types of handmade hair-covering –tichels; we have a large selection of modest swimwear, handmade Judaica and jewelry.
What fashion advice would you give to the modern Jewish woman?
In today's modern world, modesty is slowly becoming less and less important, but that doesn't mean that we will let the beauty of modesty in a woman disappear. Leelach promotes femininity and modesty in an artful way and aims to inspire you and the people around you, and to show them the magnificence that contemporary tradition holds.
What are your best-sellers?
Our head-coverings section is extremely popular, many women love our special handmade designs. We have a tichel called the sinar tichel, which is actually apron shaped (sinar in Hebrew), and is a great way for women to cover all their hair, but at the same time look as if they used many different scarfs when they really only used one. Our modest solutions section is very popular; many women find it hard to shop for modest clothing, but with our modest solutions, they can buy almost anything and wear one of our half shirts or cleavage covers underneath! We have a large section of modest dresses and skirts, which are also very popular among women who are constantly searching for a place to buy and supply their modest clothing.
Leelach.com
Kira Brown is a certified personal stylist and fashion writer. Kira has interviewed many fashion icons including Tim Gunn, jeweler Neil Lane, international makeup artist Jemma Kidd and Ken Downing of Neiman Marcus. Kira also offers virtual style consultations for women and men. Contact her at kira@fashionphoenix.com.