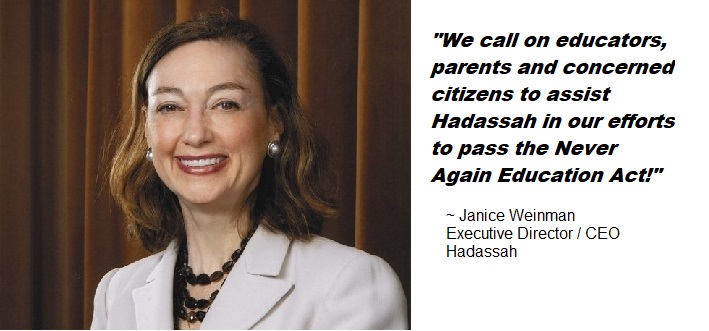 By Janice Weinman

Anti-Semitism has been called the oldest form of hatred. In America, we are now witnessing a horrifying escalation of anti-Semitic violence, such as cemetery desecration, vandalization of Jewish schools and synagogues and inflammatory anti-Zionist rhetoric on college campuses. This week, CBS News reported the existence of a

prom night photo

taken last spring of around 50 male Baraboo, WI high school students who appear to be giving a "Heil Hitler salute." The entire Jewish community continues to mourn the heinous murder of 11 Jews in a Pittsburgh synagogue on Shabbat morning – These acts have us all questioning "Is this the new future for Jews in America?"
While Jews represent less than two percent of the American population, a 2017 FBI report stated that more than half of all hate crimes in the United States. are committed against Jews. This year, the ADL reported a 60% spike in anti-Semitic activity. Anti-Semitism in person and online is at an all-time high. The latest statistics released in April 2018 revealed that many people in the United States don't know about the Holocaust. Forty-nine percent of millennials cannot name a single concentration camp. Thirty-one percent of Americans believe that two million or fewer Jews were killed in the Holocaust.
Most importantly, we know that many children in the US are not learning about the Holocaust. Hadassah, the Women's Zionist Organization of America, Inc., believes that this growing wave of anti-Semitism in the United States and around the world must be addressed through education. The organization proudly endorses the efforts of Reps. Carolyn Maloney (D-NY-12) and Dan Donovan (R-NY-11), who introduced the "Never Again Education Act" (H.R. 5460) last April. Hadassah also supports Maloney and Donovan's joint letter to House Education Committee Chairwoman Virginia Foxx (R-NC-5) to hold hearings on the Bill that would provide resources to public and private schools to more adequately teach students about the Holocaust.
HWZOA is mobilizing its members to take action by promoting the expansion of Holocaust and anti-hate education around the country. As the Executive Director / CEO of the NGO (non-governmental organization) convener of the "Never Again Education Act," I represented HWZOA at the bill's announcement earlier this year.  Since then, Hadassah has secured more than a dozen cosponsors for the bill and is working with other organizations to reach additional legislators around the country.
Rabbi Jonathan Sacks asserts, "Tomorrow's world is born in what we teach our children today."
We call on educators, parents and concerned citizens to assist Hadassah in our efforts to pass the "Never Again Education Act!"
Janice Weinman is the
Executive Director / CEO of
Hadassah, The Women's Zionist Organization of America, Inc. (HWZOA)