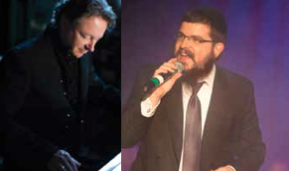 Back by popular demand, Jewish music's rising star Benny Friedman will take the stage along with Michael Allen Harrison, considered the "Grand Maestro" of Portland, at 2 pm, March 30, in Salem. The program is called "Songs of Freedom."
"There was such a tremendous emotional outpouring from people who attended last year's concert we are doing it again; but this time you will be entertained by two world-renowned performers in a multicultural Musical Retreat!" says Rabbi Avrohom Perlstein, director of the Chabad Jewish Center of
Salem and organizer of the event. "Music is such a powerful unit- ing force that we need to use it to bring as many people together (as possible), for unity can heal many of the world's problems."
Benny's musical career began at age 13 when he started per- forming at small local events and audiences were mesmerized by his dazzling voice. Passionate about both singing and his ability to inspire people through music, Benny spent four years working with Hollywood vocal coach Seth Riggs.
Benny split his time between recording his albums and making appearances all over the country. His albums "Taamu" and "Yesh Tikvah," as well as his new CD "B'nei Heichala," were released to much acclaim.
Working toward his goal of inspiring people through music, Benny has devoted countless hours to making music that is meaningful. Not only do his impeccable vocals appear on "Chasoif," "Unity" and "Berachamim," three singles recorded to raise money for tzedakah, he performed at Nariman House on the first anniversary of the Mumbai massacre. Benny is also resuming his 2006 "Songs and Stories of Judaism" concert series, exploring fundamental concepts of Judaism through music and lore with Jews all across the country.
Michael's unique brand of music ranges from movie scores to passionate arrangements for piano, orchestra, ballet, jazz, fusion, smooth jazz, pop, new age and adult contemporary. With Rabbi Alan Berg, he created a multimedia celebration of Passover, titled "Crossing Over: A Musical Haggadah," which they presented in 2012 and 2013.
"Both Michael Allen Harrison and Benny Friedman will perform solo as well as duet performances, which should bring the audience to their feet clapping and singing to their music! It is sure to be a memorable afternoon," says Caren (Chaia Leah) Horensten, who is helping the Chabad Jewish Center of Salem organize the event. "This year's venue is the Chemeketa Community College's Auditorium 6, which is acoustically designed for the enjoyment of musical and theatrical perfor- mances. This venue has had performances by Willamette Valley Symphony Orchestra, and The Pentacle Theater performs their benefit musical annually (there) to sold-out audiences."