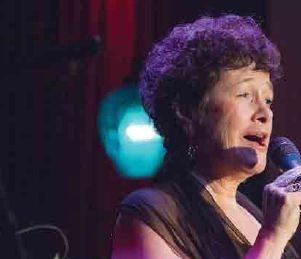 Lisa Lieberman turned to jazz one short year ago. A singer since her high school choir days in San Diego, she'd grown up with folk music and soft rock. Despite the newness, Lisa won the Jazz Society of Oregon's Amateur Vocalist Contest on Oct. 15. She's delighted and looks forward to years of learning, jamming and entertaining. And this settles something she's always known: It's never too late to follow your passion.
"I took voice lessons for years," Lisa says. "Three years ago, I started going to Puget Sound Guitar Workshop (psgw.org) and got dropped into heaven. Someone gave a class in jazz standards." Since then Lisa has taken Mitzi Zilka's Jazz Singers Workshop at Portland Community College four times. Lisa's voice teacher, Theresa Koon, encouraged her to enter the contest.
"I'm 63 years old. I had to unlearn a lot," she says. "I'd developed vibrato and put emotion into song. Jazz is reserved. You are telling a story but containing it. It requires a different use of muscles in the throat, and I'm learning how to improvise." Jazz seems to run in the family. Lisa's cousin, George Fendel, served as the Jazz Society of Oregon's president for three terms and writes CD reviews for its publication "Jazzscene." He hosts the Sunday radio show "George Fendel's High Standards" on KMHD 89.1 fm and produces a jazz piano concert series at Classic Pianos in Southeast Portland.
"She always had an ear for the Gershwins, Ellington and other great jazz vocalists," George says when asked about Lisa's recent award. "I was surprised and excited that she won. She competed with several other people."
In addition to her interest in singing, Lisa is a clinical social worker specializing in disability in the family. Her son, Jordan, who has been diagnosed on the autism spectrum, often speaks with her on coping with the condition. Inheriting the family love of music, he sings with the choir at their synagogue, P'nai Or, and plans to take the jazz workshop at PCC this year.
Meanwhile, Lisa intends to use the wireless microphone she received as a prize for future singing engagements and open mike nights. Mitzi Zilka hosts an open mike at the Marino Adriatic Café (503-231-1313) on SE 41st Avenue and Division the second and fourth Sunday of each month from 2 to 4 pm and a fourth-Sunday Crooner's Corner from 5:30 to 7:30 pm at Vie de Boheme (viedebohemepdx.com) on SE Seventh Avenue and Clay.
"I'm in love with the people," Lisa says. "Music feeds my soul, especially when I'm singing in a community." She hopes her award will inspire others to never give up because of their age.
"You are never too old to follow a passion," she says.