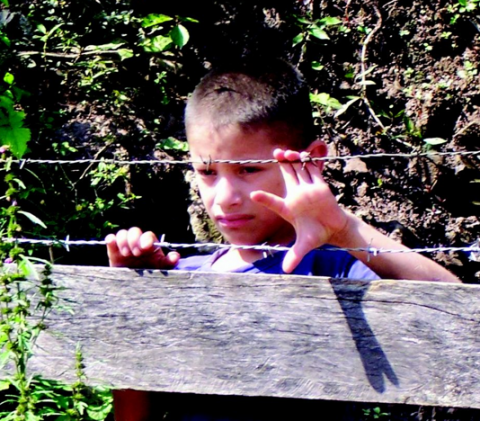 A project to aid impoverished women and children in rural Honduras is rooted in Oregon. Eugene native Shmuel Rubinstein spent 1998-99 living and working in Israel through Project OTZMA thanks to funding from Jewish Federation of Greater Portland. He says the value of tikkun olam (healing the world), which he learned growing up at Eugene's Temple Beth Israel and embraced in Israel, is the basis of his work with Light of Esperanza.
Shmuel and his wife, Angela, direct the nonprofit they created to reserve the immense poverty that faces the women and children in rural Honduras. Light of Esperanza creates self-sustaining cooperative projects, educational programs and women's health care initiative in Dolores, Honduras – a rural area close to the wester border with Guatamala.
In 2007-2008, Shmuel, his sister, Shoshanna, and his brother-in-law Josh Cohen, worked at a bilingual school in Vega Redonda, a small village inside the country of Dolores. That is where Shmuel met his future wife, Angela.
"We did our best to celebrate the Jewish holidays with the limited resources that were available deep in the mountains of Honduras," says Shmuel. "Shoshanna made some incredible homemade matzah for Pesach, and regularly had her incredible homemade challah every Friday night for Shabbat. Josh led a remarkably well-organized bilingual seder for us and our close Honduran friends. And I was able to craft a decent menorah out of a piece of wood I found in our front yard." But the Jewish tradition that has had the most lasting impact was their dedication to tikkun olam.
"I believe the work I am doing in Honduras is bringing the core values I learned growing up at Temple Beth Israel – as well as from my parents, who were always encouraging me to find ways to help other people – into reality," says Shmuel, adding his parents, Bob and Peggy Rubinstein, still live in Eugene.
Shmuel and Angela married in Seattle in 2008. Returning to visit Angela's family in 2009, Shmuel learned most of the children in the village never receive a gift – not for the holidays, their birthday or any other occasion. When Shmuel and Angela created a party with cakes, piñatas and toys, they were rewarded with a vil- lage full of smiling young faces. After that inspirational day, Light of Esperanza ("light of hope") was born with a focus on creating programs for lasting change. Light of Esperanza seeks to address the root causes for the poverty. In 2011 Light of Esperanza became a 501(c)3 nonprofit able to receive tax-deductible donations.
Shmuel spends most of the year in Seattle where he teaches high-school age boys awaiting settlement of their immigration cases. He spends three weeks each year in Honduras and devotes much of his time in the United States directing and organizing fundraising activities and educational projects for Light of Esperanza. Angela spends two months a year in Honduras organizing the projects, which are managed year-round by Light of Esperanza's Honduran volunteer board.
July will be the first time that Light of Esperanza has taken volunteers to Honduras. A number of volunteers have signed up to spend eight days to teach English in the village school, work alongside participants of the cooperative projects, help set up the first computer center in this part of Honduras, and help fix and paint the village school. The next volunteer trip available for interested individuals will be in March of 2014.
Last year Shmuel and Angela created a youth trip to the Mayan ruins in Copan Ruinas. The goal was to educate students about the unique history and culture of their Mayan ancestors and to inspire them to excel at school. For most of the youth, this was their first time leaving the village. "Some of the school administrators were a little concerned about how the children would behave and respond to this new experience," said Shmuel. "About halfway through the tour, my group was stopped by a tour guide. At first we were concerned that someone in our group had done something inappropriate. The tour guide, who was with a group of tourists from France, said he had been asked by them to tell us in Spanish that they had been watching our group and were extremely impressed by how attentive and interested our youth were. The tour guide told the youth that they represented their school and the country of Honduras with great pride. The smiles on their faces lit up the entire room."
"This experience highlighted how successful these youth can be, if only given the opportunity," says Angela. "That is what Light of Esperanza's mission is – providing a new hope for the future of people who desperately need change." Shmuel and Angela are also instilling the spirit of giving in their two sons – Solomon, 3, and Moise, 11 months.
"Last year Solomon had a big smile on his face as he helped to hand out presents to the other young children at the Fiesta for Youth celebration that Light of Esperanza holds each year," says Angela. "We were very proud to see he has already begun to learn how rewarding helping out others can be."
LIGHT OF ESPERANZA FUNDRAISER
What: A free event benefitting Light of esperanza, a nonprofit organization that works to initiate programs to help the deeply impoverished women and children of rural Honduras.
When: 2-8 pm, Sunday, May 19
Where: Old Wives' Tales Restaurant, 1300 E. Burnside St., Portland
How: Silent auction and portion of proceeds from meals purchased donated by Old Wives' Tales Restaurant
Information: lightofesperanza@gmail.com or lightofesperanza.com