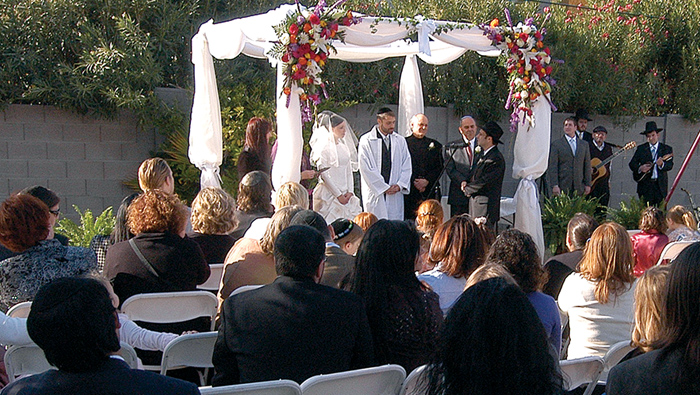 Jewish life revolves around the cycle of life.
In the Jewish tradition, lifecycle moments from birth to death carry specific rituals, most of which have been used for centuries.
These moments truly center us.
Following are the resources that will help you celebrate and mark each stage of life.
Mohels
A mohel is the person who performs the circumcision in the brit milah ceremony for a male child on the eighth day after his birth. For more information, contact your local congregation.
STATEWIDE
Rabbi Tzvi Fischer, Oregon Bris Center, oregonbris.com,
rtf@portlandkollel.org or
503-757-0606.
A seventh-generation Mohel, performs ceremonies throughout the Pacific Northwest.
Rabbi Gadi Levy, Oregon Mohel,
oregonmohel.com,
rgl@portlandkollel.org or
720-315-4266. Rabbi Levy, trained in Jerusalem, has been a certified Mohel since 2007. He serves the greater Portland area as well as many surrounding cities.
PORTLAND METRO
Dr. Larry L. Veltman, obstetrician, certified as a mohel by Conservative Movement in Judaism, 503-292-5227.
Dr. Wendy Smith, Ob-gyn, certified by the Reform movement, 503-241-9528. Limited availability.
Dr. Bruce Birk, a Portland pediatrician, certification through Hebrew Union College. birkbrucemd@gmail.com,
portlandmohel.com
or 503-799-2794.
CENTRAL OREGON/BEND AREA:
No certified mohels, but some pediatricians will perform circumcisions in the synagogue or home:
info @ bethtikvahbend.org, or
541-388-8826; or info @ jccobend.com
MIKVAHS/MIKVOT
A mikvah is a ritual bath satisfying very specific requirements that incorporate "living water" (running or moving water from a God-given source such as rain, snow, ice or a spring). Immersion in a mikvah is performed for ritual purification and a change in status, including conversion. It is used by Jews who wish to observe the Jewish laws concerning family purity or sanctification before a Jewish holiday, wedding or conversion ceremony. The purpose of immersion is not physical, but spiritual, cleanliness. Today, mikvah use has taken on some modern spiritually satisfying meanings. Immersion is often a way of celebrating both happy milestones and the pains of overcoming losses.
JACKSON WELLSPRINGS COMMUNITY MIKVEH
2253 Highway 99 N
Ashland, OR 97520
541-482-3776
MIKVAH MEI MENACHEM
804 Hillview St.
Ashland, OR
541-482-2778
ChabadofAshland.org
MIKVAH SHOSHANA
6612 SW Capitol Hwy.
Portland, OR
503-309-4185
Simi@ChabadOregon.com
Mikvah Shoshanah-Portland's Women's Mikvah, serves women in a sensitive fashion that enhances the meaning of Mikvah. It enables each woman to discover the spiritual mystery in this life-fulfilling Mitzvah in a tranquil and supportive setting.
PORTLAND JEWISH RITUALARIUM (MIKVAH)
New Community Mikvah under construction during 2016-17.
503-245-6449
mikvah@jewishportland.org
CHEVRA KADISHA/JEWISH BURIAL SOCIETIES
PORTLAND AREA:
Chevra Kavod Hamet: Chevrakavodhamet@gmail.com
orchevrakavodhamet.org, or
503-481-6716. Includes volunteers from Congregations Neveh Shalom, Havurah Shalom, Shir Tikvah, P'nai Or, Beth Israel, Shaarie Torah, Kol Ami and Beit Haverim as well as unaffiliated.
Chevra Kadisha of Portland:
Michael Rosenberg, michael@cashcoloan.com, or 503-519-2454. Includes volunteers from Congregations Kesser Israel, Chabad of Oregon, Beit Yosef, Shaarie Torah, and other congregations, as well as unaffiliated.
Corvallis and Salem:
Willamette Valley Jewish Community Burial Society: beitam.org/organizations/burial-society (has chapters in Salem and Corvallis), email office@beitam.org, or 541-753-0067.
EUGENE:
Temple Beth Israel, Eugene: tbieugene.org/page/chevra-kadisha, or info@tbieugene.org, or 541-485-7218
Ahavas Torah, Eugene: Contact Rabbi Jack Melul, jackmelul@ncsy.org, or 541-221-2073
Medford/Ashland area:
Chevra Kadisha of the Rogue Valley: Daniel Greenblatt,
Daniel@greenleafrestaurant.com 541-482-5917 or 541-941-1428.
CENTRAL OREGON:
Through the local congregations:
Congregation Shalom Bayit (Jewish Community Center of Central Oregon), Bend;
Contact Rabbi Jay Shupack, jshupack@juno.com, info@JCCObend.com, or 541-385-6421, or Temple Beth Tikvah, Bend, info@bethtikvahbend.org, or
541-388-8826.
FUNERAL SERVICES
HESED SHEL EMET
Oregon Jewish Indigent Burial Society
Debbi Bodie, Program Administrator
503-423-7845
jewishportland.org/ourcommunity/hesed-shel-emet
Hesed Shel Emet recognizes that all Jews deserve to be buried with dignity. Hesed provides an honored burial for individuals who could not afford to plan for their own Jewish burial in keeping with the traditions and practices of Judaism. Established by the Oregon Board of Rabbis and facilitated by the Jewish Federation of Greater Portland, this partnership assures every Jew, regardless of financial means or religious affiliation, can receive a dignified, traditional Jewish funeral and burial.
HOLMAN'S FUNERAL SERVICE
Daniel Holmes, President, General Manager
Cameron Holmes, Funeral Director
2610 SE Hawthorne Blvd.
Portland, OR
503-232-5131
info@holmansfuneralservice.com
HolmansFuneralService.com
Providing Caring, Affordable Service to Portland's Jewish Community since 1854. Family owned and operated.
RIVER VIEW CEMETERY FUNERAL HOME
8421 SW Macadam Ave.
Portland, OR
503-246-6488 day or night
riverviewcemeteryfuneralhome.com
We are a full service funeral home, located on the grounds of historic River View Cemetery.  We have special attention and expertise in Jewish burial customs, including accommodation for an appointed Shomer to keep watch over the deceased  until the burial. Conveniently located only minutes away from Beth Israel and Ahavai Sholom cemeteries,  River View is also home to the Jewish cemetery serving congregations Shir Tikvah,  Kol Shalom and P'nai Or, as well as Chabad of Oregon.
CEMETERIES
Many congregations maintain their own cemeteries; see congregations section for contact information.
JEWISH CEMETERY AT RIVER VIEW
0300 SW Taylors Ferry Road,
Section 142
Portland, OR 97219
503-287-0066
SIMCHA VENUES
THE BENSON HOTEL
Leslie Caldwell, Director of Sales and Marketing
Janet Kearney, Director of Catering
309 SW Broadway
Portland, OR
503-219-6706
sales@bensonhotel.com
bensonhotel.com
The Benson Hotel features 287 elegantly appointed guestrooms/suites; The Palm Court restaurant/bar; El Gaucho steakhouse; Gold Key Concierge; fitness room; business center. The hotel's special event spaces are perfect for weddings, rehearsal dinners, bar/bat mitzvahs, meetings, celebrations of all kinds for up to 400. On the National Register of Historic Places, named The Oregonian's 2012 Best Hotel-Staff Pick and awarded TripAdvisor 2015 Certificate of Excellence; this is the ideal setting for your next event.
B'NAI B'RITH RETREAT CENTER
Mail:  9400 SW Beaverton Hillsdale Hwy. #200
Beaverton, OR
503-345-9476
Located on the beautiful Oregon Coast, BB Camp is perfect for retreats and events. Our exciting amenities will keep you busy, and our cozy cabins sleep up to 300 people. Professional catering is available.
GRAND CENTRAL RESTAURANT AND BOWLING LOUNGE
Lexy Garbarino, Events & Promotions Manager
Dave Jackson, Manager
Willie Krause, General Manager
808 SE Morrison St.
Portland, OR
503-236-2695
grandcentralevents@ceghospitality.com
thegrandcentralbowl.com/grand_central
Grand Central Restaurant & Bowling Lounge is the perfect place for your child's Bar or Bat Mitzvah with unlimited entertainment options from bowling to arcade games, karaoke to dancing and so much more. Friends and family will never be bored with two floors of entertainment making it a night your child will never forget. We offer an extensive event menu that caters to all desires and can host parties with groups of 20 to 500.
MARK SPENCER HOTEL
Cydelle Higa-Johnston,
Director of Sales
409 SW 11th Ave.
Portland, OR
503-224-3293 or 800-548-3934
hospitality@markspencer.com
markspencer.com
The Mark Spencer Hotel is a historic hotel located in Downtown's newest West End District.  With 102 guest rooms and suites and over 2,200 square feet of meeting and event space, guests can experience the true essence of Portland and what it's like to "Stay Like a Local."
OPAL 28
Margot Feves, Owner
Sarah Korach, Office Manager
510 NE 28th Ave.
Portland, OR
971-544-7324
events@opal28.com
opal28.com
Opal 28 is an intimate 2,600-square-foot venue featuring modern charm in a vintage building, dating back to 1908. The open floor plan is versatile, including; two main rooms, built-in bar, private outside patio and accommodations for overnight guests. Opal 28 is a full service event venue offering catering, bar, rentals and decor; outside vendors are welcome.  Located in one of Portland's most vibrant neighborhoods with easy access to downtown Portland and off street parking.
PROVIDENCE PARK
1844 SW Morrison
Portland, OR 97205
503-553-5429
events@timbers.com
providenceparkpdx.com
Providence Park offers a unique and exciting venue to host your next private event! Don't let the Oregon weather deter you; the stadium is an indoor and outdoor facility for events throughout the year. We offer professional and experienced event managers to help make your event special and memorable!
THE STAMPFER RETREAT CENTER AT CAMP SOLOMON SCHECHTER
Sam Perlin, Executive Director
Zach Snyder, Assistant Director
Kasey Davis, Business Manager
Mail: 117 East Louisa St., #110
Seattle, WA
206-447-1967
Fax:  206-447-2629
info@campschechter.org
campschechter.org
Our 180-acre retreat center is nestled in the woods by a private lake near Olympia, WA. It is perfect for conferences, retreats and special events with a  Challenge Course, Zipline, climbing tower, waterfront, fire pits and other camp facilities.
SIMCHA VENDORS
A SIDE OF SOUL
Jeremy Hill, photographer/owner
Portland, OR
971-217-4784
jeremy@asideofsoul.com
asideofsoul.com/mitzvahs-1
Our team of experienced photographers will capture the memories and reveal the soul of your celebration. Bar and bat mitzvah photography is one of our specialties. Capturing moments that will last forever is a beautiful thing and something I take a great deal of pride in. Book two or more months in advance and we will include a complimentary photo album from your event. We can add a photo booth to help capture the memories.
EVERYTHING JEWISH
Rabbi Chayim Mishulovin
6684 SW Capitol Hwy.
Portland, OR
503-246-5437
EverythingJewish.biz
Facebook.com/EverythingJewish
Store and Information Center. Not just a retail store, Everything Jewish is Portland's Jewish resource and welcome center. With an onsite rabbi available to answer questions and discuss Jewish perspectives, people are welcome to come and browse as an opportunity to learn more about Judaism and Judaic items.
PACKOUZ JEWELERS
Rick Mahler, Owner
Ian Mahler, Sales
Kari Mason, Sales
522 SW Broadway
Portland, OR
503-228-3111
rick.mahler@packouzjewelers.com
packouzjewelers.com
Established in 1917, Packouz Jewelers is a family owned and operated business located in the heart of downtown Portland's historic Broadway district. With a continued legacy of offering the finest timepieces and jewelry combined with unsurpassed customer service, Packouz Jewelers has continued to bring a tradition of elegance and sophistication to Portland for nearly 100 years.