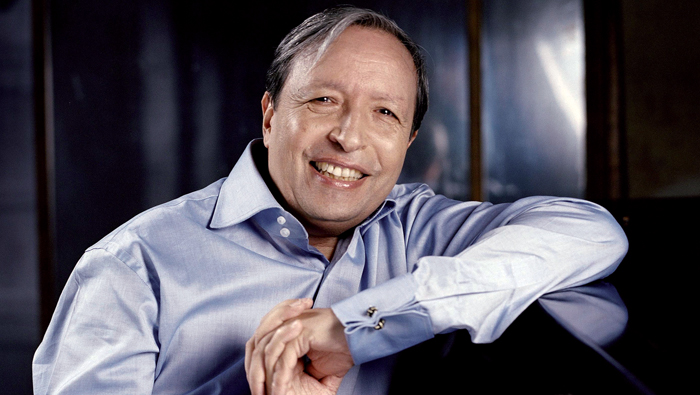 Legendary American pianist Murray Perahia returns to Portland to perform an afternoon solo recital Saturday, April 10, at the Arlene Schnitzer Concert Hall. Often described as the greatest living American pianist, Perahia has made several acclaimed appearances in Portland over the past four decades.
His Portland program will include Haydn, Mozart, Beethoven and Brahms. The performance is presented by Portland Piano International, which is "dedicated to presenting the finest pianists in the world in recital settings and outreach activities for the purpose of enriching and educating our community."
In the more than 40 years he has been performing on the concert stage, Perahia has performed in all of the major international music centers and with every leading orchestra. He is the principal guest conductor of the Academy of St. Martin in the Fields, with which he has toured as conductor and pianist throughout the United States, Europe, Japan and Southeast Asia.
Born in New York, he started playing piano at the age of 4; he later attended Mannes College, where he majored in conducting and composition. In 1972 he won the Leeds International Piano Competition, and in 1973 he gave his first concert at the Aldeburgh Festival. Perahia was co-artistic director of the festival from 1981 to 1989.
The Los Angeles Times recently wrote, "Perahia's virtuosity, never fussy, narcissistic or quirky, generates a heightened sense of drama in whatever he plays. At 67, his gifts as a storyteller have deepened."
In the 2014-15 season, he toured Europe, Asia and the Middle East. Last spring's U.S. recital tour included performances in New York's Carnegie Hall, Los Angeles' Disney Hall and Chicago's Symphony Hall, as well as Rohnert Park, Tucson, Scottsdale, Kalamazoo, Sarasota and Savannah.
Perahia has a wide and varied discography. Sony Classical has issued a special boxed set edition of all his recordings including several DVDs entitled "The First 40 Years." His recording of "Brahms Händel Variations," which won the Gramophone Award in 2011, was described as "one of the most rewarding Brahms recitals currently available."
Perahia is an honorary fellow of the Royal Academy of Music. He holds honorary doctorates from Oxford University, the Royal College of Music, Leeds University and Duke University. In 2004, he was awarded an honorary KBE by Queen Elizabeth II in recognition of his outstanding service to music.
For more information, call 503-2218-1388 or visit portlandpiano.org