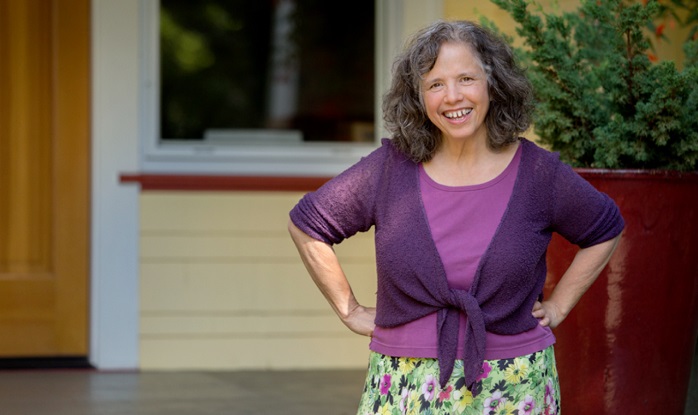 Laurie Sonnenfeld is a woman who wears many hats. She is the principal broker at Laurie Sonnenfeld Realty; she manages and promotes Pa'lante, a salsa and Latin jazz band; and she hosts a folk music program on local radio station KBOO (90.7 FM).
Laurie has been involved at KBOO both as a volunteer and a board member for many years. She met her husband, jazz DJ and Pa'lante bandleader Nick Gefroh, at KBOO, and it was a match made in musical heaven.
Music has been very important to Laurie since childhood, so it is only natural that it would continue to surround her.
"My father played the violin," she explains. "My mother had a very beautiful voice, and she grew up with a lot of music, too. Her sister was an accomplished pianist, and they spent many hours playing and singing light operas."
Laurie's father, a German Holocaust survivor, had a small band that played in clubs in Germany. In 1936, he escaped from a concentration camp and fled on an Italian boat to Shanghai. He eventually made his way to California, where Laurie was born.
Portland called to Laurie because of its natural beauty. After moving here in 1977, she felt at home within a month.
"I was (already) running into people I knew; that's what I wanted," she says. "Portland had that small-town aspect. It was possible to find a sense of community very quickly."
Laurie wrote for the alternative Portland Scribe newspaper and worked at the old Arbuckle Flat Coffee House, which regularly hosted live music. Soon, Laurie developed a vast network of friends, some of whom would later become her real estate clients. In 1983, she became a programmer for the folk music show at KBOO.
Today, Laurie continues to draw from the creative well of music. She spends her free time studying blues, folk and Latin piano. She feels a deep connection between music and spirituality, one that even figured into her choice of congregation. Cantor Ann Brown's "warmth and beautiful voice" drew her to Beit Haverim, as did the musical leanings of the congregation's rabbi, Alan Berg. "(He) has that musical passion, and he brings the most interesting music references into his Torah study, into his sermons, into everything – because it's such a big part of him," Laurie says.
Another passion of Laurie's is helping others. Before entering into the real estate field, she served in positions with The Boys and Girls Aid Society of Oregon. She recounts, "I did marketing, publishing, video, photography and other public relations for the agency. At night and on weekends, I handled emergency intake with 11- to 17-year-old runaways and other kids who needed help. I would take calls from police or the kids themselves, pick them up at police stations or juvenile detention, and determine the best short-term plan (for them)."
Laurie's commitment to tzedakah continues at Laurie Sonnenfeld Realty/Homes With Character. "(My clients) really like our giving program; I give a portion of our profits to green and progressive groups like Oregon Wild and the Feral Cat Coalition, the Immigrant & Refugee Community Organization and some others. It's so important to me." Other causes dear to Laurie's heart are animal welfare, the environment and preservation of local homes. As a Realtor, she specializes in what she terms "homes with character."
Laurie is about to celebrate 30 years as a Realtor in Portland. This summer, she will hold a gala at which Pa'lante will perform. In this way, she can marry her two main passions: music and community.
cascadiahomes.com | PalantePDX.com