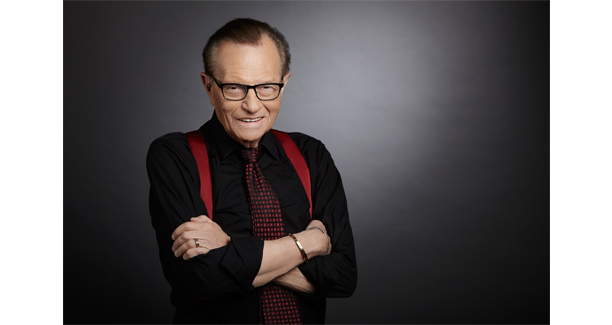 Larry King turns 85 on Nov. 19, and his career in front of a microphone turns 61 on May 1. He has conducted more than 50,000 interviews – getting to know the thoughts of athletes, movie stars, musicians, millionaires, politicians and presidents all while wearing his iconic suspenders.
"I just always wanted to be in radio – I thought I would be a Dodgers announcer," says Larry. "I've wanted it since I was 5 years old. I used to dream about it; I would imitate radio announcers. When I was a teenager I would visit radio shows that had studio audiences; I was fascinated by the whole area – sound, radio, the theater of the mind."
His father died of a heart attack when Larry was just 9½ years old.  Larry didn't go to college; after high school he worked odd jobs to help his mother out. He always held on to his dream of working in radio, so when someone suggested he check out the possibilities in Florida, he jumped at the chance.
In 1957, he got a job at radio station WAHR (now WMBM) in Miami Beach "doing everything" from being a disc jockey in the morning to announcing sports in the afternoon. He was on the air for about two years when he was approached to do Coffee Talk at Pumpernik's local restaurant.
The restaurant owner wanted an interview show done on site, so Larry did an hour-long show every morning after his gig at the radio station.
"I started interviewing people, in the beginning it was just visitors and waiters and then one day, Bobby Darin walked in, and I interviewed him – then Jimmy Hoffa," remembers Larry. "That show really caught on, and newspapers started writing about it. I found my home as an interviewer. I relaxed, I enjoyed every minute of it. I was always curious, and that curiosity paid off."
His television career began about a year later. "I did a Sunday night television show, and Jackie Gleason would come on that show – everything took off," says Larry. In 1978 he went national on Mutual Broadcasting System. "That was the first network radio talk show nationally." He continued his media ascent, starring in "Larry King Live" from 1985 to 2010 on CNN. "Interviewing became my forte. If I wasn't an interviewer; I'd be a sports announcer; if I wasn't a sports announcer I'd probably do stand-up comedy. I'm a communicator – I like the whole ball of wax."
End of one era, beginning of the next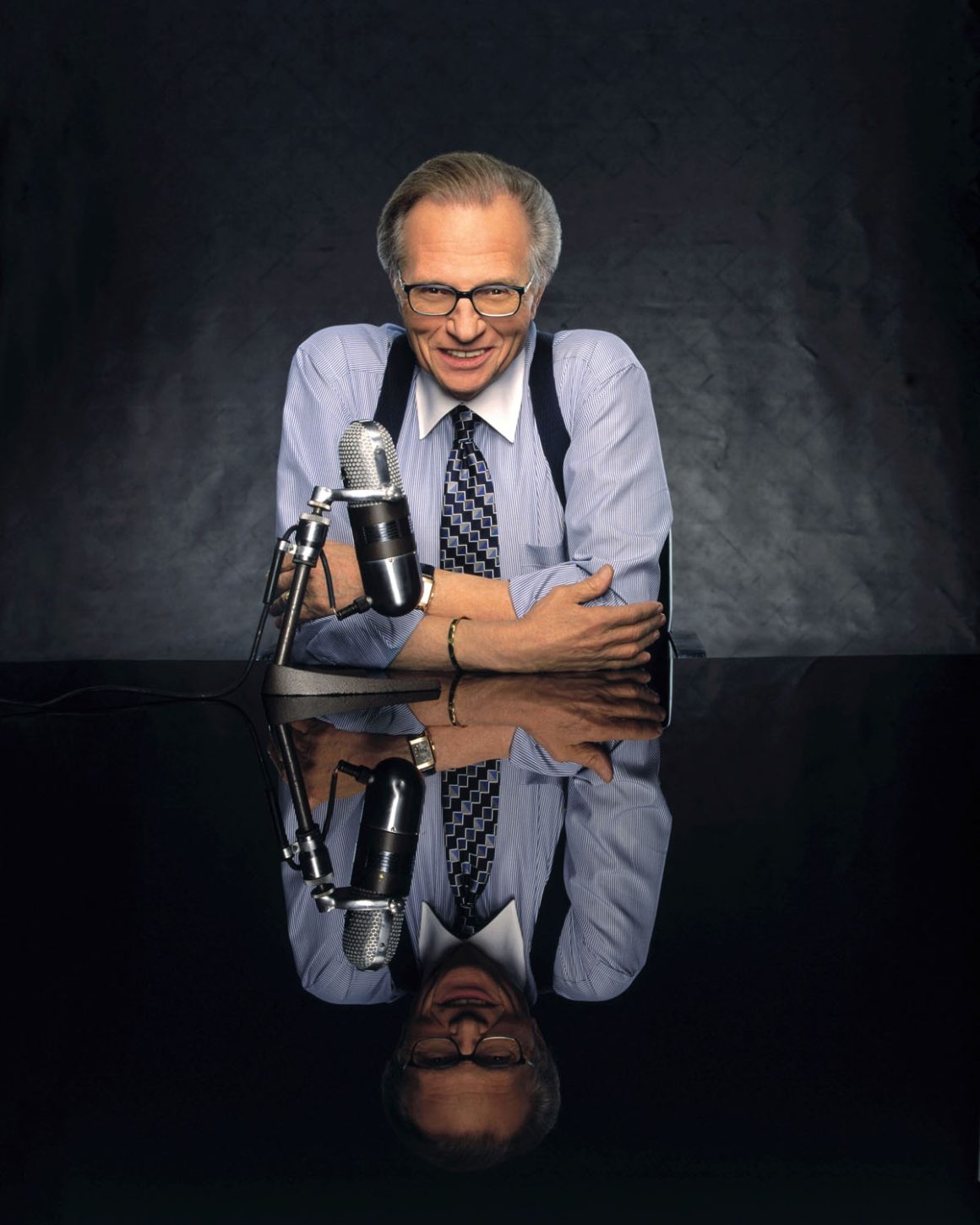 After leaving CNN, Larry did a comedy tour, sharing memorable stories from his lengthy career, but he quickly realized that he missed being on the air. "When Osama bin Laden was killed, that night I wanted to run somewhere and do a show – but I didn't have anywhere to run," he says.
Larry would soon have somewhere to be "on" again, befriending Mexican billionaire Carlos Slim who helped finance Ora TV, a television production studio and on-demand digital network that launched in 2012. CEO Jon Housman came up with the name Ora, which is Larry's wife, Shawn's, middle name.
Larry hosts two shows on this new platform, "Larry King Now" and "Politicking with Larry King." "I'm still doing what I did back many, many, many years ago. I'm just transmitted differently," says Larry. Shawn's take on why they started Ora is a little different. "We started Ora TV because I was tired of having Larry in the house," she jokes.
Larry and Shawn also have launched Communication U, a free online classroom where Larry interviews the world's best-known communicators as they share their secrets of success. The basis for the course stemmed from Larry's book, How to Talk to Anyone, Anytime, Anywhere first published in 1994. "It's all about communication," explains Shawn. "You make a lot more money if you're able to communicate your thoughts in an organized fashion."
The couple's most recent venture departs from the world of media. "Sleep Like a King" (sleeplikeaking.com) is a line of luxury home goods inspired by their stays at some of the finest hotels in the world. "When you go and stay in a beautiful hotel with great sheets – there's nothing like it – jumping into bed on beautiful, crisp, high-end, soft sheets," says Shawn.
She explains they are working directly with a manufacturer of luxury bedding, Sobel Westex, so they can offer the same high-end quality bedding to the masses at an affordable price.
Shawn admits she is a little sheet and bedding obsessed. "We were staying in New York at the St. Regis, and I loved the sheets so much," says Shawn. "Larry, being the romantic guy that he is, and the listener that he is, he had them send the entire bedding set to me. It was such a wonderful gift."
But Larry is not the only one good at surprises.
"When Larry was turning 70, I was on the phone with Carrie Schnepf (of Schnepf Farms in Queen Creek, AZ), bemoaning the fact that Larry has everything and he's so hard to buy for," says Shawn. "I couldn't figure it out. So Carrie said, 'I know what we can do.' "
When the Schnepfs planted their cornfield for the season, they used special technology which allowed them to transform their 10-acre maze into a likeness of the celebrity.
Since the image could only be seen from the air, Shawn arranged for Larry to go up in a helicopter to see his portrait in the acres of corn – complete with his signature suspenders and microphone. "Carrie donated proceeds from admission to the maze to the Larry King Cardiac Foundation," she says. "We love Arizona and its people – we have lots of friends there."
Two people, two religions – or three?
Larry grew up in a Conservative, kosher home and he became a bar mitzvah. "I'm very Jewish socially," he says. "I love Jewish humor, I love Jewish food, I like being Jewish, but I'm not religious. Shawn is a religious Mormon, so she believes, and I don't."
Shawn: "You don't believe in a God."
Larry: "I don't. I used to, but then I faded."
Shawn: "Faded? That's a pretty big fade!"
However, he did hold a mock seder this year with Rhett McLaughlin and Link Neal, the creators of the YouTube series "Good Mythical Morning." "They asked me since they were not Jewish, and they were going to a home where a seder would be conducted, and they wanted a little practice," says Larry.
"I had my seder book and my tallit. I've done a lot of seders. The Last Supper that Jesus Christ held was a seder. He conducted the seder. All the people there were Jewish."
Larry made sure he had the traditional foods on hand too, including matzah and Manischewitz Concord Grape. "When you come right down to it, next to Cabernet, it's my favorite wine. Manischewitz Concord Grape," he says it, emphasizing every word. "There's something about it, it has a lilt, it's wine, but it's also grape juice."
Shawn was raised in The Church of Jesus Christ of Latter-day Saints and remains very active. "Mormons and Jews are culturally very similar," she says. "The family is at the center of everything. Family first, period, end of story." After Shawn shares the importance of faith and family, Larry interjects, "I'm reading a book called Mormonism for Dummies."
Despite his lack of religious practice, Larry has been to Israel several times.
Shawn: "He's been promising me that he would take me to Israel since we were dating."
Larry: "I have a surprise, Shawn."
Shawn: "Oh, you have a surprise. Really?"
Larry: "I'm interviewing Netanyahu the second week in June, and I'm taking you."
Shawn: "All right! When did that happen?"
Larry: "Today."
Shawn: "You had four hours to tell me that!"
Larry: "I came home and you were so busy, you were running around," and then he adds "I'll take her to Israel so she can visit her holy land. She can visit the birth of Christianity."
The two continue their endearing banter back and forth, which is not uncommon for the couple who have been married for 21 years this September. This time the focus was on what Shawn refers to as Larry's "real religion" – baseball.
Larry: "Shawn, you're never going to make the (Dodgers) game, I'll have to go ahead of you. You have an hour and 20 minutes. You'll never make it."
Shawn: "My hair is dry. I've had a shower. Stop!"
Larry: "I'll give you your parking pass, I'll give you your ticket – have a good time."
Shawn: "You're witnessing Larry King at his normal…."
Larry: "What? I like to be on time for things."
Shawn: "This is what I live with."
Larry: "Wait, what about what I live with? The game starts at 7:10 pm, I want to be there at 6 pm, so that I can have dinner."
Shawn goes on to explain that their seats are in the Dugout Club, so they have access to a buffet before, and during, the game.
Larry: "…and Shawn arrives in the eighth inning for a hot dog!"
Shawn: "Which is the time the most important stuff usually happens…"
Larry: "Stop! It's a great sport! Stop! Oh my gosh! I'm tired of this conversation."
Shawn: "Actually, Larry's real religion is baseball."
Larry: "… and I love hockey, I love basketball, I love football. Baseball is my favorite. I love competition; I love tiddlywinks if its being played right, I like to watch checkers. The Dodgers are my favorite team. I grew up with the (Brooklyn) Dodgers."
Lasting legacy
When asked who his favorite person to interview was, Larry is quick to respond. "That's impossible to say, I've done it for so many years. But there's a bunch of them: Frank Sinatra, Muhammad Ali, Nelson Mandela, Malcolm X, seven presidents." The list is not as long though when you ask him his least favorite. "Robert Mitchum gave me a tough time. I admired his acting; he may have been drunk because he just one-worded me."
He says that he never really had a much of a problem with guests," I've always been curious. I've been able to draw them out, I don't know what I do. I draw everyone out – except Shawn. I ask Shawn a question, and I get that famous thing all wives say – nothing." Shawn is quick to defend herself. "No, there is no accuracy about this," she says. "This is Larry going into his comedy act. I am the punchline in Larry's life."
Larry regrets he never had the chance to interview Fidel Castro.  "I went to Havana some years ago trying to get him. I spoke to people in the Assembly (National Assembly of People's Power) in Cuba, met a lot of Cuban people, but it never happened. I would have loved to have interviewed him because he led his country for so many years, forget the politics when you lead a country that long … I would have loved to interview him."
He also has a current list of people that he would like to interview. "Right now, on my list would be the Pope – he's always on my list, the British prime minister, the French president," says Larry. "I'm always curious about anybody that I talk to. I love the whole world of asking questions."
Many of his interviewees and early radio personalities left an impression on him. "I used to listen to Arthur Godfrey as a child. He was a great salesman, a great broadcaster and he's largely forgotten, and that's a shame," says Larry. "(Jackie) Gleason had a great effect on me, the great lawyer Edward Bennett Williams was a great friend, the late Mario Cuomo had a great impression on me, a lot of people affected me, they were mentors in a sense."
Throughout his career, he has won numerous awards. "I've won the only Peabody Award for a radio talk show," he says. "I'm also the first person to get a Lifetime Achievement Emmy Award, which I got in 2010, and then seven Emmy nominations. After a Lifetime Achievement, you're supposed to die."
He has also received CableACE Awards and Webby Awards; he is in five "hall of fames;" and he has a star on Hollywood Boulevard. There is even a Larry King Square at the intersection of Sunset and Cahuenga Boulevards in Los Angeles. Larry jokes, "I'm dying to have an accident there so the police could write out – this occurred at Larry King Square and Larry King." Shawn is quick with a retort, "The way he drives, I wouldn't be surprised!"
Despite Larry's jokes and comfortable, relaxed demeanor, he takes on a tone of solemnity when asked about what he wants his legacy to be. "That he informed, he entertained, he added some knowledge to the world, he contributed. He did good things and he tried to help other people, and he's happy he was part of the culture."
But the tone gets light again when he's asked if there is a question that he's never been asked but expects to be asked. "I've never been asked – I've said it – but I've never been asked, 'What's it like to be married to a younger woman?' No one's ever asked me that."
Shawn: "Really?"
Larry: "No one has ever asked me directly."
Shawn: "Uh-oh! Hold on, here comes the punchline."
Larry: "When people see the both of us, they look at us, and they see the obvious difference in age. They look at me, they look at her, I know what they're thinking, So, I always say the same thing – 'If she dies, she dies.' "
It's obvious that Larry King can rely on his stand-up skills, sharp as ever, to keep him prepared for his next career move.