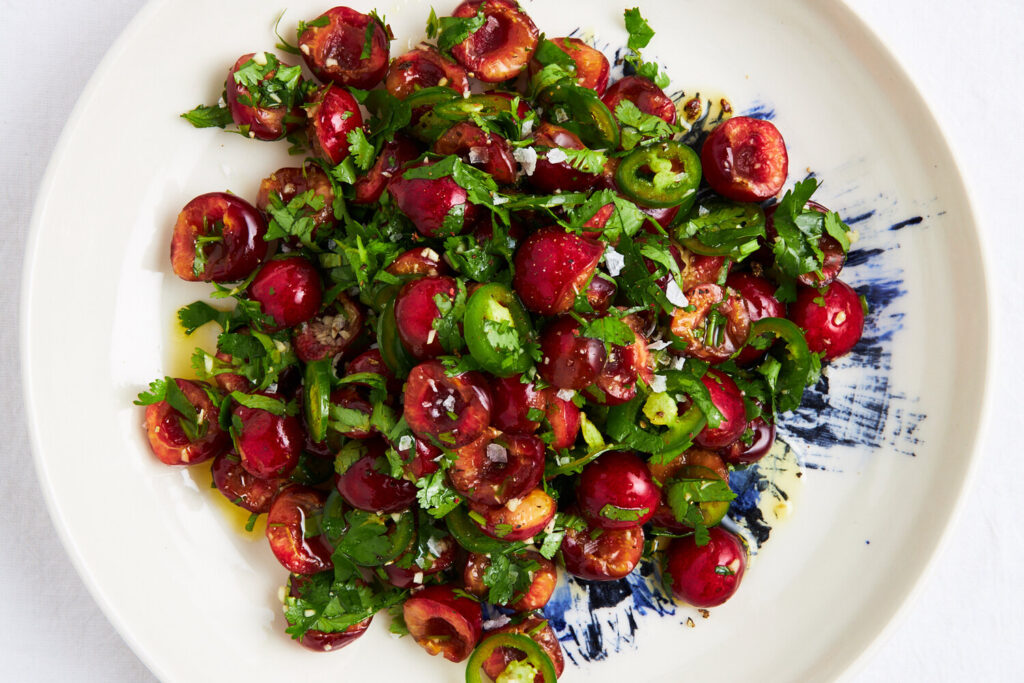 Renowned culinary personality Hila Alpert's famous spicy cherry "Lali" salad was inspired by her childhood on Kibbutz Ma'ale HaHamisha, one of the first in Israel to grow sweet cherries.
From Jewish Food Society:
In Israel, this salad is a culinary icon, made popular by Habasta, a restaurant tucked into Tel Aviv's Carmel Market. Nicknamed "Lali salad" the recipe originated with Hila, whose kibbutz, Ma'ale HaHamisha, was the first in Israel to grow sweet cherries. While harvesting them, she remembers hiding between the leaves so no one would see her as she devoured the cherries straight from the branch.
Makes: 2 to 4 servings
Total Time: 30 minutes
Ingredients
1 cup fresh cherries, pitted
1 cup fresh cilantro leaves, finely chopped
1 jalapeño pepper, deseeded and thinly sliced
1 garlic clove, finely chopped
1 teaspoon coarse salt
1 tablespoon extra virgin olive oil
Preparation
1. Place the cherries, cilantro, chili, garlic, salt and olive oil into a mixing bowl. Stir well until all the ingredients are coated and dispersed evenly.
2. Serve cold.