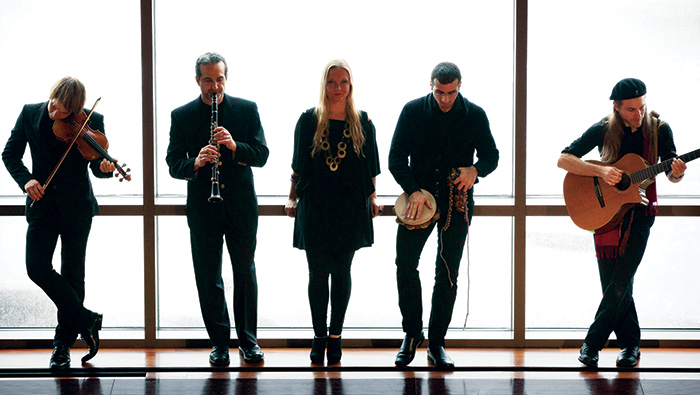 The Guy Mendilow Ensemble brings its interpretation of Ladino music to the Shedd Institute in Eugene Oct. 9 as part of a nationwide tour.
"Tales from the Forgotten Kingdom" dives into Ladino tradition, from songs and stories carried by Sephardic Jews as they moved from Spain and settled along the Mediterranean's northern coast to Greece and Turkey. Multi-instrumentalist, singer and arranger Guy Mendilow and his four musical collaborators leap into this world: the intertwining music and storytelling conjure up an imagination lost to war and upheaval, recorded in a language that blends archaic Spanish with Hebrew, Greek and Turkish.
Mendilow grew up in Jerusalem, hearing various renditions of Ladino songs spinning from the family record player, or drifting mysteriously from open windows, as elder women went about their housekeeping. It felt too slick or too rough, and left only a faint impression on the young musician.
"The songs were cryptic, the language was mysterious, opaque," he recalls.
However, once he mastered Spanish while living in Mexico, after having engaged intensely with very different music, he found himself fascinated by Ladino repertoire. The epic stories – tales scholars of Spanish literature prize for encapsulating much medieval material unavailable elsewhere – are coupled with tantalizing, zesty melodies.
"As a more mature artist, I was able to listen with more of a musician's ear, and it was entrancing, those meandering melodies and modes," he says.
Despite the grim fate of many communities during World War II, Mendilow discovered rough field recordings such as the collection held at the National Archives of Israel. Immersed in the material, he began to explore sounds that might capture the tales and convey them to contemporary, non-Ladino-speaking audiences. He turned to instruments from around the world, adding Brazilian berimbau and overtone singing, for example, to a mocking treatment of a courtship gone wrong, "Mancevo del dor," and thumb piano to "Una Noche al Borde de la Mar," a piece originally from Sofia, Bulgaria.
The overall sound, however, is based on more familiar though equally expressive elements. Singer Sofia Tosello, from Argentina and with a background in tango vocals, weaves her sometimes crystalline, sometimes gritty voice with Mendilow's pure tenor. Violinist Chris Baum, Palestinian drummer and percussionist Tareq Rantisi, and woodwind player Andy Bergman can be sprightly or lyrical.
"There's lots of research and scholarship behind what we've done, but it's a stylized project to make the stories come alive today," Mendilow says.
"I don't want someone to think they've heard Ladino music when they've come to our concert. It's not about that; it's about bringing the stories to life," he explains. Like all good stories, those tales of wonder from lost communities continue to inspire and thrill.
Tales from the Forgotten Kingdom
7:30 pm, Oct. 9
theshedd.org | 868 High St., Eugene