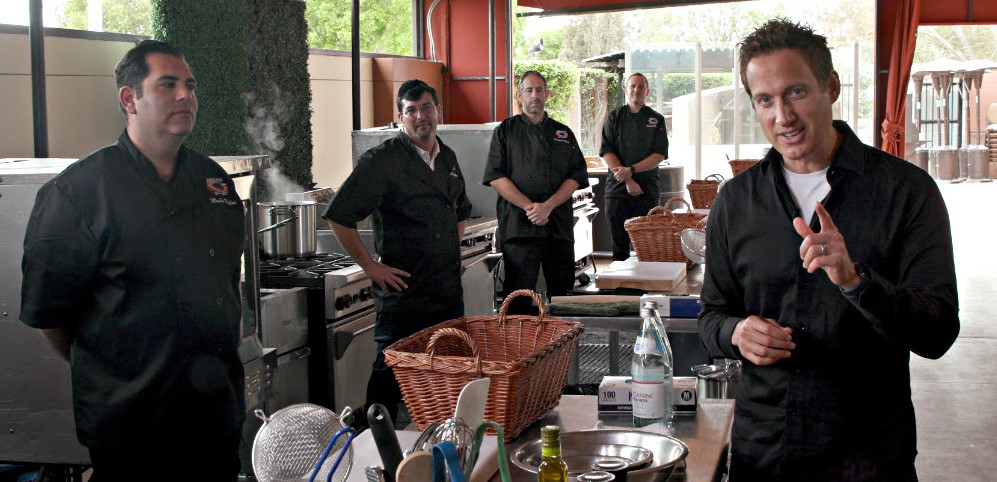 PHOTO: Left to right -Moshe Nafisi, BZ Ingber, Kolev Klein, Moshe Bloch compete in SKILL'IT Cook Off Hosted by Comedian Elon Gold. Cook Off will premiere on Kosher.com on July 4th weekend.
New web series SKILL'IT premieres July 4 on Kosher.com 
It's a chef-eat-chef world out there. When Kosher.com announced SKILL'IT West Coast, the latest smack-down for masters of kosher cuisine, hundreds of the toughest guys in the industry couldn't wait to throw down the gauntlet.
Out came the kitchen knives. In this fierce battle of wits, creativity, and mad cooking skills, many kitchen warriors stumbled. Those who emerged triumphant moved on, round by round.
Starting with four intense competitors.
This quartet of Southern California's most passionate cooks will vie for an exclusive private barrel of Herzog wine valued at $20,000 prize and title of grand champion in the latest culinary competition, SKILL'IT. Kosher.com/Skill'it presented by Kosher.com  the first four episodes will premiere on July 4 at 5 pm EST and run through the end of July, with one new episode each week- July 11, 18, 25.
It's a white-knuckle fight to the finish. Each round brings a new challenge, from catering to wine pairings to seasonal ingredients and small plates. The competitors' creations must be unique, perfectly executed, visually arresting, and most importantly, more delicious than the rest. The clock is ticking. They can prepare it … but can they SKILL'IT?
That's up to the judges. World-class chef and caterer Nir Weinblut (La Gondola, Beverly Hills) is renowned for "pushing the kosher envelope." Gabe Garcia is executive chef at Tierra Sur, the celebrated farm-to-table restaurant at Herzog Wine Cellars in Oxnard and host of Under the Hood on Kosher.com
Joining the judging panel through various episodes are:
• Wine expert Joe Hurliman, head winemaker and Herzog Wine Cellars.  Joe first came to Herzog Wine Cellars in 1998, playing a central role in the design and construction of the Herzog Wine Cellars winery.
• Farmer John Fontaine from Rio Gozo Farm in Ojai California.  Rio Gozo Farm provides high quality organic produce to restaurants within the Ventura watershed. They grow herbs, flowers, and vegetables on its scenic eight-acre farm located at the beautiful campus of Besant Hill School in Ojai.
• Drew Rosen from Nes events Partner & Executive Chef. Throughout his extensive career, Drew has owned and operated six restaurants, been the Executive Chef at two hotels, was the Culinary Director at Pomegranate in Brooklyn, and most recently oversaw most of the operations at Pat's Restaurant & Catering.
While there's nothing funny about a ferocious battle, host Elon Gold will add a heavy dash of levity to SKILL'IT. The comic and actor is best known for his starring roles in Fox's Stacked and NBC's In-Laws, recurring role in Fox's Bones, and his side-splitting Netflix standup special, Elon Gold: Chosen and Taken, currently streaming on Amazon Prime.
While only one man can claim can capture the SKILL'IT crown, recipes for every dish will be available on kosher.com. This is one competition where everyone wins!
Meet the Contestants – The SKILL'IT final four represents some of Southern California's most elite establishments:
BZ Ingber: BZ moved to Los Angeles from New York and brought with him a passion for food. Through that passion, BZ has developed his culinary artistry by catering Kiddushes for his community, which led to him opening his own private catering business. BZ specializes in innovative dishes; always looking for ways he can improve on the classics.
 Moshe Bloch: If you know Moshe, you know a man who loves fish! Bringing together his hobby of fishing and his talents in entrepreneurship, Moshe is the co-founder of Meshuga 4 Sushi; a local legend in the SoCal kosher sushi scene. With Moshe, it's all about precision, adventure, and creating something that will turn people's heads.
 Moshe Nafisi: Moshe Nafisi is the consummate "foodie" in his personal life, and a Los Angeles Mortgage Broker in his professional life. Going out for meetings and private dinners has led Moshe to find and enjoy the good stuff, and play around with his own recipes in the kitchen. Moshe loves smoking meats and fine cigars.
Kolev Klein: Kolev grew up in a culinary home. His mother, a chef and baker – raised him with gourmet Hungarian dishes and the discipline to make them right! Kolev believes in A-Z chefery; from sourcing the right ingredients, to curing, to cooking! As a professional attorney in L.A., this chef has nerves of steel and a drive to take his cooking to the next level!
Go to Kosher.com for year-round recipes and ideas.