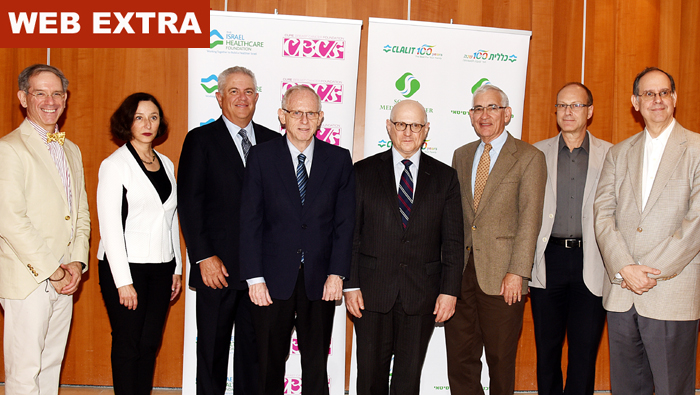 JERUSALEM – Leading international breast cancer researchers attending a Soroka Medical Center and Israel Healthcare Foundation symposium addressing the question: "Should Ashkenazi Jews or even the general population be tested routinely for inherited predisposition to breast cancer?" concluded that the current testing model focusing on family history isn't working and that data shows that half of people who would be found to have dangerous mutations are not now candidates for testing.
Currently, testing for such genetic changes as mutations in BRCA1 and BRCA2 is only recommended  for those with suspicion-arousing family histories. However, for a variety of reasons this likely misses some individuals who carry such mutations, denying these people the opportunity to undertake prevention strategies. Women carrying a BRCA mutation have up to an 85% chance of developing breast or ovarian cancer in their lifetimes and men carrying such mutations are also of increased risk.
Ashkenazim have a one in 40 chance of having a harmful BRCA1/2 (BReast CAncer) genetic mutation. Only one in 400 people in the general U.S. population have such a mutation. In some limited cases, insurance will pay for screening. (See related story)
The Cure Breast Cancer Foundation sponsored the event. The panel meet in a closed-door session on July 10, and then the leaders revealed results at a news conference held at the Inbal Jerusalem Hotel.
Prof. Larry Norton, MD, medical director of the Evelyn H. Lauder Breast Center of Memorial Sloan Kettering Medical Center in New York was the chair of the conference. He was joined at the news conference by Dr. Ehud Davidson, director-general of Soroka Medical Center, Professor David Geffen, chief of breast oncology services of Soroka Medical Center, Prof. Kenneth Offit, head of clinical genetics at Memorial Sloan Kettering Cancer Center in New York, Prof. Judy Garber, past-president of the American Association for Cancer Research, and several other key participants who shared insight into the discussions.
"We were gratified to hear much agreement among a diverse group of experts from the U.S., Europe and Israel, all key regions in this issue," said Dr. Norton. "We found that if you are in certain groups that not having a family history does not mean that you should not be tested since you might have a cancer-causing mutation. Indeed, testing all Ashkenazi Jews, as an example, finds twice as many people with mutations as testing just those with family histories. This indicates that the rules for testing need to be changed. It also means that the psychological, medical and economic consequences of broader testing needs to be evaluated."
"Knowing that one has a dangerous mutation could well be life-saving, since one can do things that minimize one's risks," he added. "The panel will be writing a paper summarizing their findings and plans to meet again for follow-up."
Norton, a former president of the American Society of Clinical Oncology and a former presidential appointee to the U.S. National Cancer Advisory Board, has dedicated his life to the eradication of cancer through effective medical care, laboratory and clinical research, advocacy and government. Today, he is the Sarofim Chair of Clinical Oncology and director, Evelyn H. Lauder Breast Center, Memorial Sloan Kettering Cancer Center.
"We were pleased to play such an important role in bringing together these experts to address a topic critical to women everywhere, but even more relevant to the multicultural population of the Negev," said Soroka Medical Center director general Dr. Davidson. "We will continue our effort to collaborate with the best researchers in the world regarding this topic."
Soroka Medical Center is among Israel's largest and most advanced hospitals, and the country's busiest, with 1,100 beds. It is the only major medical center in the entire Negev Region (Southern Israel), serving a population of more than 1 million, including 400,000 children. The region accounts for more than 60% of Israel's land mass. Each year Soroka cares for more than 500,000 outpatient and clinical visits, 200,000 emergency cases and 80,000 hospital admissions. The hospital staff performs more than 35,000 surgical procedures each year and more than 16,000 babies are delivered each year.
The Israel Healthcare Foundation is an independent U.S. based 501-c3 not-for-profit organization that promotes and represents the national health needs of Israel. It is empowered to support Clalit and other organizations, and to forge strategic partnerships, solicit funds and make new grants. Clalit, with 4.3 million members, is Israel's largest healthcare network with 14 hospitals and over 1,400 clinics and healthcare facilities.