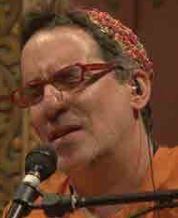 Rabbi Andrew Hahn, known as "the Kirtan Rabbi," will be in Portland for a weekend of learning, chanting and ecstatic Jewish prayer Jan. 30 – Feb. 1. Congregation Shaarie Torah, in partnership with Congregations Neveh Shalom, Beth Israel and P'nai Or of Portland, will sponsor this weekend as a special opportunity for the whole Portland community to come together. The Kirtan Rabbi unites celebration of Torah and song in a way that allows people of all ages to discover renewed energy within their Jewish or spiritual practice. A longtime martial arts instructor with a doctorate in Jewish philosophy, Rabbi Hahn laces his simple, alluring chants with meditation techniques and traditional learning.
The practice of Kirtan originated in India. Its intention was to bring sacred chanting out of the temple precincts and into the streets for everyone to experience. Its form is nearly always in the call-and-response format. Rabbi Hahn characterizes Hebrew Kirtan as "fully participatory call-and-response chant where short, sacred phrases from the Jewish tradition are treated as powerful, universal meditations. It is at oncecontemplative, ecstatic and simply fun."
Rabbi Hahn received rabbinic ordination from Hebrew Union College-Jewish Institute of Religion and earned a Ph.D. from the Jewish Theological Seminary, both in New York City. He has two musical CDs: Kirtan Rabbi: Live!, recorded at New York's fabled Congregation B'nai Jeshurun on Manhattan's Upper West Side, and the studio production, Achat Sha'alti (one thing I seek).
"In every generation Jews have experimented with new forms for Jewish prayer and new ideas," says Congregation Shaarie Torah's Rabbi Josh Rose. "In our time it is no different, and I see Rabbi Hahn as part of that continual process of Jewish experimentation, development and growth. In some ways, of course, the kind of work that Rabbi Hahn is doing is cutting edge, exciting and new. But it is also ancient, part of a long tradition of stirring ourselves to pray with passion, with kavanah. The Torah, the Talmud, the records of the Hasidic masters – all these make clear that there has been an ongoing process of creating new forms and practices to express prayer with the deepest feeling.
I can't overstate the importance of tuning in to this kind of feeling in Jewish prayer, and I'm grateful that Rabbi Hahn is guiding those interested in exploring this way."
The main event of the weekend is the Kirtan Concert on Saturday, Jan. 31, 7 pm, at Congregation Shaarie Torah, 925 NW 25th Ave.
Other events are: 6:30 pm, Jan. 30: Kabbalat Shabbat & Dinner at Shaarie Torah.
Rabbi Hahn will join Rabbi Rose to lead Kabbalat Shabbat Services. Afterward Congregation Beth Israel will join Shaarie Torah for dinner with a joint talk by Shaarie Torah Rabbi Josh Rose and Beth Israel Rabbi Michael Cahana. For dinner reservations call 503-226-6131.
10 am, Saturday, Jan. 31: Rabbi Hahn at P'nai Or, 9750 SW Terwilliger Blvd. Sunday, Feb. 1 (Time TBA): Kirtan Rabbi at Neveh Shalom, 2900 SW Peaceful Lane.
Kirtan Rabbi concert is the centerpiece of a weekend of learning and chanting
KIRTAN RABBI IN CONCERT
WHO: Rabbi Andrew Hahn, known as the "Kirtan Rabbi"
WHEN: 7 pm (doors open at 6:30 pm), Saturday, Jan. 31
WHERE: Congregation Shaarie Torah, 920 NW 25th Ave.,Portland
COST: $18 suggested donation. No one turned away.
INFORMATION: shaarietorah.org/kirtanrabbi
TICKETS: brownpapertickets.com/ref/862478/event/1021876