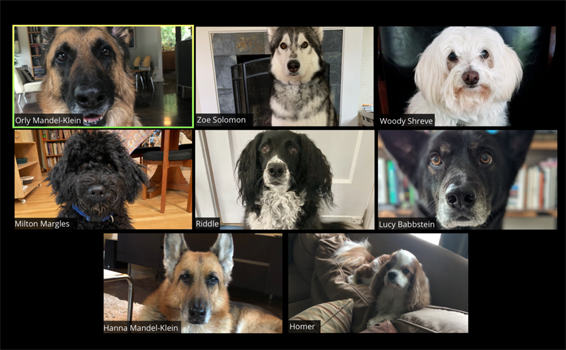 Photo: Special thanks to Orly, Zoe, Woody, Milton, Riddle, Lucy, Hanna and Homer for their perseverance and love as we navigate these tough times.
Visitors to the Oregon Jewish Museum and Center for Holocaust Education can now view exhibits safely without coming inside. On view in OJMCHE's north windows is an exhibit by Portland sculptor Mel Katz entitled "Wall Sculptures." OJMCHE is taking advantage of the museum's ground floor windows to give the community an opportunity to experience art from the sidewalk.
Take a walk around the museum and view five anodized aluminum sculptures, created between 2012 and 2019, that combine bold colors and abstract architectural shapes to evoke Oregonian flora and landscape. The exhilarating result highlights Katz's confidence that artwork reveals an evolutionary understanding of what art is and how it should be crafted. Read more about the artist. Artwork courtesy of the artist and Russo Lee Gallery. "Wall Sculptures" has been funded by a grant through the Oregon Arts and Culture Recovery Fund.
In addition, on the museum's west windows panels from OJMCHE's core exhibition "Discrimination and Resistance, An Oregon Primer" have been recreated.
To highlight the full museum exhibition while social distancing, the museum staff, being very dog-friendly, had to "go to the dogs" to create a video. "We created the video to give people a bit of cheer right now, and also to highlight one of our core exhibitions that remains closed to visitors," says Judy Margles, director of OJMCHE.

Click the video below to see what happened.
Don't forget to sign up for OJMCHE's upcoming youth and family workshops and online programming!
WORKING TOWARDS ANTI-RACISM AS A FAMILY: A WORKSHOP SERIES,
begins July 15.
Join ADL and OJMCHE for an interactive workshop series for caregivers and youth to build understanding around bias and privilege, and learn skills to support meaningful conversations and activism.
Register for this series here.
I AM BISHA + ART & ACTIVISM PANEL, 
Saturday, July 18 at 10am PDT – Live panel discussion. Watch the short film I Am Bisha anytime during the month of July and join director Roopa Gogineni in conversation with political cartoonist Khalid Albaih, artist Assil Diab and musician Yousif Idriss.
Registration and more information here
.
PHOTOGRAPHY AND SOCIAL JUSTICE YOUTH SUMMER PROGRAM,
week of July 20th.
OJMCHE is excited to share that we are partnering with Portland's inaugural Creative Laureate, Julie Keefe to offer a Photography and Social Justice Summer Youth Program. This six-day virtual program will teach students basic photography skills, as well as how to capture moments that document and confront injustices.
Registration and more information here.
NEVERTHELESS, THEY PERSISTED: STORIES FROM THE LONG HISTORY OF SUFFRAGE
July 21, 12pm, a panel with Janice Dilg, Kimberly Jensen, Judy Margles, Angie Morrill, and Linda Tamura, facilitated by Eliza E. Canty-Jone. The Oregon Historical Society's powerful new exhibit, Nevertheless, They Persisted: Women's Voting Rights and the 19th Amendment, explores crucial and sometimes little-known aspects of this history, with an emphasis on the ways Oregonians have impacted it.
Registration and more information here.
EXPLORING SOCIAL JUSTICE AND YOUTH ACTIVISM
Come join OJMCHE for a workshop the week of August 3rd to learn more about five Oregon based social justice organizations and explore different ways you can become involved. Registration and learn more here.