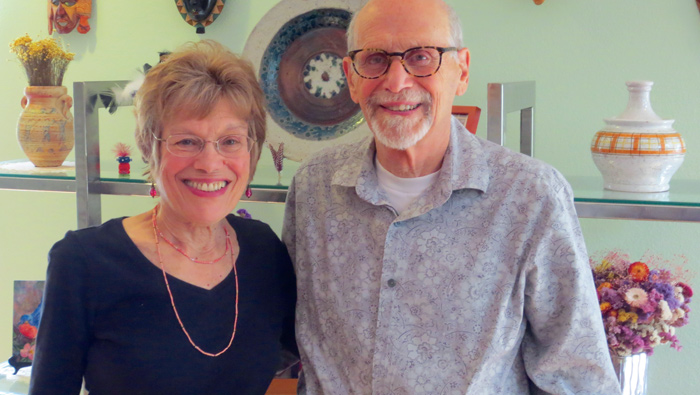 Nestled in an airy, semidetached home in the shadow of Washington Square are native New Yorkers, Richard and Karen Karlin. Sedate, intelligent and spry, these Jewish seniors live tasteful and natural lives with ducks floating by on the creek just feet from their deck.
Artwork graces the pale green walls of their great room. A copy of a townscape painted by Edward Hopper covers one wall. Another wall displays three small works, one celebrating Japan's Girl's Day painted in minute detail by their Japanese boarder years ago. A large carved wooden mask hangs near a glass bookcase displaying multicolored kachina dolls and other Native American art. Above it hang five carved masks, mostly Asian.
"We have always had similar tastes in art" says Karen. Cultivated by a marriage of 44 years, that taste also drew them to acquire a 2-foot-tall Charlie Chaplin statue, complete with out-turned feet and turned-up toes.
The Karlins also are drawn to Jewish culture. Reading about the Jewish experience, exercising at the J and cooking knishes are important parts of their lives. Richard highly recommends the 2011 New York Times bestseller by Erik Larson, In the Garden of Beasts, a startling account of William E. Dodd's life as a new American ambassador to Hitler's Germany in the 1930s.
For exercise they frequent the Mittleman Jewish Community Center, where they have been members since shortly after moving to Portland in 2008. Slender, strong and limber, Karen swears by the organization and attends a Tuesday/Thursday "Forever Fit" exercise class taught by Robin Kirsch.
"By the time we've finished class, I've moved every muscle," says Karen. "The class is fun, the routine varies and there is music. I feel much more positive toward the world because of it."
Richard and Karen left New York in 1970, moving to Oakland, CA, where Richard's love affair with the knish began. While Karen was fascinated working for an intellectual property law firm during the 1980s, Richard was beginning to feel uncomfortable working in the printing business. So he made a change, one that matched his Jewish heritage. At his sister's suggestion, he attended Laney College in Oakland on the GI Bill. He remembers those days fondly. One reason for his enjoyment was his interesting teacher, the father of actor Tom Hanks.
He combined his culinary training with his Jewish heritage to begin his own business baking knishes. Richard began his Bay-area business years before the Yiddish delicacy filled with meat, vegetables, onions or even sauerkraut created a mild rage about 2000. He called his business California Knishes. Working 40 to 50 hours a week, he wholesaled his vegetable, his spinach and cheese, and his potato and onion knishes to restaurants and other food vendors. On occasion he made special holiday orders – pumpkin knishes, for example. Richard created California Knishes T-shirts as an advertising strategy. Centered on the back of each white shirt was a black circle with the words "Kiss my knish."
The Karlins' own tastes in food have evolved. They are now vegans eating as healthfully as possible. Additionally, they aim to be good stewards of our fragile land and serious supporters of animal rights.
"It's easy to be vegan these days," Richard says. "Healthful, natural foods now make up a $9 billion industry."
"And when you stop to think that human canine teeth are a lot smaller that those of meat-eating animals, it pretty apparent that they were made for fruits and vegetables, nuts and grains – everything plant-based – not meat," says Karen.
Eschewing as many animal products and refined ingredients as possible, the Karlins draw inspiration from a variety of Jewish cookbooks as well as Del Spoufe's Forks Over Knives.
In fact, Richard recommends the film of the same name.
The Karlins "vote with their feet" on dietary issues by attending monthly vegan lunches and Northwest Vegetarian Education Association food-related meetings.
You might think Richard could not look another knish in the face after having made thousands upon thousands of them. But not so. On occasion he gets out his rolling pin and goes to it, making a vegan variety.
If you are interested in veganism and other healthful food issues, you could call the Northwest Vegetarian Education Association at 503-746-8344 or visit nwveg.org to explore their offerings. You might encounter Karen and Richard at a meeting. You'll know them by their easy grace, Richard's dapperness and Karen's warm, broad smile.
Lee Braymen-Cleary is a Portland writer.