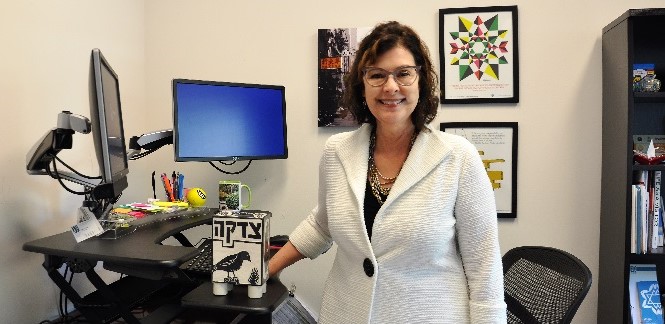 Julie Diamond, retiring president and C.E.O. of the Oregon Jewish Community Foundation has been awarded the Allan Price Award for Distinguished Service to the Fundraising Profession. This award recognizes fundraising professionals who demonstrate exceptional skill and enthusiasm for their work, who pursue big ideas and successfully engage others in achieving them, and who inspire new levels of giving among donors. Julie is only the fourth recipient of this award.  This award is given by the Association of Fundraising Professionals of Oregon and Southwest Washington.
During Julie's tenure, the foundation grew its assets under management from $43 million to more than $110 million and granted more than $80 million dollars into the community. She has helped hundreds of donors actualize their philanthropic goals by working with them and their professional advisors to turn assets into charitable dollars in creative and tax-wise ways.
In a letter supporting Julie's nomination, Judy Margles of the Oregon Jewish Museum & Center for Holocaust Education wrote, "Julie has been a constant advisor, mentor, friend and colleague, responding to my fundraising questions by generously sharing her expansive knowledge of trends, donors and processes, always accompanied by her trademark respect for others, levelheadedness and honesty."
Philanthropist Jordan Schnitzer supported Julie's nomination with this statement: "Upon her retirement, I feel very indebted to Julie. I am certain that many other citizens would agree that because of her dedication, our community is a better place!"
Julie's colleagues beyond the Jewish community recognize her passion too. In another supporting letter, Rebecca Bibleheimer from the Northwest Planned Giving Roundtable and Oregon Community Foundation wrote of Julie, "Her dedication and commitment to OJCF has had a measurable impact on the Foundation and thus its incredible impact on Oregon. She has helped countless donors create meaningful and impactful legacies with their gifts to the Foundation and the impact of those gifts she has stewarded with such grace, love and deference will continue to improve the lives of people in our community for countless years to come."
As Julie steps into retirement, the Julie Diamond Scholarship Fund was created by her friends and colleagues in recognition of all her passion and work. If you would like to honor Julie through a contribution to the scholarship fund, you can do so here: https://tinyurl.com/JulieDiamond
Read more about Julie's retirement here.