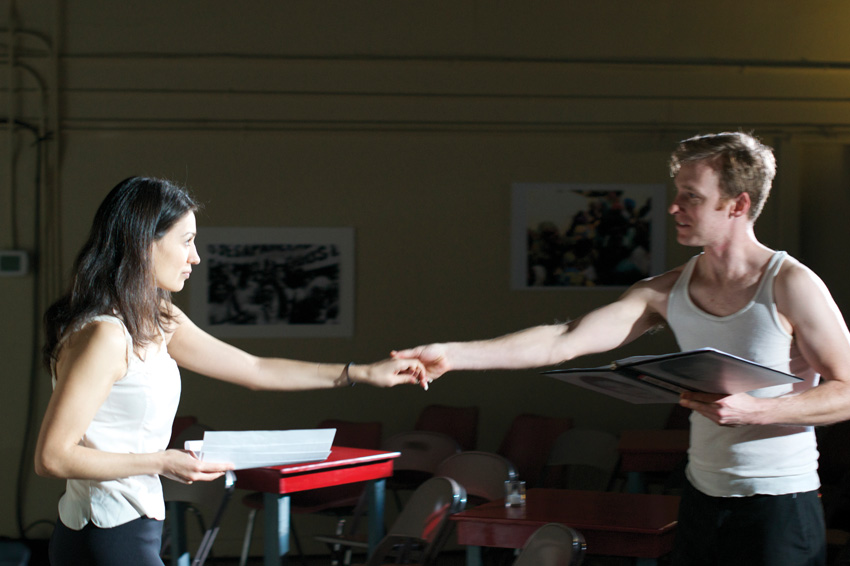 The Jewish Theatre Collaborative has once again brought a little-known story of Jewish history to life with its Page2Stage season focused on a novel, The Ministry of Special Cases.
"Part of our vision is to open up parts of the Jewish world we are unaware of," says JTC founder Sacha Reich. "For our Page2Stage productions we chose novels worthy of a derivative work – good pieces of literature that can translate to the theater with language, characters and themes, but with context that offers the opportunity to broaden what we know about our world and our history."
Sacha describes the entire season as a conversation with the community. From the staged reading of the novel's opening in the fall, to a winter cabaret response and on to the mainstage production in the spring, Sacha says the season brings together a community by reading and learning together.
The mainstage production of Nathan Englander's novel, which was adapted by Sacha and Jamie M. Rea, runs March 14-April 11 at the Milagro Theatro (525 SE Stark, Portland), where JTC is "in residence."
Set in 1976 at the dawn of Argentina's "Dirty War," the novel and the play explore the surreal era during which about 30,000 people "disappeared."
Sacha describes the world that swirls around the story's main characters as surreal, Kafkaesque. Kaddish, whose mother was a whore involved in the sex trade (which most members of the Jewish community are mortified to acknowledge the community had a role in) and his traditional wife, Lillian, are struggling to raise their teenage son in world of inflation and political instability.
"As the world around them stops hearing and talking about what is happening around them, their son is disappeared," says Sacha. "The story is their search for their son in a world gone mad."
Sacha says Englander's dark humor translates into a roller coaster in three acts. "It's an incredible journey for the audience," she says.
Oregon artist Henk Pander, who designed last year's JTC set for "A Pigeon and a Boy," returns as the set designer for this year's production.
"These are world premieres," Sacha says of Pigeon and Ministry. "We hope they will be produced elsewhere – widely. There is future life for these pieces."
In December Sacha presented a workshop on the Page2Stage concept at the Association of Jewish Theatres conference in Washington, D.C., which drew playwrights, directors and producers from around the country.
"At my first AJT conference in 2008, that forum offered me an opportunity to explore ideas about what Jewish Theatre Collaborative could be with colleagues from around the country," says Sacha. "Attending the conference now, having accrued substantial experience exploring those seminal ideas about how theater can engage community, was a game changer. I went from an upstart to an innovating leader in this particular community."
During her workshop she shared links to videos of both "A Pigeon and a Boy" and "Charlotte Salomon's Life? or Theatre?," which was JTC's first major translation of a book to performance.
"The type of narrative-based work JTC creates is unfamiliar to many of my colleagues," Sacha says. "We believe these scripts have national and international capacity, and this was a great opportunity to get the word out."
In Portland the 7:30 pm, March 14, premiere of "The Ministry of Special Cases" will be followed by a celebration and reception.
The play continues at 7:30 pm Thursdays-Saturdays and 2 pm Sundays through April 11.
Tickets are $30 and are available at jewishtheatrecollaborative.org.
Photos by Frederike Heuer.