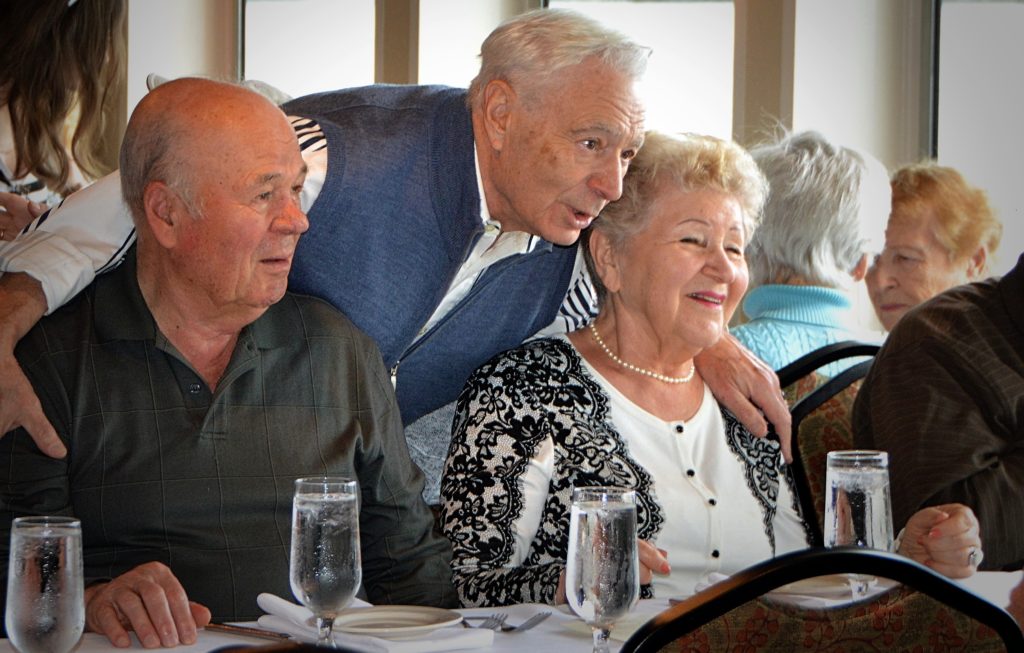 Each month, Portland-area Holocaust survivors gather for Cafe Europa, a social program presented by Jewish Family & Child Service.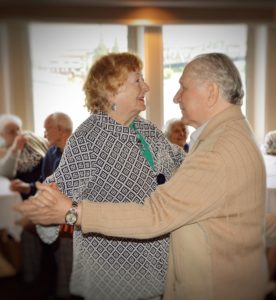 JFCS Development Manager Kerry Goldring, who runs Cafe Europa, says the chance to socialize, nosh and feel a sense of community is important for the aging survivors. JFCS provides services to 100 or so Holocaust survivors in metropolitan Portland, just half of the estimated 200 Holocaust survivors in Oregon. The survivors currently being served range in age from 74 to 96 and most live under the poverty line. Most of the survivors and refugees are eligible for JFCS services that include home care, emergency assistance, social events and help accessing available reparations from the German government.
Following an article about Holocaust survivor needs in the Oregonian in May, JFCS received more than $72,000 in donations – $53,000 for their emergency aid fund for aging Holocaust survivors and $19,000 to support Holocaust survivor services including cooking, cleaning and home care to help seniors age in place.
With the local donations, JFCS has redoubled its efforts to locate and help secure the well-being of these unserved survivors. The work is pressing, and time is growing short, notes Kerry. Many are at risk for social isolation, depression, and other physical and mental health conditions that often stem from the atrocities they experienced during the Nazi era.
Specialized services for Holocaust survivors must be recognized as a community priority, says Kerry. "We now have the opportunity to redeem ourselves by helping to make the last stage of these individuals' lives as comfortable as possible."
JFCS Director of Social Services Anthony Antoville adds, "Most of our survivors spent decades living in societies where the message was 'You have no value whatsoever.' So for people to care and invest in them is a remarkable experience."
Survivors began arriving while World War II was still raging. When Holocaust survivors escaped to the United States during World War II, JFCS was there to help those who came to Oregon. Decades later, from the 1970s through the 1990s, JFCS helped resettle hundreds of Holocaust survivors and other Jewish refugees fleeing anti-Semitism and persecution in the Soviet Union.
While each Holocaust survivor has a distinctive story to tell, in many aspects 89-year-old Lev Braunstein (not his real name), personifies the individuals we serve here in Portland. Lev lives alone and subsists on a paltry fixed income. At 89, he is nearly deaf and has become increasingly isolated.
But because of the recent outpouring of generosity from the Portland community and far beyond, JFCS was able to purchase hearing aids for Lev that he couldn't afford on his own. The gift opened Lev's world, and he can now enjoy Russian-language radio and TV and feels far more connected to others.
Lev also benefits from a Russian-speaking homemaker — who he calls his "angel" — who visits him twice a week. She drives him to the grocery store, helps with laundry, chats with him and makes his favorite cabbage rolls.
For the most part, the types of services that Lev receives are funded through the Conference on Jewish Material Claims Against Germany, which negotiates annually with the German Finance Ministry. The intent is to provide eligible survivors with some degree of compensation for their wartime experiences – a degree of compensation that, of course, will never be adequate.
JFCS has received large allocations from the Claims Conference for the past decade that have enabled the agency to greatly ramp up the services needed to meet the growing needs of the aging Holocaust survivors residing in the Portland area.
Prior to that, in 1997 JFCS used start-up money from the Jewish Federation of Greater Portland and the Claims Conference to develop an initial comprehensive program to assist survivors. Over the next several years, JFCS also received funds from the Humanitarian Aid Foundation to provide in-home care and social outreach to Jewish Nazi victims in Oregon.
HOLOCAUST SURVIVOR SERVICES CONTACT
Anthony Antoville, Director of Social Services
aantoville@jfcs-portland.org, 503-226-7079, ext. 121
http://jfcs-portland.org/services/holocaust-survivor-services/
DONATIONS TOWARDS HOLOCAUST SURVIVOR SERVICES CAN BE MADE AT
https://interland3.donorperfect.net/weblink/WebLink.aspx?name=E55865&id=18