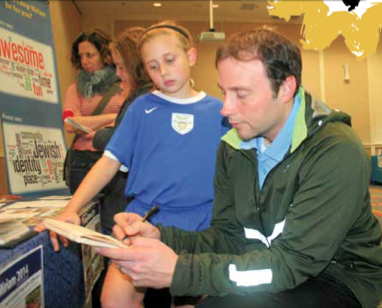 A zipline tops fifth-grader Javier Vollmayer's list. Jared Norman wants a GaGa Pit. In fact, everyone at the Residential Camp Fair held at the Mittleman Jewish Community Center Jan. 12 had something special in mind for this summer's fun. The Jewish camp experience, an important indicator of future attachment and engagement with the community, was the single common theme.
This year the Jewish Federation of Greater Portland has good news for overnight campers. For the first time, they are collaborating with the One Happy Camper program (OneHappyCamper.org) to provide incentive grants of up to $1,000. If your child is a first-time overnight camper or has never attended a Jewish overnight camp for at least a 12-day session, you may qualify. Grants are not means-tested, but other restrictions apply.
Under the national criteria for One Happy Camper, youth attending a Jewish day school are not eligible. However, Portland's federation has set aside funds to extend the grants to students at any of Portland's three Jewish day schools.
Your child must enroll in an approved Jewish overnight camp before you apply for a Happy Camper incentive grant. Many camps that attended the fair (see box) have a link
to the Happy Camper application on their websites. If a Jewish overnight camp does not have a link on their website, you still might qualify. Check directly with the camp or contact Rachel Halupowski at rachel@jewishportland.org, 503-892-7413.
Shoppers at the Residential Camp Fair didn't need to be convinced of the experience's importance. "My mother went to Jewish camp for many years in the '40s and '50s," said Heather Penner, who was with her 9-year-old son Doran. "It made her feel part of the community, and she still has friends from camp. I didn't go to Jewish camp, and I'm trying to find one for my older son." Heather wants a vegetarian-friendly community where kids return every year.
Brian Norman hopes his son Jared's camp will duplicate his own childhood experience. "It's one of my fondest memories," he said. "I'm from the east coast where you went to camp for eight weeks. It's a nice way to learn about Judaism in a fun environment. There's plenty of opportunity to keep busy and get outside."
Jared Norman wants a place that's "really fun." Mayah Greenfield and her dad, Scott, chose a camp with conversational Hebrew, access to the Pacific Ocean and kayaking. "My younger daughter is also going," Scott said. "We wanted a place with a small community feel."
Michelle Koplan, the executive director of B'nai B'rith Camp, came with her daughter, Ali. "Camp is an immersive Jewish experience for kids," Michelle said. "Everyone wants to belong, and at B'nai B'rith Camp everyone does belong. They connect to Judaism for life."
JFGP President and CEO Marc Blattner agrees: "As a product of Jewish overnight camp, and now experiencing camp through my own children, I know the lifelong impact. Friendships, memories and a strong Jewish identity remain with you. In many ways, one of the saddest days of my life was when I realized I was not going to camp in the summer. Everyone in our community has the opportunity to experience a Jewish camp – and you should!"
For more information on One Happy Camper incentive grants visit OneHappyCamper.org. For information on grants for day school students attending camp or other questions, contact Bob Horenstein at bob@jewishportland.org, 503-245-6496.