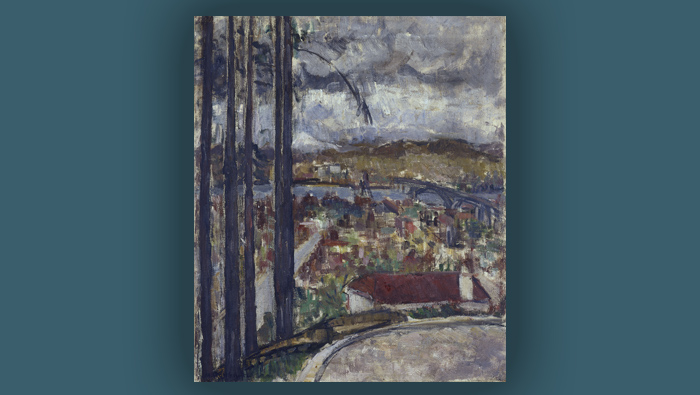 Caption: Landscape (View of Portland, OR), c.1928, by Mark Rothko. Oil on canvas. Courtesy of Michael Rosenfeld Gallery LLC, New York, NY.
Following its inaugural exhibit featuring an international artist, the Oregon Jewish Museum and Center for Holocaust Education looks closer to home for the second exhibit in its new main exhibit hall.
"I AM THIS: Art by Oregon Jewish Artists" presents the work of 13 Jewish artists who have roots in Oregon from Mark Rothko and Hilda Morris to a new generation of Oregon artists. The exhibit runs Oct. 19 through Feb. 4, 2018.
Retired Portland Art Museum Curator Bruce Guenther is curating the inaugural year of three exhibits for the main gallery in OJMCHE's new home at 724 NW Davis St., Portland.
Artists featured in "I AM THIS" are:
AMY BERNSTEIN (American, born 1980)
PAUL GEORGES (American, 1923-2002)
SHIRLEY (GEORGES) GITTELSOHN (American, 1925-2015)
DEBORAH HORRELL (American, born 1953)
MEL KATZ (American, born 1932)
MICHAEL LAZARUS (American, born 1969)
FREDERICK LITTMAN (American, born Hungary, 1907-1979)
DANA LYNN LOUIS (American, born 1963)
DAVID CURT MORRIS (American, born 1945)
HILDA MORRIS née Hilda Grossman Deutsch Morris (American, 1911-1991)
MARK ROTHKO née Marcus Rothkowitz, (American, born Russia, 1903-1970)
FLORENCE SALTZMAN (American, 1917-1972)
WILDER SCHMALTZ (American, born 1979).
A new exhibit in the smaller gallery is entitled "Munich to Portland: A painting saves a family." A young woman left her apartment in Munich in November 1938. She carried a painting by the German artist Otto Stein and returned without the painting but with the visa that saved her family. OJMCHE presents the extraordinary story of how a team of German journalists launched an improbable search to find the missing artwork.
"I AM THIS: Art by Oregon Jewish Artists" showcases work by four generations of artists born Jewish, associated with or living in Portland, artists who navigate the complexity of aesthetics and self, making and being. Drawing inspiration from the great American art critic Harold Rosenberg's writings on the relationship of Jewish identity and art production in post-Second World War United States, the exhibition reflects the complex negotiation contemporary artists have made in the 20th century between the poles of spiritual community and secular, intellectual theory and aesthetics.

"In framing our second exhibition in our new home we thought it was important to look at issues of Jewish identity and self through a lens that also recognizes place," said Director Judy Margles. "In working with curator Bruce Guenther we found a grounding in the writings of the mid-century American art critic Harold Rosenberg — specifically a piece titled 'Is There a Jewish Art?' The essay was first formed as a talk Rosenberg gave at the Jewish Museum in New York in 1966. With the opening of our own Oregon Jewish Museum and Center for Holocaust Education just this past June, we found this exploration of self, identity and place just as relevant today. It is our great pleasure to mark this particular point in time through exploration of work that ranges from paintings by Mark Rothko to contemporary work by the next generation of Oregon Jewish artists."
The six women and seven men featured in I AM THIS share the fundamental experience of the Diaspora that marked 20th-century Jewish life — from the first decade's pogroms in Eastern Europe and the Pale of Settlement, mass immigration, the Holocaust, and for immigrant families the discomfiture of American assimilation with its resulting anonymity along the common road of self-definition. For immigrants like Mark Rothko and Frederick Littman moving from one national context to another and one class to another, the challenges of balancing the knowledge of oneself as Jewish and status as a Jew with becoming an American and its demands for conformity were lifelong hurdles. The children of immigrants such as Hilda Morris, Florence Saltzman and Mel Katz were to become estranged from their parent's cultural framework through the educational opportunities outside of traditional Jewish structures and the politics of the melting pot in the United States. With the artists who are second and third generation Jews in the exhibition, Amy Bernstein Deborah Horrell, Michael Lazarus, Dana Lynn Louis, David Morris, Wilder Schmaltz and brother and sister Paul Georges and Shirley (Georges) Gittelsohn their childhoods in largely assimilated, secularized families has left them to rediscover and define their identities in the shadow of the Diaspora through art. For all of these artists working across the inherent individualism of styles that characterize 20th-century Modernism—its universalist vocabulary isolating collective narratives and cultural characteristics — has meant a journey of recognition and reconciliation of identity as artists and Jews.
"Harold Rosenberg's framing of the question of how Jewish identity and belief manifests is still prescient today in relation to Oregon artists," says Guenther. "The most interesting Jewish artists are intellectually and emotionally shaped by Judaism, which then informs their critical investigations of contemporary aesthetic tropes and idioms without banal imagery."
The work in the exhibition spans almost 90 years with the earliest work from 1928, and the most recent from 2017. The artists, sculptors and painters, and the 15 works in the exhibit demonstrate a breadth of exploration, curiosity, and invention.
I AM THIS was made possible through the support of The Harold and Arlene Schnitzer Family Fund of the Oregon Jewish Community Foundation, the Craig E. Wollner Exhibition Fund, and a grant from the Regional Arts & Culture Council.
Museum visitors can also tour the museum's three core exhibits – "Discrimination and Resistance: An Oregon Primer," "Oregon Jewish Stories" and "The Holocaust: An Oregon Perspective."
Museum hours are 11 am-5 pm, Tuesday-Friday, and noon-5 pm Saturday-Sunday. Admission is $8/adults; $5/students and seniors (62+); free/12 and under. Admission is free on each First Thursday of the month from 5 to 8 pm.
For more information, call 503-226-3600 or visit the museum website at ojmche.org.