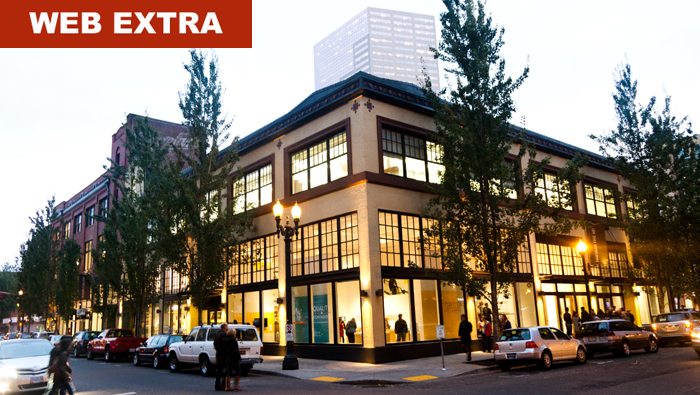 Oregon Jewish Museum and Center for Holocaust Education purchases the former Museum of Contemporary Craft from PNCA

Oregon Jewish Museum and Center for Holocaust Education Executive Director Judy Margles and Board Chair Elaine Coughlin announced today (July 6) the signing of a purchase agreement for the facilities at 724 NW Davis in Portland – formerly the home of the Museum of Contemporary Craft.
"It is due to the hard work of our board, in particular out going Board Chair David Newman, and the visionary leadership of a small group of key donors that I am extremely proud to announce today that, in 2017, OJMCHE will be moving into a new home. Through the galvanizing of our community, we were able to act quickly and, within a few months, a group of just over 30 donors helped us raise the $5 million to purchase a top tier museum space."
OJMCHE also announced a community capital campaign that will begin this summer to support long-term operating budget, build endowment and fund permanent exhibitions. The current museum facility in Northwest Portland is a leased space and OJMCHE had just finished a feasibility study focused on a permanent location when PNCA announced that the former Museum of Contemporary Craft facility was on the market. The move will expand OJMCHE's footprint from the current 6,900 to near 15,000 square feet.
"Securing of a permanent home for the Oregon Jewish Museum and Center for Holocaust Education safeguards a cultural treasure for generations to come," said U.S. Senator Ron Wyden. "Through its programming and exhibitions, this vital community institution focuses on the need to uphold democratic values and support human dignity through education and outreach. In an era where when we are facing global issues of displacement, migration and racism, it is institutions like this museum and education center that are educating our next generation while also shaping Oregon's cultural landscape."
The expanded facilities for OJMCHE will include additional galleries for national and international exhibitions and space for a permanent exhibition on the Oregon Jewish experience; discrimination in Oregon; and the history of the Holocaust through the lens of local survivors. The space will also include a 100-seat auditorium for public programming, a gift shop and a small café.  In addition, the expanded footprint allows the museum to better serve its educational mission, which includes working on social justice curriculum with schools across the state and leading tours of the Oregon Holocaust Memorial in Washington Park.  This past school year more than 3,500 students and teachers visited for docent led tours and programming, the greatest number in the museum's history.
"It is great news that the Oregon Jewish Museum and Center for Holocaust Education has found a new home in the previous Contemporary Crafts Museum space," said Eloise Damrosch, executive director, Regional Arts and Cultural Council. "Not only is the footprint ideal for the museum's needs, but it will also bring much greater access and visibility to this important cultural organization."
The OJMCHE campaign to purchase a permanent home was supported by three lead gifts. OJMCHE received $1 million from The Harold & Arlene Schnitzer CARE Foundation/Arlene Schnitzer & Jordan Schnitzer; $1 million from the Leonard and Lois Schnitzer Family, and $1 million from Irwin and Renee Holzman. In addition to the lead gifts, 29 other community members made significant contributions to fund the building purchase.
"My mother and I and my late father have always felt that the Oregon Jewish Museum plays a critical role in our community," said Jordan Schnitzer. "It is so important for young people in our community to understand their roots and for others outside of our faith to better understand the role that Jewish pioneers and citizens have played in our community. We are proud and honored to participate in this fundraising and would like to personally thank all those who joined with us."
OJMCHE is planning on re-opening in the North Park Blocks location in late spring of 2017 with multiple exhibitions, programming and a public celebration.  The current exhibition, Every Minute Counts—Photographs by Katherine Joseph runs through Sept. 25 and will be the last exhibition at the NW Kearney location.
Founded in 1990, the mission of the Oregon Jewish Museum and Center for Holocaust Education is to interpret the Oregon Jewish experience, explore the lessons of the Holocaust and foster intercultural conversations. The Oregon Jewish Museum and Center for Holocaust Education, the Pacific Northwest's only Jewish museum, offers programs, exhibits, films, lectures, and concerts cover a wide range of topics relating to Jewish art, culture and heritage which stimulate dialogue about identity, culture, and assimilation. Education programs embrace the Jewish experience and explore the lessons of the Holocaust. The organization is the steward of the Oregon Holocaust Memorial, located in Washington Park, and of the Archives and Artifact Collection documenting the Oregon Jewish experience. http://www.ojmche.org