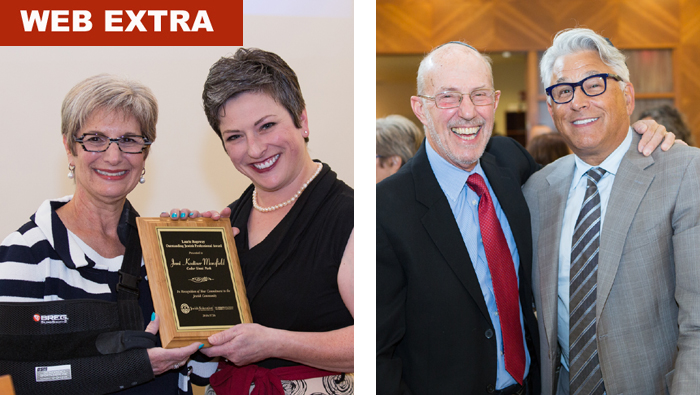 PHOTOS: Left, Kathy Davis-Weiner presents an award to Jemi Kostiner Mansfield. Right, guest speaker Rabbi Jonathan Porath with incoming JFGP Board Chair Ed Tonkin.
The Jewish Federation of Greater Portland's 96th Annual Meeting on June 8 began with a moment of silence for the victims of the terrorist shootings at the Tel Aviv Mall earlier in the day.
Outgoing Board Chair David Forman congratulated outgoing Campaign Chair Lauren Goldstein for two successful years of increasing campaign dollars to allocate to local and international needs. He also explained the board's work to focus on collaboration and creativity to enhance the Jewish experience at different stages of life. (Allocation of campaign funds to meet those and other community goals will be available in the federation's annual report set to be released in August.)
Also introduced at the meeting were new JFGP Board Chair Ed Tonkin; new campaign co-chairs Mindy and Mark Zeitzer; new treasurer Jack Birnbach; and new board members Charles Levy and Cheryl Tonkin. Jeff Robinson continues as allocations chair.
"Our board members all bring energy, passion and new ideas to our community," said JFGP President and CEO Marc Blattner.
The evening also included the presentation of the second annual Laurie Rogoway Outstanding Jewish Professional Award to Jemi Kostiner Mansfield. When Kathy Davis-Weiner introduced Jemi, she received a long standing ovation.
The evening's keynote speaker, Rabbi Jonathan Porath from Israel spoke on "Nurturing our Hearts and Jewish Souls."
Rabbi Porath said he is impressed with the vitality and growth of Portland's Jewish community since he was here 20 years ago "as the guest of the beloved Charlie Schiffman, of blessed memory."
He emphasized that "the future of Jewish life in Portland does not depend on our rabbis, our teachers, our schools. It depends upon us – what we do in our familyes passing on our traditions … caring for our parents. This is a wonderful community with great love and understanding of that message."
While in Portland, Rabbi Porath addressed other groups as well. He drew on his experiences working for the American Jewish Joint Distribution Committee in the former Soviet Union for all of his presentations. At the annual meeting, he explained how JDC workers in the FSU used low tech solutions to help individuals and communities – they installed what looked like a fire pole next to an elderly woman's bed so she could pull herself upright one hand at a time; On behalf of the JDC, Rabbi Porath gave one congregation 20 chairs so that more than 10 people at a time could meet.
Having spent 15 years with the JDC Senior Staff in the Russian Department, Rabbi Porath spoke at the MJCC on June 7. His well-attended talk discussed "How Jews of America Saved Jews of Europe During the Shoah: The Story of the Joint Distribution Committee."