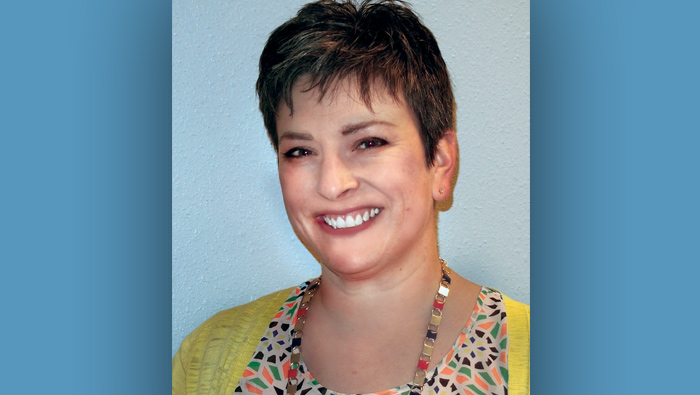 The second annual Laurie Rogoway Outstanding Jewish Professional Award will be presented to Jemi Kostiner Mansfield at the 96th Annual Meeting of the Jewish Federation of Greater Portland.
Following Laurie's retirement from 30-plus-year career as a Jewish communal professional, federation created this award to honor her dedication to community and passion for Jewish life. The award, which includes up to $1,000 to participate in a professional development experience, will be presented at the annual meeting (see below).
Jemi's career in the Jewish community is nearly as long as Laurie's. Since last July, Jemi has been the director of spiritual life for the Cedar Sinai Park campus. With the opening of four new households this summer/fall, Jemi will also serve as a guide for employees who work directly with residents of their household.
The move to CSP followed a 23-year career with Congregation Beth Israel. But Jemi says it took her awhile to refer to herself as a Jewish communal professional. For many years, she referred to herself as a nonprofit administrator before realizing that she was a professional in the Jewish community.
"This recognition by a panel of peers, superiors and colleagues … weighs into the legitimacy of what I do," she says. "I have a legitimate stake and voice in this arena."
A Pacific Northwest native, Jemi grew up at Congregation Neveh Shalom and attended Hillel Academy (now Portland Jewish Academy) at Shaarie Torah. Her parents, Priscilla and Tony Kostiner, emphasized the importance of living a Jewish life. Jemi and her husband, Greg, have two sons: Alex, 20, and Ben, 16, both of whom are PJA graduates.
We are fortunate to have a community with dedicated Jewish communal professionals," says Kathy Davis-Weiner, who chairs the award selection committee. "Jemi Kostiner Mansfield is definitely one that deserves recognition. She has demonstrated a continual desire for personal growth, while giving more than 100% commitment to engage and support individuals and families in Jewish life. Her passion and dedication as a Jewish communal professional began 23 years ago … She understands the needs of this community and we all benefit from her passion."
Jemi says that she has known Laurie as long as she can remember.
"I know her legacy and her commitment to the community," says Jemi. "An award in her name is testament to her and the example she laid down."
Kathy thinks Jemi is up to following that example. "With each new job, she brought her impressive administrative skills, creativity, sensitivity and passion to enhance one's Jewish experience," says Kathy. "Now on a new path as director of spiritual life at Cedar Sinai Park, Jemi once again demonstrates her desire and devotion to help a new segment of the Jewish population and her commitment to her personal growth."
Jewish Federation Annual Meeting

WHEN: 4:30-6 pm, June 8
WHERE: Stampfer Chapel, Congregation Neveh Shalom, 2900 SW Peaceful Lane, Portland
FREE
INFO: 503-245-6219
The Jewish Federation of Greater Portland will welcome new board chair Ed Tonkin and the 2016-17 governing board during JFGP's 96th annual meeting. New board members Charles Levy and Cheryl Tonkin will also be installed. All are welcome for this free event, which includes Rabbi Jonathan Porath speaking on "Nurturing Our Hearts and Jewish Souls."
Born in Portland, Ed graduated from the University of Washington, earning a degree in Business Administration with honors, and graduating Phi Beta Kappa and Beta Gamma Sigma (top 5% of Business School Class). He earned a Juris Doctor of Law degree from the University of Washington School of Law. Ed practiced law with the firm of Black, Kendall, Tremaine, Boothe and Higgins in Portland from 1979 until 1981, when he began work full time at the Ron Tonkin Dealerships. Currently Ed is general counsel and co- president for the Ron Tonkin Family of Dealerships.
Ed has served on the board of Portland Metropolitan Sports Authority, Metropolitan Family Services and Congregation Beth Israel. He co-chaired the federation gala in 2000 and co-chaired JFGP's Food for Thought in 2013.
"My aim in chairing federation is to help educate the Jewish community about all the amazing things federation does right here in our own community," says Ed. "Many think it's simply raising funds for Israel, but that's only a small part of it. We have tremendous needs right here in our own backyard, and I have faith that once people see the need, realize it and understand it, the wonderful spirit of this community will shine through.
"Just think for a second; if we don't continue to foster the community, perpetuating Jewish life in our community, then what does the future hold? It's one of our generation's obligations."