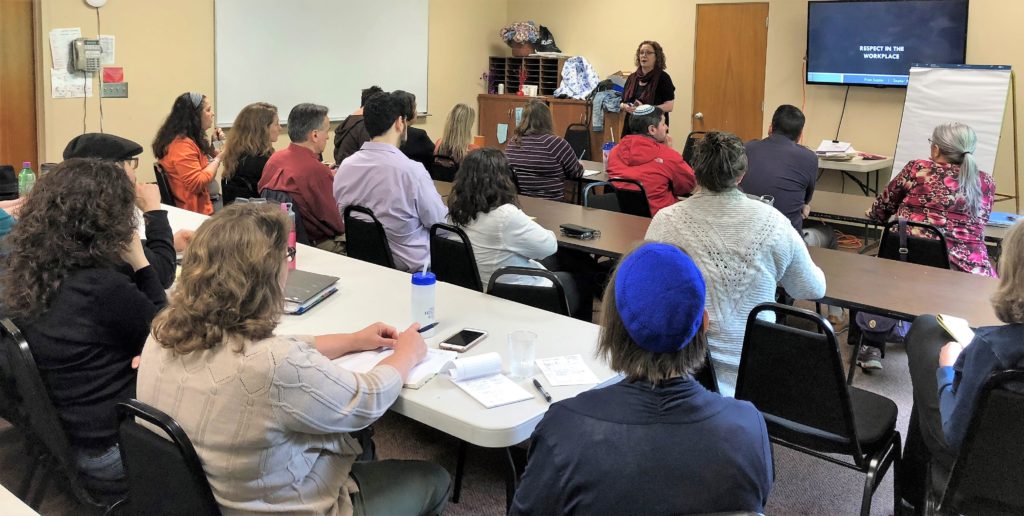 Reacting to the burgeoning Me Too Movement, the Jewish Federation of Greater Portland presented a May training on sexual harassment in the workplace.
Fran Sepler, who is nationally known for her work in harassment prevention and workplace investigations, visited Portland from May 15-17. She has done a lot of work with the #Metoo and #Timesup movements. In Portland, Sepler presented several sessions for community professionals and volunteer leaders to discuss creating a safe and respectful environment for all.
More than 200 participants (board, lay leaders, clergy, staff and supervisors) learned about work place culture. Topics covered included: Workplace culture, workplace conduct, civil behavior, preventing and addressing situations that may arise working with staff and community members, microaggressions, stereotyping and assumptions and how to create healthy boundaries in a workplace and close community setting.
JFGP funded the training in conjunction with community partners. Sessions were held at Congregation Beth Israel, Congregation Shaarie Torah, Congregation Neveh Shalom, MJCC/PJA and the Jewish Federation of Greater Portland. JFGP will reconvene the task force after the Jewish holidays to see where organizations are post training and what they would like to do going forward.
Federation recently shared three new harassment prevention initiatives being tested by Bekavod before the High Holidays. Bekavod is a partnership of the Jewish Women's Foundation of New York and the Good People Fund.
Between now and Rosh Hashanah Bekavod is testing three initiatives that together move our community toward safety, respect and equality for all:
▶ Infoline: An anonymous, confidential phone-based service providing information, advice and assistance to anyone experiencing unease in connection with a Jewish communal institution, whether with colleagues, congregants, donors, volunteers, or anyone else.
Tell anyone who needs assistance to schedule a call at bekavod.org/infoline.
▶ Reporting System: An anonymous confidential system for reporting harassment or gender-based misconduct in Jewish communal contexts.
Tell anyone who has encountered harassment or misconduct to report it safely for the good of the community at bekavod.org/reporting.
▶ Support Team: A guide for those considering coming forward publicly with their experiences of harassment, with resources for their support and protection.
Tell anyone considering coming forward publicly to read through our guide at bekavod.org/going-public.
If you know someone who needs information and assistance with a workplace situation, has experienced or witnessed harassment, or is considering 'going public' with their story, please forward them this email.  If that's you, use it yourself, now.