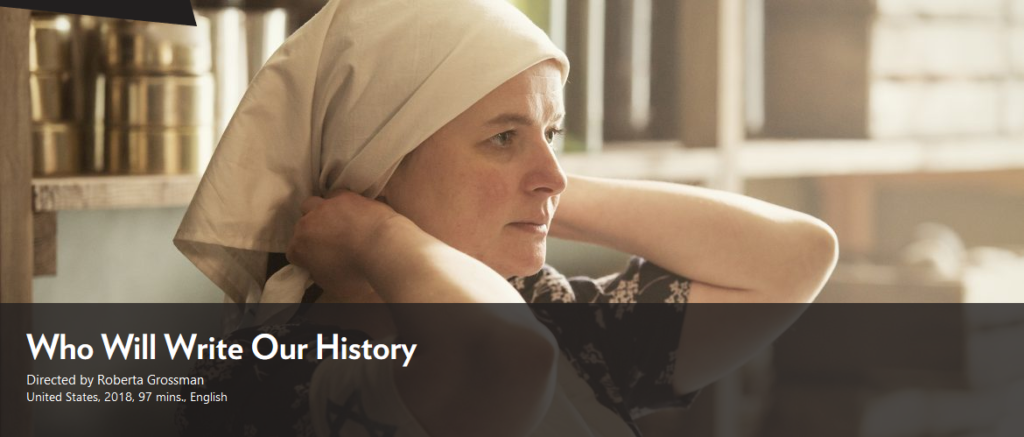 Portland Jewish Film Festival is participating in a global screening of "Who Will Write Our History" to commemorate International Holocaust Remembrance Day. The screening in Portland will take place at 2 pm on Jan. 27 at the Northwest Film Center's Whitsell Auditorium, 1219 SW Park Ave., Portland.
Roberta Grossman's stunning film "Who Will Write Our History" (executive producer Nancy Spielberg), is the true story of World War II archival writings that were compiled by a small band of Jewish resistors, historians, journalists and illustrators determined to save records of their lives and the events in the Warsaw Ghetto while under Nazi control.
In November 1940, days after the Nazis sealed 450,000 Jews in the Warsaw Ghetto, a secret band of journalists, scholars and community leaders decided to fight back. Led by historian Emanuel Ringelblum, known by the code name Oyneg Shabes, this clandestine group vowed to defeat Nazi lies and propaganda not with guns or fists but with pen and paper.
Based on Samuel D. Kassow's 2007 book of the same name, the film mixes the writings of the Oyneg Shabes archive with new interviews, rarely seen archival footage and stunning dramatizations to transport viewers inside the ghetto and the lives of these courageous resistance fighters. They defied their murderous enemy with the ultimate weapon – the truth – and risked everything so that their archive would survive the war, even if they did not.
A post-screening discussion will be streamed on Facebook Live from the evening screening at UNESCO Headquarters in Paris.
This summer PJFF will host its 27th annual festival June 16-30. Presented by the Institute for Judaic Studies in collaboration with the Northwest Film Center, the festival celebrates the diversity of Jewish history, culture and identity while speaking to the universal experiences and issues that confront all humanity.