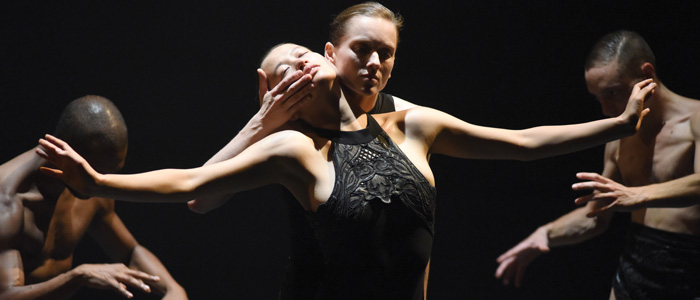 Israel's acclaimed dance company L-E-V returns to White Bird Uncaged with Sharon Eyal's riveting "OCD Love," Nov. 16-18 (see details below).
Six powerful dancers perform work inspired by complexities of love and obsessive-compulsive disorder.
L-E-V first performed with White Bird two years ago, where they left a lasting impression with two boldly sensual works, "Sara and Killer Pig." L-E-V will return with their new work, "OCD Love," choreographed by Artistic Directors Sharon Eyal and Gai Behar. OCD Love premiered in Tel Aviv, Israel, in October 2015 and has since been performed around the world to great acclaim.
L-E-V is the Hebrew word for "heart," and it is matters of the heart that form the theme of the brand new Sharon Eyal/Gai Behar creation OCD Love. The work also deals with OCD, obsessive-compulsive disorder, which repeatedly poses challenges for love and for life. It's a powerful piece, danced to pulsating techno beats created by DJ Ori Lichtik.
"OCD Love" is performed by six commanding dancers, many of whom formerly danced with Israel's Batsheva Ensemble and Batsheva Dance Company. The 60-minute work touches on love that always misses, or lovers who keep missing each other. They are out of sync, such as when one person goes to bed and the other gets up. Or like something that is full and intact, yet has many holes in it. "ODC Love" is about the holes.  Much of Eyal's inspiration comes from the text "OCD" by Neil Hilborn. She says, "This text is strong for me because I feel it reflects me so much.  For me it was already choreography, or a mold you can put your inspiration in, yourself in."
Since 2006, collaborators Eyal and Behar have been a significant voices in the artistic community, creating a continuous stream of critically acclaimed original works for dance companies around the world. L-E-V is the culmination of years of this momentum of work by Eyal and Behar, accompanied by the original music of Ori Lichtik, delivered by fiercely talented dancers that move with expressive precision. L-E-V could be equally at home at a techno club or opera house. L-E-V is the confluence of movement, music, lighting, fashion, art and technology.
L-E-V, "OCD Love"
Presented by: White Bird Uncaged, Ronni Lacroute Lead Sponsor
When: Thursday–Saturday, Nov. 16-18, 8 pm
Where: Lincoln Hall, Portland State University, 1620 SW Park Ave, Portland, OR 97201
Tickets: Starting at $25, available at whitebird.org. Discounts available for groups/students and seniors.
Sharon Eyal was born in Jerusalem. She danced with the Batsheva Dance Company between 1990-2008 and started choreographing within the framework of the company's Batsheva Dancers Create project. Eyal served as associate Artistic Director for Batsheva from 2003-2004, and as a House Choreographer for the company from 2005-2012. During 2009 Eyal began creating pieces for other dance companies around the world: Killer Pig (2009) and Corps de Walk (2011) for Carte Blanche Dance of Norway; Too Beaucoup (2011) for Hubbard Street Dance Chicago; Plafona (2012) for Tanzcompagnie Oldenburg, Germany. In 2013 Eyal launched L-E-V with her long-time collaborator Gai Behar. L-E-V's repertoire consists of 5 creations and will premiere their new creation titled Love Chapter 2, this coming July, at the Montpellier Dance Festival in France. In the past 4 years since L-E-V was founded, the company has had more than 150 performances, including at The Joyce Theater, Jacob's Pillow, and Sadler's Wells in London. In addition, Eyal and Behar have also created work for Nederlands Dans Theater, the Royal Swedish Ballet and other major dance companies.
As a party producer, Gai Behar has been a major presence in Tel Aviv nightlife as well as a curator of multidisciplinary art events from 1999 till 2005. Gai joined Sharon in co-creating Bertolina in 2005 and has collaborated on the creation of Sharon Eyal ever since.
Ori Lichtik is a multifaceted musician, drummer and creative DJ. Since their first collaboration on Bertolina, Lichtik has created alongside Gai and Sharon throughout the choreographic process, reflecting off of the dancers' movements, as well as inspiring and prompting them with the tone and pace of his percussive sounds and rhythms. The compositions result in precise sets that structure the works. Each live show is then improvised with fresh layers of digitally manipulated effects, creating a unique sound experience for every event. One of the founding fathers of the techno scene in Israel, he has created, produced and spinned musical productions, techno raves and various other music and performance events since 1996.
White Bird's presentation of L-E-V is supported by the Consulate General of Israel to the Pacific Northwest and the Portland Jewish Academy. White Bird Uncaged 2017-18 is made possible through major support from Ronni Lacroute and the NEA. White Bird's 20th season (2017-18) is supported by the Regional Arts & Culture Council, including support from the City of Portland, Multnomah County and the Arts Education & Access Fund; Work for Art; The James F. and Marion L. Miller Foundation, Doris Duke Charitable Foundation, M.J. Murdock Charitable Trust, , Oregon Arts Commission, Oregon Cultural Trusts, Starseed Foundation, and WESTAF.