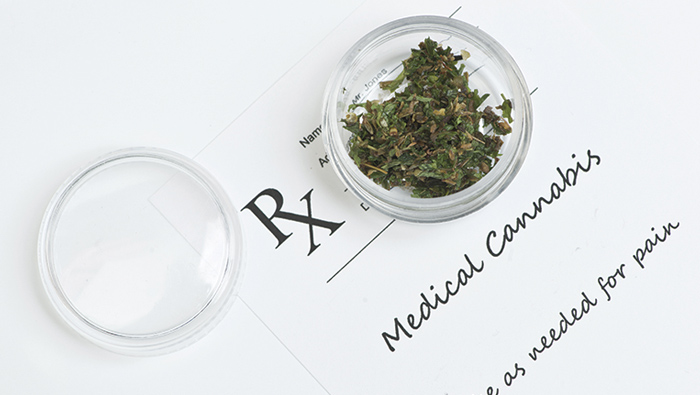 Ben-Gurion University of the Negev researchers have found that medical marijuana users experience significant pain relief and function with only minor side effects, according to a new study. It is the first study on the characteristics of patients who have permission from the Israel Health Ministry to seek treatment with medical marijuana.
"Israel is truly at the forefront of medical marijuana," says Ethan Nadelmann of the Drug Policy Alliance in Washington, D.C.
In Oregon, where medical marijuana is also legal, that study may be of particular interest. Even though recreational marijuana has also been legalized in the state, medical marijuana is still sold under different rules.
The Israel study examined more than 2,000 cancer and noncancer patients using medical marijuana with a focus on their socioeconomic characteristics, dosages, previous treatment, treatment safety and side effects, as well as overall treatment effectiveness. Patients were interviewed by telephone in the first three months of treatment and subsequently every four months for two years.
Users reported in later interviews that their pain, nausea, anxiety, appetite and general feeling had improved. Fewer than one in 10 stopped taking the drug due to side effects or ineffectiveness after the first interview, and only 6% after the second interview.
Nearly all of the participants (99.6%) sought a marijuana prescription after trying other conventional medications that were ineffective, while more than half (56%) reported seeking drugs with fewer side effects.
More than three quarters (77%) experienced minor side effects that included dry mouth (61%) and hunger (60%). Some 44% reported elevated moods.
Under Oregon's Medical Marijuana Program, attending physicians may recommend the use of medical marijuana for the following medical conditions: cancer; glaucoma; a degenerative or pervasive neurological condition; HIV/AIDS; post-traumatic stress disorder; and a medical condition or treatment that produces: cachexia (a weight-loss disease); severe pain; severe nausea; seizures; or persistent muscle spasms.
According to oregonmedicalmarijuanacards.com: "Medical marijuana dispensaries licensed through the State of Oregon specialize in medical grade strains and products to help provide more relief for medical patients. With recreational marijuana, the goal is to get 'high,' so the products are geared towards that. Unfortunately, the cannabinoids that have medical value are not present in high THC strains. Charlotte's Web is an example of a high CBD strain that was created for its anti-seizure qualities, not to get 'stoned.' … Also, continuing to see your medical marijuana doctor will allow you to stay up to date with health risks and benefits as well as new treatment options."
The study, led by Professor Pesach Shvartzman of BGU's faculty of health sciences, was recently presented at the Sixth International Jerusalem Conference on Health Policy. The conference was organized by the Israel National Institute for Health Policy Research.
"Although medical cannabis has been legal for a decade and is licensed to patients to relieve pain and other symptoms, there has been no information about the users themselves," Professor Shvartzman explains.
Medical marijuana treatment has become popular and accepted over the last few years in Israel, with approximately 20,000 registered users and 50 more approved each week by the Health Ministry.
In Oregon, the Oregon Health Authority reported there were 68,201 medical marijuana patients in Oregon in October of 2016.
(Information compiled from press releases and the internet by Deborah Moon)