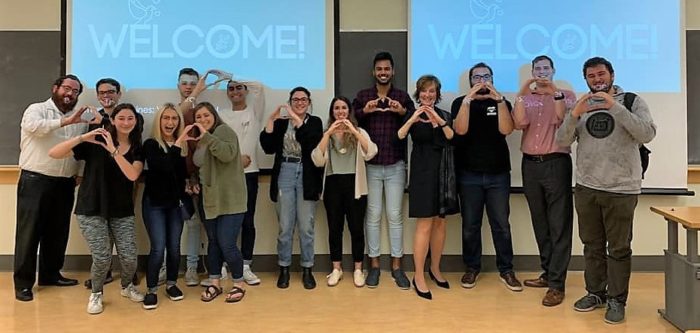 PHOTOS: At the University of Oregon, above, the Israeli Soldiers Tour was greeted with a warm welcome. Below the visiting IDF reservists were greeted by protesters. Photos courtesy of StandWithUs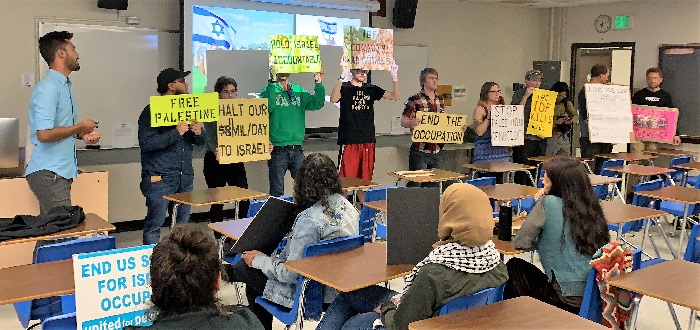 StandWithUs' "Israeli Soldiers Tour" visited Oregon in October. Chen and Aviv (last names withheld for security) presented programs at Oregon State University, University of Oregon, and at the University of Washington's bagel club.
At OSU, their talk was protested by Students United for Palestinian Equal Rights (SUPER).  The protesters blocked the speakers' Powerpoint with signs that read "Free Palestine" and "Stop Palestinian Genocide." The protesters refused to move despite repeated warnings from the faculty present.
SWU Emerson Fellows Jackson Anderson Kovacs (OSU) and Chasen Daniels (UO) arranged the soldiers' talks. Chen and Aviv were accompanied by SWU Pacific-Northwest Campus Coordinator Matthew Levin.
During their tour, the reservists enjoyed a Shabbaton with four Hillels – University of Washington Hillel, Western Washington Hillel, PDX Hillel, Hillel of Utah.
The tour features reservists who reveal their never-before-heard stories of serving in the Israel Defense Forces.  Chen and Aviv also shared their backgrounds and life in Israel, putting a "human" face to the IDF uniform. The entire tour included six teams of two visiting colleges across the country from Oct. 14 through 28.
A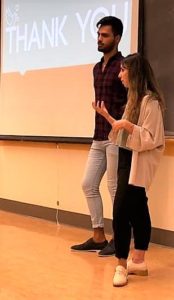 viv, 24, is studying Government and Sustainability at Herzliya IDC.  He was a Signal Operator Technician and Sergeant in Communications Unit, responsible for all areas of teleprocessing and communications in the IDF, primarily serving on the Israel-Lebanon border.
During high school Chen, 24, volunteered with at-risk youth in Sderot. During Operation Pillar of Defense, Chen chose to stay there under the threat of rocket fire to help the youth mentally and physically. She joined the IDF as a Navigation Instructor, responsible for teaching soldiers to read maps and navigate in the field.
Read more about StandWithUs and SWU's impact in our region.