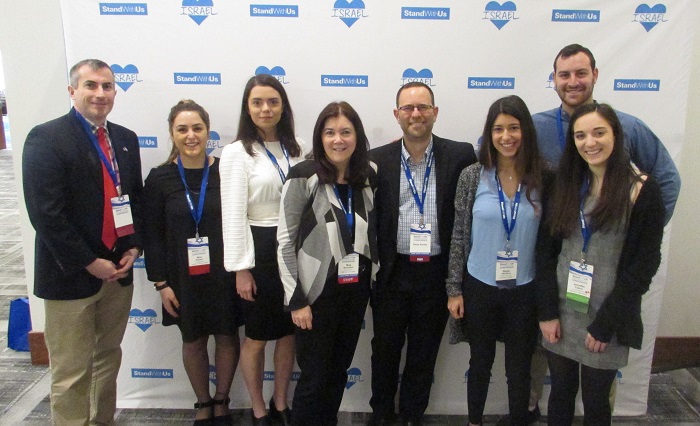 PHOTO: This year StandWithUs combined its Israel in Focus student conference with a community conference on Combating BDS. The joint conference in Los Angeles drew many participants from the Pacific Northwest. From left are Roland Roth, SWU Northwest managing director; Noa Raman, SWU Northwest campus director; Shayla Norris-York, Portland State University; Roz Rothstein, SWU co-founder and CEO; Randy Kessler, SWU Northwest executive director; Negin Akhavan, University of Oregon; Jennifer Caplan, SWU High School Intern, Beaverton High School; and Aryeh Gelfand, Northwest high school coordinator. Photo courtesy of StandWithUs
Since StandWithUs was founded 16 years ago, half a million college students have participated in SWU campus programs. The Israel education nonprofit has distributed tens of millions of copies of the user-friendly educational materials it developed. Hundreds of millions of people have watched and shared SWU educational videos, and more than a billion interactions have occurred on SWU social media platforms.
Even before SWU opened its Pacific Northwest office in 2007, the group was having an impact in Oregon and Washington. Since then, their efforts have multiplied.
"StandWithUs is a great partner and resource in terms of educating the community about Israel via knowledgeable speakers and helping the JCRC to combat the delegitimization of Israel," says Bob Horenstein, director of community relations and strategic initiatives for the Jewish Federation of Greater Portland.
The need for the work SWU does became apparent to the federation's Israel Advocacy Committee several years ago.
"Our IAC Education Committee reached out to Oregon and SW Washington high schools and attended social studies conferences to learn more about Middle East curriculum in the schools," says IAC chair Michelle Bombet Minch. "We discovered an infiltration of anti-Israel curricula and needed to respond swiftly to offer teachers impartial resources on the complex, often misunderstood Israeli-Palestinian conflict."
In the spring of 2016, SWU told the IAC about its shaliach program to send a visiting young Israeli into high schools. A JFGP grant funded the first SWU shaliach; during the 2016-17 school year, the shaliach visited over two dozen schools in Oregon and SW Washington.
"If an invitation for a return visit to those schools for 2017-2018 is any indication of success, then it's apparent the program is making great strides," says Michelle. "Teachers and students enjoy the opportunity to meet a young Israeli in person and to have a dialogue about culture, society and the relationship with Israel's Arab neighbors. This personal connection is a much needed respite in today's world of information overload from textbooks and online learning."
With the opening of a regional office in Seattle, SWU is expanding its programs and available resources. The regional team is led by Executive Director Randy Kessler. A lifelong Seattle-area resident, Randy and his family reside on Mercer Island. After a successful career in corporate technology and education, Randy made the move to full-time Israel education.
Roland Roth is the managing director of SWU's NorCal and PNW regions. He has been a professional fundraiser in the Jewish community for almost four years, first with Jewish National Fund and now with StandWithUs.
PNW Associate Director Alisa Chessler credits her successful career in the medical industry to always having clearly defined goals and strategic plans. Alisa and her young daughter relocated to Seattle in July to join SWU after successfully launching a pro-Israel initiative in New York.
Udi Asaraf is this year's SWU shaliach for the region. Udi and his work were featured in a January Oregon Jewish Life article titled "Knowledge Trumps Hate."
PNW Campus Director Noa Raman is a first-generation American with Israeli immigrant parents. After a 2014 Taglit-Birthright Israel Trip, Noa concentrated her coursework at Lewis & Clark on the Middle East and received a research grant for her thesis, "Causes of Territorial Disputes: How Uncertainty and Resources Contributed to the 1967 Six-Day War."
PNW High School Coordinator Aryeh Gelfand joined StandWithUs in the summer of 2017. He lived in Israel for two years. He has staffed Birthright trips with Israel Outdoors and also attended the Brandeis Collegiate Institute's monthlong intensive Jewish educational experience in Brandeis, CA.
Randy and SWU CEO Roz Rothstein, with input from Noa, Udi and Aryeh, replied to the following questions about SWU and the Pacific Northwest.
Does the Pacific Northwest face any region-specific challenges or advantages in terms of supporting Israel?
The Pacific Northwest has many people of all faiths and backgrounds who support Israel, however we also have some of the nation's leading anti-Israel groups here. In the eight months that our new team has been leading the Northwest chapter of StandWithUs, we have seen anti-Israel films shown at area churches, an "Israeli Apartheid Wall" constructed at the University of Washington, and public demonstrations with people holding signs like "Israel = Terror" and "One Holocaust Does Not Justify Another."  In every case, StandWithUs was there to monitor, expose and help challenge misinformation.
How would you characterize feedback from high schools visited by Udi this year (especially Oregon High Schools)?
Feedback has always been positive. Oregon is not a diverse state, so teachers and principals are pleased to have their students meet and learn from someone from another country. Occasionally, there are schools that are apprehensive about bringing an Israeli to speak about a charged topic, but after he speaks, they realize that the talk is not political but merely an educational experience.
In addition to being the SWU High School Intern at Beaverton High School, Jennifer Caplan is also president of the regional BBYO. Udi has spoken multiple times at her synagogue, Neveh Shalom.
What are "Emerson Fellows" achieving on Oregon college campuses?
SWU Emerson Fellows attempt to interface with other campus clubs by supporting one another's initiatives to build coalitions and connections. Emersons educate their peers about Israel and work to create an environment where meaningful dialogue about the region and conflict can occur. Fellows bring educational programming to campus that suits their interests and also create creative campaigns. They combat anti-Semitism and work to defeat anti-Israel divestment resolutions and to pass legislation in the student government emphasizing dialogue and cooperation.
Negin Akhavan at the University of Oregon and Shayla Norris-York from Portland State University hosted "Gratitude Days," an SWU activation that invites passersby to pause from their busy lives and write something they are grateful for. It is based on a similar program held annually between Holocaust Remembrance Day and Independence Day in Israel. Each campus engaged close to 200 students. Negin and Shaya also hosted the "Israeli Soldiers Tour." Alex Raphael of Lewis & Clark penned an article on it for OJL.
On Valentine's Day, all three Emersons hosted a bake sale fundraiser for the Israel organization "Save a Child's Heart," which helps children anywhere in the world in need of open-heart surgery. Students successfully engaged new faces about the humanitarian work Israel does on a day-to-day basis.
Can you describe the importance of SWU's relationship with the Jewish Federation of Greater Portland?
The relationship has been tremendously important and has grown over the years. Without federation support, we never could have covered Oregon as extensively as we have. We have hosted more than 30 speaking engagements in Oregon and SW Washington during this school year alone.
Any other comments about SWU programs in Oregon?
We want to continue to bring enlightening speakers to Oregon, and we want the community to know that we are here as a resource to support Israel through education. Last year, we launched an effort to reach out to Hispanic Christians with an increasing number of educational materials and speakers in Spanish.
northwest@standwithus.com | 206-801-0902