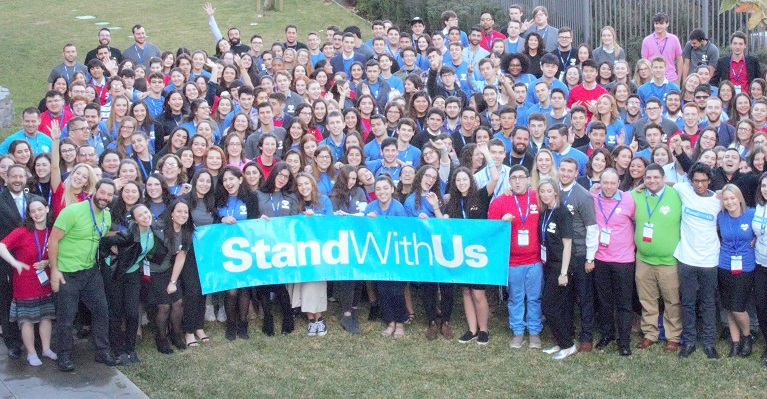 Roz Rothstein and StandWithUs help others speak up for Israel
Dismayed by the lack of organized support for Israelis in the face of the Second Intifada, three Californians refused to be bystanders.
"We did not have a grand plan, we began to meet the immediate need of a voice to support the Israeli people," says Roz Rothstein, who serves as CEO of StandWithUs, the now 16-year-old, international, nonprofit Israel education organization that grew out of that effort.
Roz and her husband, Jerry, and friend Esther Renzer soon realized so much more needed to be done.
"We were all volunteers, but it became clear in the first year (that) it was so badly needed; it took off like wildfire," says Roz. "It felt like a movement."
"We were offering people the opportunity to explain what was going on and offering them tools to help them teach their friends," she says. "We realized there were no user-friendly materials out there."
Creating accurate, well-researched, documented information in user-friendly formats required researchers, writers, a graphics team and money to print and ship the materials. So the founders incorporated StandWithUs as a 501(c)3 nonprofit.
"We've grown exceptionally fast," says Roz. "We have 18 offices (including in the Pacific Northwest) and a $13-million budget."
SWU now supports people around the world who want to educate their campuses and communities about Israel. SWU provides university fellowships, high school internships, middle school curricula, conferences, materials, social media, educational films and missions to Israel.
Roz is the daughter of Holocaust survivors, Ann Lautenberg and Abraham Kreiner, who met in a displaced persons camp after the war. She learned about the importance of Israel from her parents and from the Zionist youth group Bnei Akiva. As a leader in the youth group, Roz says she also learned some administrative skills she now uses and "the importance of youth leading youth, a principle that we heavily rely on at StandWithUs."
She further honed her experience with youth, administration and nonprofit work as the director of family and children's programs at a JCC. During the first year of SWU, she continued her 20-year career as a family therapist; but soon SWU encompassed all of her time, and she accepted the title of CEO.
Roz is extremely concerned that younger Jews often do not feel connected to or inspired by Israel.
"These are the future supporters or nonsupporters of Israel," she says.
The following Q&A with Roz has been lightly edited for brevity and clarity.
I understand that concern about anti-Israel bias in the media during the Second Intifada was the motivation to create SWU. But did any particular event precipitate the final commitment to found SWU?
It's a funny thing about leadership. I and the other founders of StandWithUs, Jerry Rothstein (COO) and Esther Renzer (president), had no interest in leading or beginning a new organization. We were actually waiting and hoping there was some grand plan by some big successful well-endowed organization to tell all of us what we could do to help Israel. And we waited, and nothing happened. Clearly there was no big plan.
And then something horrific happened: Koby Mandell and Yosef Ishran were murdered in the hills of Tekoa on May 8, 2001, when they decided to play hooky from school and go on a hike. They were cornered by Palestinians, who brutally murdered them. The murder of these two boys was the catalyst for us to stop waiting for an unknown organization to come forward with the grand plan to support Israel.
The painful realization was that we would need to create a new organization with the mission to stand up for Israel and Israelis when they are attacked or misrepresented, and to empower people around the world to educate their communities of all ages about Israel. The boys were murdered on May 8, 2001.  Our first meeting (an emergency one held at our home with 50 professionals including rabbis of every denomination) took place two weeks later, May 21, 2001.
At first, it was unclear how we would fulfill the mission of a new organization that supports Israel. That mission rapidly became clear, and we were soon approached by people of all faiths and ages who wanted/needed our help. Our mission statement (Supporting Israel Around the World, Through Education and Fighting Anti-Semitism) is posted on our website, and we are very focused and growing quickly.
Did any of your three now adult children have any experiences that drove your desire to found SWU?
No, not before the founding of StandWithUs. The founding of StandWithUs was a result of the violence that erupted in Israel during the early part of the Second Intifada terrorist war against Israel, the way the media was portraying the conflict and the missing leadership strategy for Israel in the Diaspora in 2000 and 2001.
However, after we began the organization we realized that although our own children grew up in Jewish schools and camps, while learning about and also traveling to Israel, they were symbolic of other young adults who were simply unequipped to have deep conversations about Israel on their college campuses.
This important realization helped us understand the need for Israel education of a different kind. Yes, it's important that we teach our children a love for Israel. But without some basic information about history, size, strategic threats and the ancestral Jewish connection to Israel, they are at a loss to engage in the deep conversations that will likely come up.
Your parents are Holocaust survivors; can you discuss how that shaped/contributed to your belief in the necessity of SWU?
First, I should underscore that Israel was extremely important to my parents and all their friends. They were excellent role models in their excitement and caring for the reborn state of Israel. The Holocaust made them homeless refugees and they lost family members.
Miraculously, they were able to relish the announcement that Israel had been reborn in their own lifetimes … providing a homeland for every Jew in the world.
For them it was profound. Israel filled their hearts with joy and made them feel more whole. They learned about Israel becoming a state with all the other homeless Holocaust survivors while they were still in a DP camp. I can only imagine how elated they must have been. My mother often talked about how they danced all night on that special day in May 14, 1948.
And there was another important issue for me, also connected to the Holocaust. Being a daughter of survivors sharpened my interest and understanding in this simple issue: that the way Palestinian children are being taught to hate Jews parallels the hateful lessons taught to the Nazi youth in the 1930s before the Holocaust began in 1939.
While witnessing the bus bombings and shootings at the beginning of the terrorist war against Israel, I was concerned that any hope for peace with the Palestinians was being made impossible because of the perpetuation of severe hatred. We see this represented in Palestinian mosques, school books, television shows, streets and even sports events named after terrorists, money paid to the families of terrorists by the Palestinian government, etc.
Israel is expected to make peace with the leadership of a society that is being consistently led down a path lined with hatred and violence. Before we started StandWithUs, I already understood that well-meaning people were unaware of this huge impediment to peace.
Your mission statement says you believe "education is the road to peace."
Yes. We believe that with more information, everyone can be helpful and everyone gains. Information can bring understanding on all levels and keep the parties accountable. Understanding of the Jewish ties that bind them to Israel is key to understanding why so many Jews feel connected to the issues.
When you began in 2001, what was your initial program?
Our initial goals were, first, to organize a few demonstrations to show support for the Israeli people during a most difficult time – to tell Israeli citizens that they are not alone and that people outside of Israel deeply care.
Second, to help correct media misinformation. We had an initial meeting with the Los Angeles Times to discuss their clear bias after we did a systematic study of how they often omitted information that would explain Israel's side of the story, they frequently used misleading headlines and their photos (size and use of color) often favored the Palestinian perspective.
Third, we created a newsletter and began to disseminate information to a growing global StandWithUs membership.
Fourth, people wanted teaching materials to distribute to their communities, so we began to create fact sheets and booklets to help people educate their communities. Once our profile began to rise, we were contacted for help by frustrated students all over the country who were experiencing anti-Semitism as a result of the conflict in Israel. The anti-Semitism was coming from anti-Israel student groups, speakers brought to campuses and professors. It was not at all the universities, but it was becoming commonplace at far too many across the country and in Canada. And there were segments of the Jewish community that minimized the problem. Today most Jewish organizations clearly see the anti-Semitism that was clear to us 16 years ago.
When you expanded beyond California, where was your first new office/chapter?
We expanded to San Francisco because there was a sister group growing there, and we wanted to support their efforts.
We then were invited by people in Detroit to open a chapter there. As soon as our campus work began to take off, we opened up an office in New York, where we grew our campus team quickly. In 2006, we opened an office in Jerusalem, and offices soon sprang up in the United Kingdom and Canada.
Do you collaborate in any way with the AMCHA Initiative: Protecting Jewish Students?
Tammi Benjamin does great work. We do sign most of the letters she writes to campus administrations. We also partner with hundreds of other organizations.
In Oregon, SWU's Emerson Fellows work closely with campus Hillels. Is that an intentional or organic partnership? Are all/most Emerson Fellows active in Hillel?
Most of our Emersons are active in Hillel, but since we don't only recruit Jewish students as Emersons, it is not a requirement.
We look for students who are leaders on campus and can bring together the different groups to support Israel. Most of our Emersons are in charge of their pro-Israel campus activities and involved with Hillel, Chabad or other major Israel clubs on campus.
While I know all SWU's programs are important to educate people about Israel and combat anti-Semitism, which one program do you consider vital to your mission?
Our strategy to empower students before they arrive in college campuses is very important. That is why we began a High School Internship program in 2012 and most recently a middle school curriculum, which is now in 36 schools in 12 states (including Oregon).
We will continue to expand our work on colleges with our Emerson Fellowship program, and we will also expand our program in high schools to prepare students so that they are ready to lead when they arrive in college.
Do you have other areas of age groups where you plan to expand your efforts?
Once we stabilize our new LINK program and are satisfied with its growth and progress (as we are with our work in high school and college campuses), we hope to develop programs for grammar schools.