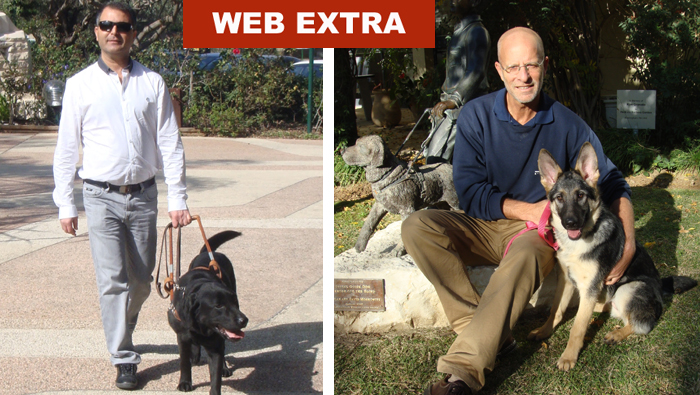 PHOTOS: Dani L. and Norman; IGDCB CEO and Founder Noach Braunwith
one of man's best friends.
Distributed by the American Jewish Press Association
Israel Guide Dog Center for the Blind is one of only 49 charities to receive a perfect score of 100% from Charity Navigator. IGDCB's sound fiscal management practices and commitment to accountability and transparency have earned it a 4-star rating from Charity Navigator, America's largest independent charity evaluator. This is the third year in a row that IGDCB has earned this top distinction.
(Israel Guide Dog apprentice trainer Yoav Ortav spent six months in Portland in 2014 to learn the the positive training model pioneered at Guide Dogs for the Blind. See our story on that visit here.)
Charity Navigator, the largest charity evaluator in America, helps guide intelligent giving by evaluating the Financial Health and Accountability & Transparency of more than 8,000 charities. Since 2002, using objective, data-driven analysis, Charity Navigator has awarded only the most fiscally responsible organizations a 4-star rating. In 2011, Charity Navigator added 17 metrics, focused on governance, ethical practices, and openness, making it even more difficult to achieve this rare honor.
"Israel Guide Dog Center's coveted 4-star rating puts it in a very select group of high-performing charities," says Michael Thatcher, President and CEO of Charity Navigator. "Out of thousands of nonprofits Charity Navigator evaluates, only one out of four earns 4 stars – a rating that demands rigor, responsibility and commitment to openness. Even more, Israel Guide Dog Center has achieved the rarest honor: our perfect 100% score, awarded to only 49 charities – making it the best of the best, so its supporters can feel confident their hard-earned dollars are being used efficiently and responsibly."
That meticulousness is apparent in the vital work we do. Our Center is the only accredited organization in Israel to provide guide dogs to blind or visually impaired Israelis, many of whom are IDF clients. For example, Dani L., who is waiting for his replacement dog, is typical of our clients.
When Dani was 20 years old – hunkered in a trench during the first Lebanon War – a bomb exploded in the foxhole – taking his vision but sparing his life. Ten fellow soldiers were not so lucky.
Dani's big break came when he met Noach Braun, co-founder and CEO of Israel Guide Dog Center for the Blind, who had just begun training guide dogs and would revolutionize Dani's life with the gift of man's best friend.
With his confidence and independence restored thanks to his guide dog, Dani was able to further his education and complete two degrees. He's worked as an advisor on Islamic Fundamentalism in the Prime Minister's Office and helped disabled veterans as a social worker. He also married his sweetheart and raised four children.
Now, Dani's previous dog, Norman, has reached the point of retirement. Hopefully, with our donors' help, Dani will have a new best friend and guide soon.
We are also one of the few nonprofit organizations in Israel providing Service Companions to autistic and blind children, as well as disabled adults.
In all we do, we are committed to making the most effective use of contributed funds to improve the lives of blind and disabled Israelis.