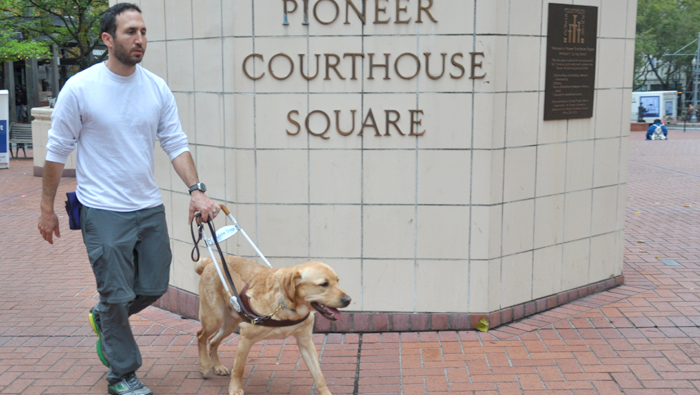 During a six-month stay in Oregon, Israel Guide Dog apprentice trainer Yoav Ortav has learned the latest in positive training modalities.
Five years ago, the Israel Guide Dog Center for the Blind in Tel Aviv adopted the positive training model pioneered at Guide Dogs for the Blind (with campuses in San Rafael, CA, and Oregon). Following his one-year apprenticeship in Israel, Yoav came to Oregon in June to spend six months learning the latest advances in training guide dogs to lead the blind. He is currently work- ing with his second string of four dogs.
Yoav says in Israel, trainers work with dogs for five months before introducing them to their new owners. But in Oregon, after 10 weeks of training, the dogs and blind clients are united for two weeks of mobility instruction for the blind, to teach the clients to work with their new guide dogs. Yoav says he hopes some of the new training techniques he has learned here will help the school in Israel shorten the training cycle, but he doubts they can train dogs in just 10 weeks in Israel.
"Here the streets are more organized," he says. "Israel's streets are more challenging, there are more obstacles." The guide dog schools here and in Israel breed the dogs for their programs. The yellow labs and yellow lab/golden retriever crosses are given to volunteer families to raise and then returned to the school for further training. After teaching some collar cues and basic obedience, Yoav says the dogs are introduced to the harness. "To lead is sometimes an issue for dogs," says Yoav.
Yoav grew up in Kamon, a small village near Carmiel in northern Israel. A lifelong animal lover, Yoav had worked for an environmental NGO when he decided he wanted to find a job training dogs. "I found the Israel Guide Dog Center for the Blind," he says. "I like working for an NGO. All the parts fell into place." Of his time in Oregon, Yoav says, "It is very beneficial. The school here is way bigger than our school."
When Yoav returns to Israel at the end of this month, he hopes to take a bit of Oregon with him for the benefit of blind Israelis.