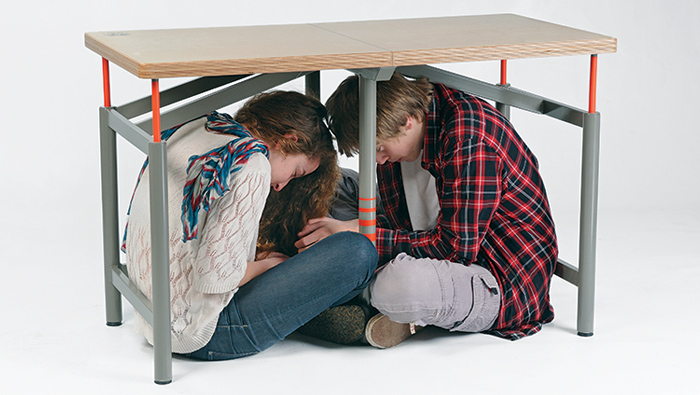 Earthquake-proof tables designed in Israel are ready to protect students in Taiwan's ancient city of Tainan.
Following the February 2016 earthquake in Tainan, Asher Yarden, head of the Israel Economic and Cultural Office in Taipei, decided to cancel the office's Israel Independence Day celebration and use the budget to purchase the Israeli-designed tables and donate them to the city in southern Taiwan. Two of the desks are on display in an exhibition on disaster-prevention education, and the rest are for eight elementary and junior high schools that were damaged in the quake.
The earthquake-proof table, engineered to shield two students from a ton of debris, is an Israeli innovation designed as a final project by student Arthur Brutter at the Bezalel Academy of Arts and Design's Industrial Design Department. The tables use standard metal profiles and a single plywood panel, so they are relatively inexpensive to construct anywhere. The trick is in the geometric shape and special combination of profiles of different sizes, which create predictable crush zones.
Ducking under a sturdy desk improves the odds of ending up in a "survivable void space" if the building collapses. The space under a sturdy table or desk is likely to remain even if the building collapses.
Be Red Cross Ready:  Checklist: redcross.org/prepare/disaster/earthquake  Emergency supply kit: redcrossstore.org