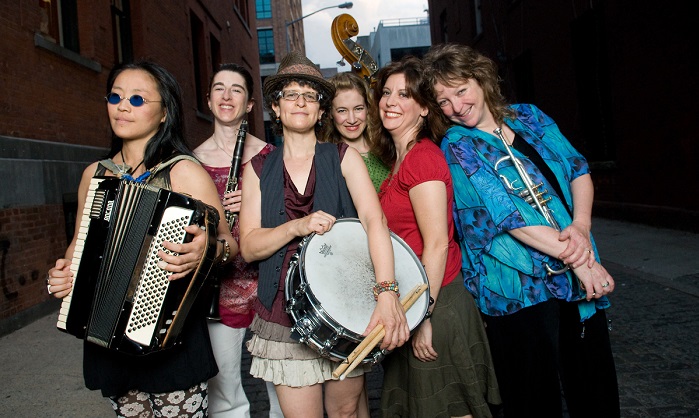 Photo: Isle of Klezbos: From left are Shoko Nagai, Debra Kreisberg, Eve Sicular, Saskia Lane, Melissa Fogarty, Pam Fleming. Photo by Angela Jimenez
Klezmer devotees will have something to celebrate on July 12, when the New York-based Isle of Klezbos performs at the Alberta Rose Theater. The all-female sextet, which was dubbed "one of New York's most exciting groups in any style" by New York Music Daily, has graced stages from Vienna's famous Porgy and Bess nightclub to the Oberlin Spring Folk Fest and Denver's JAAMM Festival. This summer, Isle of Klezbos is touring the West Coast as part of its 20th anniversary celebration (no small feat in the world of music).
The genre-bending group draws from a multitude of influences including traditional Eastern European Jewish music, folk, Yiddish swing and tango. Its repertoire includes original material composed by band members, obscure Yiddish film melodies and classics enlivened by new arrangements.
The group's bandleader, Eve Sicular, is a Harvard-educated drummer and film scholar. She writes and lectures on Yiddish film around the world and has served as curator of the YIVO Institute for Jewish Research's Film and Photo Archives. Through her extensive research, she has found many musical gems to add to the Isle of Klezbos repertoire.
"When I say we're not a nostalgia trip, it's not to say that we don't appreciate older, more traditional forms," she says. "But I'm trying not to be a jukebox that just regurgitates the little chestnuts that people already know. There's so much more out there."
Eve says that the diversity of Klezmer music stems from the various waves and origins of Jewish migration. Because of this, the genre weaves in threads of Polish and Romanian music in addition to melodies from "Second Avenue" or 20th century New York Yiddish theater. The bandleader mines this wealth of material, performing pieces that both please her aesthetically and open people's minds "to a broader idea of the complexities of the Ashkenazic experience." She may pull a theme from "Cheburashka," a Soviet cartoon, or even an episode of "Gomer Pyle: USMC," in which Yiddish film star Molly Picon appears. "My mission is to have people not feel like stereotypes are all there is," she says.
Eve says the creation of the original material the band performs is very organic. "It's when someone is inspired. When (trumpeter) Pam Fleming calls forth something that's going to have a reggae idiom, she's got it – she toured with Burning Spear for two-and-a-half years! Or (clarinetist/saxophonist) Debra Kreisberg will do something that brings in a Brazilian or Latin jazz feel – it's not in a fusion cookie-cutter way, it's very from the inside."
Eve herself is a prolific composer; she produced "J. Edgar Klezmer: Songs from My Grandmother's FBI Files," a musical theater work that pays tribute to her Russian-Jewish activist grandmother.
The bandleader says the audience for the Portland show should expect "a deeply original sense of what's there and also what we have created ourselves … that they won't hear anywhere else."
Tickets for the Isle of Klezbos July 12, 8 pm performance, which also features the Portland Klezmer All-Stars, may be purchased at albertarosetheatre.com/calendar.html. General admission is $22; advance tickets are $18.