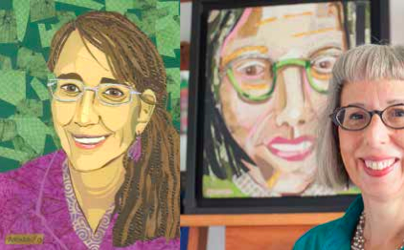 Artist Theresa Weil hopes her new exhibit featuring portraits of women leaders will inspire young people to follow their ideas – to think outside the box and become creative problem solvers. From her inspirational subjects to her inspiring quest to create a meaningful exhibit, the clear message is that people, or even just one person, can make good things happen.
"If you don't see an opportunity, go out and create your own opportunity," says Theresa, who did just that when she decided to create the Because She Cares exhibit, which features 24 cut- paper-collage portraits of women who lead Oregon nonprofits. A biography of each woman accompanies her portrait. When Theresa decided she wanted to create a meaningful body of artwork, she herself determined the parameters, reached out to women executives and promoted the project – with far-reaching results.
The exhibit debuted Feb. 25 with a one-day exhibition in the State Capitol Galleria Lobby, then traveled to Bend in March for the Muse Conference for Women. In April Portland Community College's Southeast Center featured the portraits in its new Students Commons building as the first art to hang in the lobby. This month the exhibit will be in Portland's Mittleman Jewish Community Center from May 11 to 16 and moves to the Outside In Health Clinic for most of June. It has been well received.
Before the debut of the full exhibit in Salem, State Sen. Elizabeth Steiner Hayward displayed six of the portraits in her office. "The women Theresa chose to portray have all made substantial contributions by developing or growing nonprofit organizations… Women's contributions to the state are generally undervalued, so her work serves to bring recognition to some key members of our community," says the senator. "The exhibit was really well received, both in terms of the artistry and creativity, and in terms of people recognizing the women in the portraits and telling stories about interactions with them. Art is a great way to connect with people, and Theresa's work is a great example of that."
When the exhibit comes to the MJCC on the Schnitzer Family Campus this month, it will be a bit of a homecoming for Theresa. In the late 1990s her son and daughter attended Portland Jewish Academy, which shares a campus with the MJCC. When her children attended PJA, Theresa was a frequent participant in the school's arts nights and served as an artist-in-residence for several classes. When the exhibit is at the MJCC, Theresa will meet with PJA middle schoolers and talk to them about the exhibit and the women it highlights.
During her artist talk at the MJCC (7 pm, May 13), Theresa says she also plans to reflect on the legacy of the Jewish com- munity and art. "Jewish musicians, artists and art patrons have enriched our culture," says Theresa.
"The MJCC is proud to host Theresa Weil's Because She Cares exhibit, not only because the work is amazing (and the artist is Jewish), but mainly because the exhibit has the power to make a long-term impact," says MJCC Operations Manager Jordana Levenick. "Theresa's exhibit will surely inspire young women to become leaders to make our community a better place. Featuring 24 women who lead nonprofit organizations around Oregon, this exhibit will appeal to anyone who loves mixed-media art and has a passion for community building."
When she was selecting women to include in the exhibit, Theresa says she choose not just women in leadership roles, but women who were making a difference in many diverse areas of society. "This project is about the diverse community these charities serve and the diverse group of women," says Theresa. "All these women make our state a better place and continue to be mentors for young women to create and lead."
Her exhibit website (becauseshecares.org) describes the women she chose: "Without exception they are passionate about what they do. And don't doubt for a second that their work changes lives, neighborhoods and their entire com- munities. They're there for the homeless, the poor, the elderly, children with learning challenges or critical illnesses, teenagers living on the streets, the hungry, those suffering from abuse, women trying to re-enter the workforce, and many of the arts organizations that bring joy and balance to all of our lives. What they do comes from their heart."