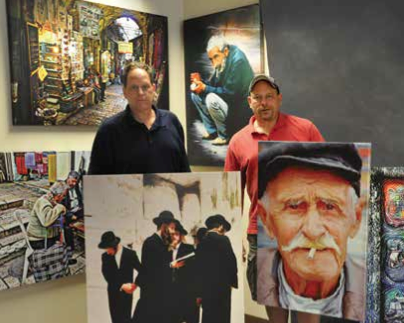 Harold Floom used his skills to help ensure the Jewish future 65 years ago. Now his sons Tobin and Jay are following in his footsteps, using their skills to do the same.
After serving in the Royal Canadian Air Force during World War II, Harold put his skills as an airplane mechanic/flight engineer to use when he volunteered to go to Israel in time to serve in the Jewish state's War for Independence. He passed on his passion for Israel and Jewish life to all his children at an early age as they grew up in Portland. Daughters Noma Floom Marcus and Perri Eytan are raising their own families in Israel, where Tobin and Jay enjoy visiting and capturing photographic images of the culture and life that flourishes there. For 25 years, the brothers and their Images by Floom have been well known in Portland for their intimate, classic photographs of weddings and bar/bat mitzvah celebrations.
After their father died at the age of 94 two years ago, Tobin and Jay were inspired to find their own way to express their commitment to Jewish life. Thinking outside the box in both their art and tzedakah, Tobin and Jay have created a collection of artwork of Israel that uses digital photography, painting techniques and computer technology. The brothers hope to use the collection to raise $100,000 for the Jewish Federation of Greater Portland, which supports and nourishes Jewish life in Portland and around the globe. Tobin and Jay will donate 20% of all sales to the federation annual campaign. Their Israel series pictures will be on display at upcoming Federation campaign events including its Opening Kickoff (7 pm, Oct. 3, at the Scottish Rite, 1512 SW Morrison St.; tickets $45 from 503-245-6219), Women's Philanthropy Impact and Super Sunday. The brothers hope to sell 300 paintings this year for a $90,000 donation and then plan to add an additional $10,000 of their own to bring the total contribution to $100,000. "Our mom, Lily, is very excited about this project being in our father's honor," says Tobin.
The collection includes 25 photographs that reveal the many facets of Israel and life there. Tobin and Jay have used a variety of approaches to make each piece unique. In some they have turned portions black and white, in others the colors are saturated to provide a rich tapestry, while varied painting techniques further imbue the images with an unusual depth. Each piece is 32 by 48 inches on high-quality canvas with gallery-wrapped edges and a lacquered finish. The brothers will sign each piece and provide a certificate of authenticity. Each piece is available for $1,500. "We collaborated on which of our images to include," says Jay. "We feed off each other's ideas," adds Tobin. "We are using our art as a vehicle to help the Jewish community."
Federation President and CEO Marc Blattner is a strong proponent of innovative community-building initiatives. "We are excited and greatly appreciative of this opportunity for the Jewish Federation from the Floom brothers," he says. "Their commitment to our Jewish community and their generosity is inspiring. We hope they will sell many of their beautiful prints." Federation Board Chair Michael Wiener is also impressed by the innovative endeavor. Michael says he and the Floom family have been connected for many years. Tobin photo- graphed his wedding and all four of his children's bar and bat mitzvah celebrations. "I love his work," says Michael. "It is so fitting of the Tobin I know, that he is integrating Jewish philanthropy into his art and photography." This isn't the Floom brothers' first unusual project with their art. For the past two and half years, the brothers' art photos have been part of the Costco Road Show, a special event where merchandise is displayed and sold at various Costco Wholesale locations for a limited period of time.
The photos for that show include images the brothers have taken around the world – Israel, Egypt, Greece, Thailand, Europe and Hawaii. The images include panoramic landscapes and village-scapes, up-close floral studies, still lifes and penetrating portraits – some of which are also reflected in the new Israel "The life of Israel in our images is reflected with scenes including soldiers coming home from war to old men playing backgammon at a street-side table," says Tobin. "It is images of Israel captured in unusual ways. These are real life stories turned into a timeless piece of art." Jay's shots of the Western Wall and Dome of the Rock provide crystal clear details.
This also isn't the first time they've reached out to help the community. "Over the years we've done bar and bat mitzvahs for kids who couldn't afford a photographer. It feels good," Jay says. The brothers emphasize they want this project to work for people on a multitude of levels. "There is no 'no,'" says Tobin, meaning they will work with purchasers to meet their needs. If a parent wants to buy a piece for two children, Tobin says they will create and ship two half- size pieces for the same price of $1,500.
If a family wants to participate in the unique fundraiser, but doesn't have room in their home to hang a large painting, the brothers have a long list of Jewish organizations that would welcome such a piece of art. The art will be delivered and hung along with a plaque created to honor that family's donation to the facility.
The first art photo was purchased by Neil Benaroya to be in- stalled in the entryway to the renovated building at Maimonides Jewish Day School. Benaroya choose "The Twelve Tribes" image because it represents all Jews and MJDS welcomes a diverse student body. The Flooms have long ties to many Jewish organizations in the community. They attended Hillel Academy, the precursor to Portland Jewish Academy. Both Harold and Lily Floom served a term as president of the Hillel board. To set up an in-home consultation or an appointment to view the collection at the Images By Floom Southwest gallery (11000 SW Barbur Blvd., Portland), call 503-245-3676.