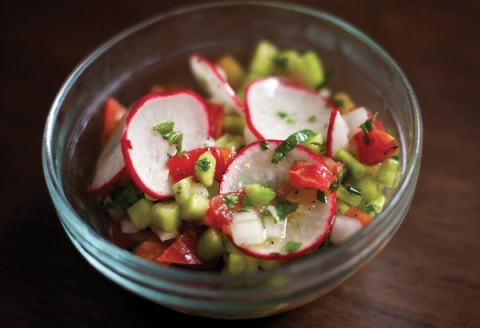 Chef John Gorham seems to have the Midas touch when it comes to restaurants. His first three eateries, Tasty n Sons, Toro Bravo and Tasty n Alder, are always booked solid. Now Gorham has teamed up with executive chef Kasey Mills to continue a tradition of small plates with big flavors at Mediterranean Exploration Company. This Pearl District hot spot, which has taken over the space previously occupied by Riffle NW, offers Mills' interpretation of Mediterranean and Middle Eastern cuisine. There are several Israeli and Jewish-inspired dishes on the menu, including Israeli pita with s'hug, ktzitzot (Israeli meatballs served with parsley salad and caramelized onion tahini), chreime (spicy Sephardic fish stew) and shalosh. The restaurant serves no pork; the bacon in the bacon-wrapped date dish is made from beef. Many vegetarian items are served, such as mejadara (rice-lentil stew) and saganaki (fried Greek cheese with figs, olive oil and lemon.
Mills derived some of his culinary inspiration from a recent trip to Israel, where he sampled local cuisine with Gorham and Israeli-born business partner Ron Avni. The chef explains, "Ron had the inside scoop of where to go eat. This was one of the best food experiences of my life. Not only did I get to experience amazing foods, from shwarma and shakshuka to kubbah and mansaif, I also got to explore the country and discover its beauty."
The menu at Mediterranean Exploration Company features raw, oven-baked and grilled items, as well as a large selection of mezza (traditional Middle Eastern small plates). There is also a nightly tasting menu ($40 per person). If you don't go this route, order a variety of items, as portions are on the smaller side.
When asked about his signature dishes, Mills waxes enthusiastic about his chreime, kubbah, hummus and lamb kebab pie. "The chreime, which the North African Jewish community would make on the Sabbath, (has) a really rich broth made of chilies, caraway, paprika and tomato reduced down to a paste. Kubbah … are bulgur wheat croquettes stuffed with minced lamb and pine nuts, 'usul' hummus is reminiscent of a certain hummus Ron used to eat … it is (made) with chopped eggs, chickpeas, raw onion, paprika, za'atar and s'hug. And lastly, the el babor is a lamb kebab pie made with fire-roasted tomatoes, serrano chili, garlic and dill. This mixture is put into a cazuela (traditional Spanish clay cooking pot), topped with a thin pita and baked like a pie crust in an oven sitting at 650 degrees. When it comes out, we brush it with olive oil, sesame seed and sea salt."
Mediterranean Exploration Company's phyllo chard pie is a delicious take on the Greek spanakopita; a flaky golden triangle of crust is stuffed with flavorful Swiss chard. A heap of greaseless fried anchovies is interspersed with strips of fried fennel and then served on a bed of garlicky potato puree. The roasted beet salad is sweetened with orange sections, while roasted carrots are livened up with spicy harissa, tarragon and yogurt. The chreime features a slab of fried true cod smothered in a very spicy tomato sauce; if you have the tolerance, you'll want to sop up the sauce with the accompanying bread. For a milder fish option, try the pan-seared petrale sole with Portuguese wine, herbs and lemon.
Desserts continue the Mediterranean theme; they include pistachio-studded rosewater panna cotta, a chocolate baklava with the density of chocolate pecan pie and a yogurt-topped date cake made with olive oil. Sweet Moroccan mint tea is a perfect closer for a tasty meal at Mediterranean Exploration Company.