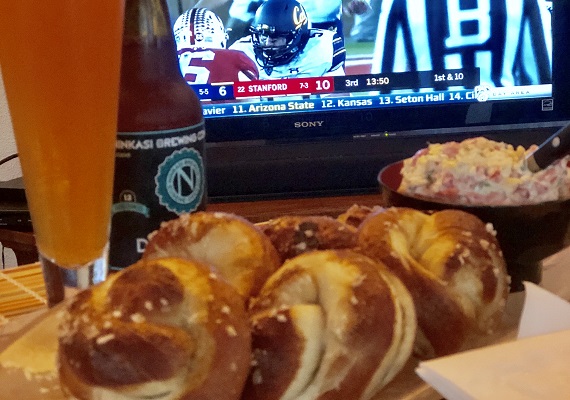 On Nov. 12, 1892, the Allegheny Athletic Association's football team beat the Pittsburg Athletic Club. The game itself was not notable, however one of the players, William (Pudge) Heffelfinger, was openly paid $500 to play, making it the very first pro football game played in the United States. As they say, the rest is history. Professional football was born.
Although viewership is experiencing a bit of a slump – in part due to political protests and concern over player concussions – about 15 million fans enjoy cheering on their favorite team during the 17-week season. The NFL season culminates in the championship game – the Super Bowl.
Super Bowl Sunday is the perfect excuse to invite some friends, pick your team and feast on the potluck of goodies that make up the best of football tailgating. Even if, truth be told, you're only there for the commercials and the half-time show!
The cardinal rule of showing up to any Super Bowl party is never to arrive empty handed. Hosts usually provide the main dishes, and guests bring platters of food that can be easily shared. Extra points go to the creative guest who arrives with the platter that includes a gridiron and goal posts! Between the TV commercials and the game's time-outs, this party lasts for several hours, so it's best not to bring anything that needs to stay too hot or too cold. Another rule of the Super Bowl party is nothing fancy. Football is synonymous with beer and burgers, not champagne and caviar!
These homemade chewy pretzels with southern pimento cheese are perfect football fare. I make them with store-bought pizza dough, which is easy to find in most supermarkets. I make my pimento cheese with sharp cheddar, chopped fresh garlic and fresh green onions. Most recipes call for the powdered version, but I think fresh ingredients are always best. The dough is briefly dipped in boiling water with a large amount of added baking soda. This gives the outside that beautiful rich golden crust. Make sure to use big grains of flavorful salt. That's what gives the outside its perfect crunchy texture.
HOMEMADE PRETZELS
Makes about 8
1 package of store-bought pizza dough
nonstick spray
10 cups water
⅔ cup baking soda
1 egg
Crunchy specialty salt, such as fleur de sel, Maldon or Jacobsen
Parchment paper or nonstick baking mat
Preheat oven to 450 degrees. Spray cutting board lightly with nonstick spray. Portion pizza dough into 8 pieces (pieces should be about the size of a tennis ball). Roll dough into ropes about 16 inches in length. Place dough in front of you in a large U shape. Pick up ends of dough, lift and twist the ends twice. Fold back toward you and press into pretzel shape. Place on baking sheet lined with parchment or nonstick mat. Fill a wide pot with about 10 cups of water. Add baking soda and bring to a boil. Stir to dissolve baking soda and turn to a low boil. Working in batches, carefully drop pretzels in the water. When they rise to the top, carefully flip over. Cook pretzels for about 60 seconds total and place them back on lined baking sheet. Break egg into a small bowl and beat thoroughly. Brush pretzels with egg wash and sprinkle with salt. Bake pretzels in 450-degree oven for 20-25 minutes until deep golden brown. Serve warm.
SOUTHERN PIMENTO CHEESE
There are many recipes for pimento cheese and this is my version. I use fresh garlic and chopped green onion, but feel free to substitute with garlic or onion powder. The main ingredient is the sharp cheddar cheese. For this, there are no substitutions.
2 cups shredded sharp cheddar cheese
½ cup Bleecher's Flagship white sharp cheddar
2 cloves garlic, minced
2 green onions, minced
¼ cup mayonnaise
½ cup softened cream cheese
A few drops of Worcestershire sauce
A few drops of hot pepper sauce, such as Tabasco, or to taste
1 4-oz jar chopped pimentos, drained
Salt and pepper to taste
Mix all ingredients together in a bowl and serve as a dip for the pretzels.