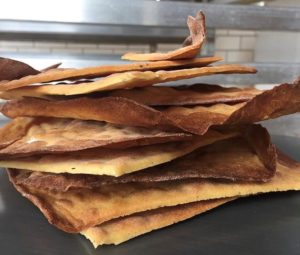 Bakeshop owner Kim Boyce will team up with Rabbi Brian Zachary Mayer again this year to make matzah using a special recipe culled from the annals of the Spanish Inquisition.
Called1503 Matzah, it is available for special order at Bakeshop in Portland.
History of the recipe: In 1503 in Northern Spain, just like she did the year before, Angelina de Leon kneaded dough of flour, eggs and olive oil and flavored it with pepper and honey. She flattened small cakes and pricked them with a fork so they wouldn't rise. Everything was like it was the year before. Angelina wondered for how many more years she would have to do this in secret. Celebrating Passover was against the law. Her preparations were seen by her maid, Maria Sancho, who testified to the Inquisition – in whose annals the recipe was recorded. Angelina and her family were found to be secret Jews.
In 2016, Kim and Brian formed the micro-business selling "handmade, historic matzah, made with the best ingredients," based on Angelina De Leon's recipe.
Pre-orders are essential, as the matzah is handmade in small batches. Orders available until they sell out.
Pickup at Bakeshop:  pre-order online between March 14-18 for pickup on March 20-21. Or pre-order between March 21-25 for pickup on March 27-28.  bakeshoppdx.com; 5351 NE Sandy Blvd.